OnlyFans has rapidly become one of the most popular websites on the internet. It's a place where anyone can create the content they want to and start building their own career. 
Since the inception of OnlyFans during the pandemic, we have seen competitors come and go. With many performers looking for a new source of income and stability, Fanhouse is one of the latest subscription platforms for creators to share exclusive content, monetize and connect with their top fans. But what is Fanhouse and how different it is from ONlyFans
Fanhouse bears similarity to Patreon, which offers everything from podcasts to blog posts to photography. In short, it operates more like a confessional social media channel. The platform's users are content creators in the most modern sense of the word. 
If you are a content creator looking for new ways to make money or a fan needing some new content, then keep on reading. 
What is Fanhouse?
Now let's look in detail into what is Fanhouse. Fanhouse is an SFW (Safe to work) platform where content creators can connect with fans and make money in different ways. Subscriptions, requesting tips, locked messages, custom video requests, and referrals, a more.
Launched a year back, Fanhouse has paid over 700 content creators over $1 million and has 650 creators and 5600 monthly active users. Recently the platform raised $1.3 million in seed funding.
Fanhouse is Founded by Rosie Nguyen (also the platform's CMO), popularly known by her online persona @jasmine rice girl, along with her Twitter friends, Khoi Le and Jerry Megn. 
Is Fanhouse like OnlyFans
If you consider Fanhouse Vs. OnlyFans, Fanhouse is similar to OnlyFans as a platform to build and nurture a community. But OnlyFans is an online content subscription service popular for sex workers, whereas Fanhouse doesn't support exclusive sexual content. 
Fanhouse categorizes itself as a PG-13 platform, meaning it prohibits sexually explicit content. This allows the start-up to associate with popular payment gateways with low fees and get money from investors who have strict rules against adult content, and it also appeals to influencers who don't want to associate with sex work.
FanHouse Vs. OnlyFans, when it comes to adult content, Fanhouse strictly prohibits adult nudity, sexual activities, body painting, violent extremism, and illegal or criminal activities.
The founder of Fanhouse Nguyen explains the reason behind this: While OnlyFans allowed Nguyen to make money from her large social media following, it also attracted sexual harassment and threats. For instance, there were fans who forced her to send nudes which she refused, and she was slut shamed for doing so.
Features of Fanhouse
So, what is Fanhouse used for? Fanhouse is the one-stop space for all exclusive content where creators can post uncut footages and lifestyle podcasts and even coach people on managing relationships. You can make money while establishing a connection and a deeper value with your subscribers.
Fanhouse presents seamless features and social tools for content creators to interact with fans and build a community with unique tools and access methods. 
Additionally, there are features like housechat and Fanwall where fans can connect and communicate with each other the most effective way. Besides posting explicit content, creators can express themselves freely to build their brand. 
Here are some of the important features of Fanhouse:
Fan subscriptions
Content creators can set a flat fee for all fans and offer alternative paywall options. Creators on the platform have the flexibility to change the subscription price whenever they need. A space for content creators and fans to enjoy the content, chat, and hang out.
Group chats
Fans can join their favorite fanhouse creators in live group chats to connect with each other and communicate.
Unique watermarks
Uploaded pictures and videos can be watermarked to prevent leaks.
Secret passcode
Creators can use secret passcode to share with their top fans to get access to your content.
Spotify top listeners
Now if you ask what's Fanhouse popular for, this is one of the msot differentiating factor. Creators can set up their Spotify wall, which works with the classic subscription method. You can allow access to your private feed to fans who have as their top artists on Spotify. 
How to make money on Fanhouse?
Now that you know what is Fanhouse and how it works, let's see how you can monetize on the platfrom. FanHouse Vs OnlyFans when it comes to revenue models have many things in common. Content creators on Fanhouse can make money in the following ways:
Lock content: Lock content behind a paywall for your favorite fans to unlock in Housechats and DMs. 
Custom requests: Content creators can provide customized offerings for a price. Creators can offer anything from special wishes, voice notes, video shoutouts, tarot readings, custom cosplays, tattoo designs, and a lot more.
Tips: Creators can receive tips on their posts. Fans can tip their favorite content creators whenever they want.
Brand deals: Brand deals are another way by which you can make money on Fanhouse. Generally, brand partnerships are a one-time promotion. Creators might have to send the post beforehand for approval and craft the scripts according to brand requirements and guidelines.
Brand ambassadorships: Creators who do great on brand deals have the chance to become brand ambassadors. As a brand ambassador, you will have to keep the brand URL in your profile bio permanently, publish one sponsored post every month, and might also have to include the brand logo in your live streams.
Fanhouse in the news
Fanhouse recently made it to the headlines regarding a clash with Apple when the tech giant said Fanhouse will be kicked out of the app store if it doesn't start forking over 30% of the content creators' revenue when the purchases are made through the iPhone app.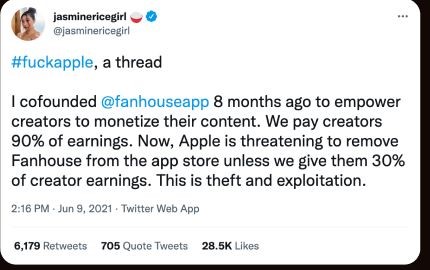 What kind of content is allowed on Fanhouse, and how payout works?
Fanhouse recently announced an exclusive platform for musicians- The space for artists to connect and grow their fan base. Expect explicit sexual content; it supports a lot of niches.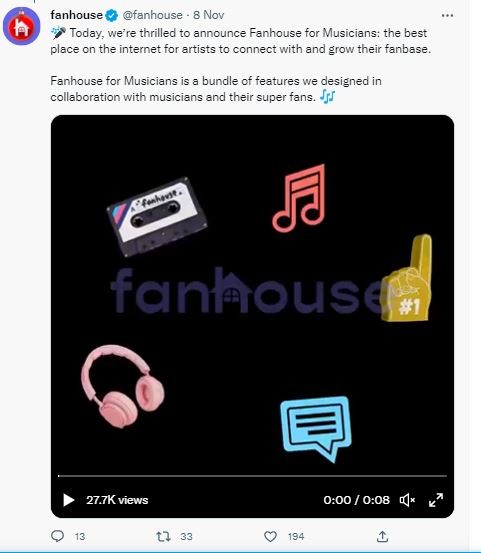 Regarding the creator payout, content creators are paid weekly between Mondays to Wednesdays. And one thing to note is that there is no minimum requirement for a payout. For example, if you make $2 for a particular week, you will be paid that. Payments are directly credited to the bank through direct deposit on Stripe. 
On Fanhouse, there is a section called the creator portal where you can see your earnings and their breakdown. There is a stripe dashboard available which is available through the creator portal.
A content creator can apply for profile verification through the creator Portal if you meet the requirements set by the platforms. By the way, these are the requirements to get verified on Fanhouse. 
Having 250k+ followers across selected social media platforms. 

Verification across selected social media platforms.

Or having 250+ paying subscribers on Fanhouse.
To prevent fraud and harassment, new content creators are restricted from using certain features like locked messages and tips until they get 5 paying fans in their Fanhouse. Once a creator has 5 paying subscribers, all the above-mentioned features will automatically unlock. And yes, creators will receive a notification.
The money you make on Fanhouse is completely yours, except that the platform takes a 10% commission to cover the cost of operations. And you get 90% for every paid-out transaction. 
If you consider other fan club websites, Fanhouse takes lower commission rates. 
Here is a  comparison of Fanhouse payout with Patreon payout: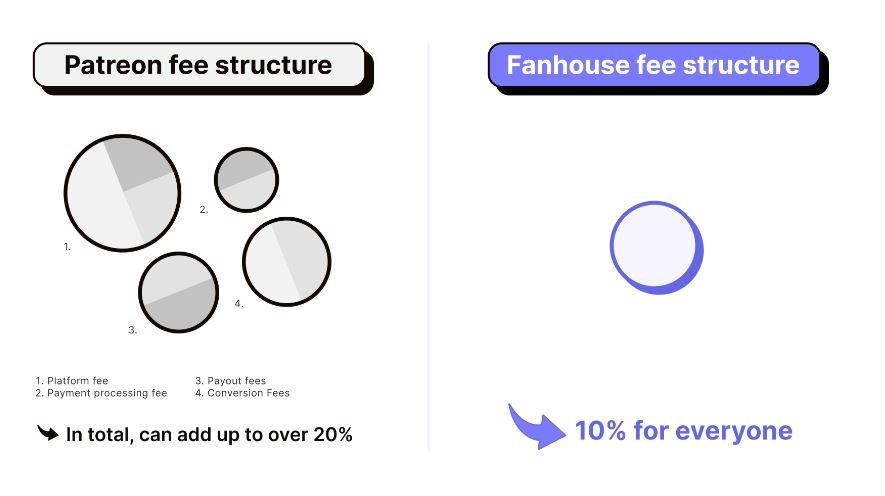 How to create a website like Fanhouse?
The interesting thing to note is that Nguyen, the chief marketing officer of the platform, is also one among Fanhouse top creators. She charges her fans $10 monthly to gain access to exclusive content.
As a content creator, she shares more images and jokes, asks followers for feedback on Twitter posts, and gives fans a glimpse into her personal life. 
She talks about her life, sex life, and things that not a lot of people will discuss about, and that's what captures an audience, she believes. 
Jasmine Rice is also the face of the operation on the platform and a high-earnings content creator on the platform. With 200 subscribers who earn around $5000 for rants, selfies, personal messages, jokes, and more.
As an entrepreneur who runs a community marketplace like Fanhouse, the inspirational aspect of this is that she also earns from the platform while allowing others to monetize their content. How exciting and empowering it is! 
What if I Say you could also replicate her success? But how? By building an online community marketplace like Fanhouse or an alternative to OnlyFans (for explicit sexual content) to cultivate a community of similar interest and nurture it to build an adult ( like OnlyFans) or non-adult (like Fanhouse) entertainment business. 
Fanso, the powerful community platform clone script, is all that you need to create your subscription-based community marketplace, stream live performances, manage profiles, monetize, sell merchandise, and do a lot more. 
Built on modern tech equipped with powerful community features, it simplifies creating and scaling a membership-based community platform.
Here is what you need to know about Fanso:
White label solution
Being a white-label solution, you can create your own branding with the required customizations. 
Self-hosted
Own your subscription-based community platform by self-hosting it. Select a hosting provider of your choice. 
One-time payment
Fanso doesn't have any recurring payments or hidden charges; there is just a one-time payment. Check our pricing here.
100% source code access
Own complete access to the source code- it comes with an API guide for better understanding.
Optimized for all screens
The script is highly responsive and optimized for all screens, including tablets. 
And what are the features you get with Fanso?
Here are they:
The subscription-based platform for setting custom pricing.

Live streaming to level up fan engagement.

eCommerce shopping cart integration.

Creator dashboard for a customized profile page.

Social community to increase visibility and helps creators grow more popular.

Build-in tech and integrations.
Conclusion
Fanhouse is emerging as one of the best OnlyFans alternative for content creators who want to avoid explicit sexual content. Whether you publish lifestyle material, fitness, music, or anything of that sort, Fanhouse can be a great alternative. Similarly, if you are looking for an opportunity to build your own community marketplace, we can offer you the right guidance to get started.