Sure you have a lot of ongoing questions about Patreon and that's probably why you're here – to know more about Patreon!
If our guess is correct, one of these questions is what might have brought you here!
What is Patreon

What is Patreon used for

How does Patreon work

What is Patreon business model

How does Patreon subscription work
Sounds right, we guess! 
Anyways that's the table of contents for this read as well😉 ! We'll be covering the Patreon creator community platform in this read – the basics, who can use Patreon, the business model, and more! 
So, let's dive into the read, shall we? 
What Is Patreon?
Patreon is a subscription-based creator community platform that allows creators to share their work. Meanwhile, fans (known as "Patrons") can support their favorite creators by opting for a monthly subscription.
In a phrase, Patreon is more like a crowdfunding platform that allows fans to support their favorite creators. And in the long run, fans become long-term supporters of creators.
That's how most of the Patrons are today! 
Patreon was started in the year 2013 as an initiative to help individuals monetize their content. And as of now, Patreon has more than 200,000 creators and 6 million patrons on the platform. 
Now that you know what Patreon is, let's move to look at what Patreon is used for!
What Is Patreon Used For?
Creators use Patreon to showcase their work to the world. Any established YouTuber or a creator who is new to content creation can make use of Patreon. 
Also, Patreon is an ideal way to make some extra money. A creator can post images, videos, podcasts, or even songs on Patreon social platform. 
Patreon can be used by all kinds of creators. Here are some examples as to who can use Patreon, 
Visual Artists

Podcasters

Writers & Journalists

Musicians

Video Creators

Education Related & Tutorials and more
Patreon can be a really useful tool for influencers/creators who already have a significant social following on other platforms. That doesn't mean creators with a comparatively lower following audience base should not use Patreon – it's all about quality content. 
How Does Patreon Work?
The Patreon business model is almost similar to any creator community platform you know today. The platform has two types of users – Creators & Patrons.
Creators can sign up on the platform, set up a personalized page and start showcasing their skills. They can choose to offer their content for free or create multiple subscription plans and offer content accordingly.
Users, known as Patrons, can sign up for the platform and view the content of their favorite creators. They can choose to opt-in for subscription plans based on their choice. Users can also take part in active polls, chat with creators and more on the platform. 
That's the overview! Let's look a bit in-depth starting with the creator sign-up process. 
Steps to Setup a Patreon Creator Account
Here's a quick step-by-step overview of the Patreon creator sign-up process. These are the steps you should follow when you want to setup a Patreon creator account.
Step 1: When signing up for Patreon, make sure you sign-up as a creator. You can see the "Create on Patreon" button at the top left corner of your screen.
You can signup using your email address or use social logins like Google, Facebook and Apple.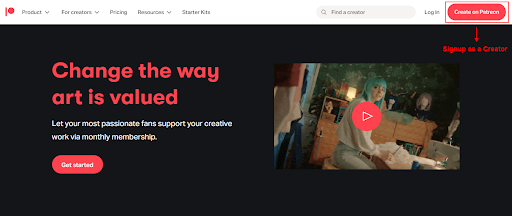 Step 2: Once you've logged in, you'll be asked to choose your niche. You can pick any two categories that are relevant to your skills. If your skills do not align with the displayed categories, you can choose the "Other" option.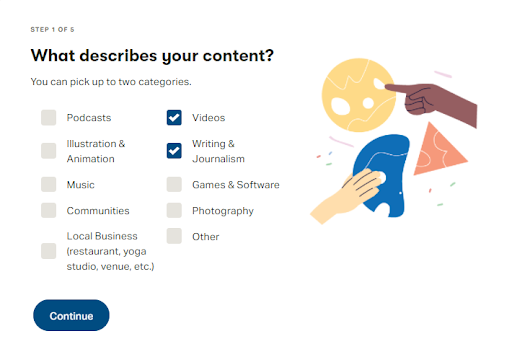 Step 3: Once done choosing categories, click "Continue" to proceed. This is where you'll be classifying your content as explicit or non-explicit content.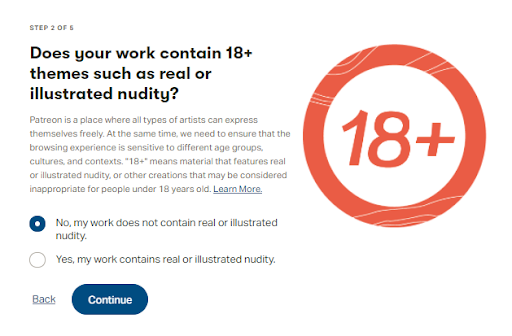 Choose accordingly and proceed. This is important because Patreon wants to make sure that it is a safe space for its users. 
Step 4: The next step would be to pick a currency of your choice. Patreon supports popular currencies like USD, AU Dollars, Canadian Dollars and more.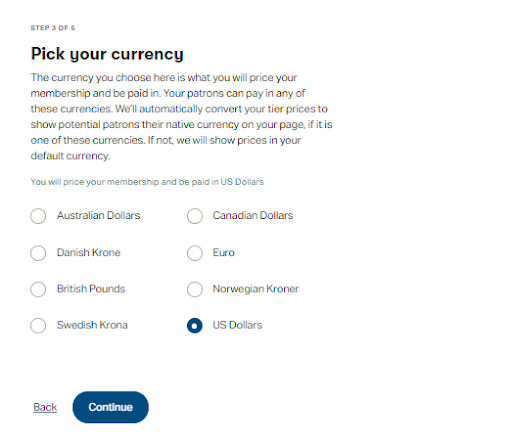 Choose the one that suits you best and click "Continue" to proceed.
Step 5: Once you choose your currency, you'll be asked whether you want to create and sell exclusive merchandise. You can choose whether or not to. Patreon charges an additional 3% if you opt to sell exclusive merchandise.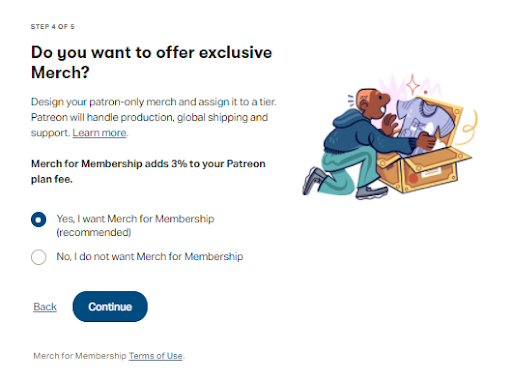 Step 6: The next step is the verification process. Patreon asks you to connect with at least one social platform for verification. You get to choose from popular social platforms. Also, Patreon gives you a custom URL. For example, patreon.com/thisismyurl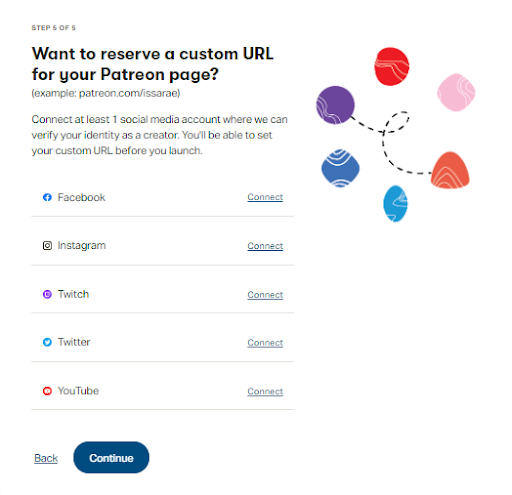 Step 7: This is the final step to set up your Patreon creator account. You can set up basic details like the name of your page, profile photo and more. You can also upload a custom introduction video.
The checklist on the side of the screen makes the job easy for you.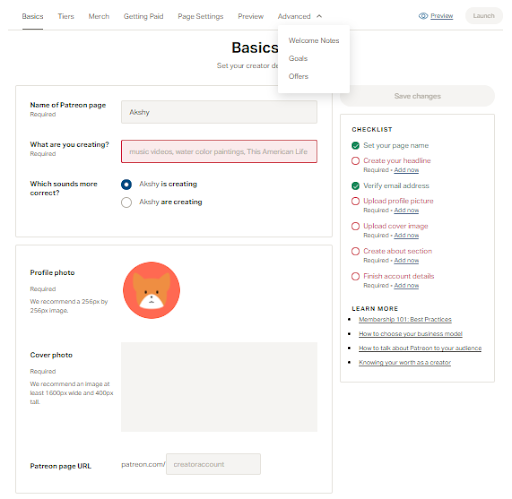 When you're done with the basics, you're all set to launch your Patreon creator account! You can start showcasing your work on the platform and in due course of time, you'll start getting subscriptions. We'll look into how to make money using Patreon in a separate read.
As for a Patron, the process is quite simple. The sign-up procedures are the same. Once done, you'll be looking into a clean, simple dashboard that gives you all the basic information you need. 
Here's what it looks like,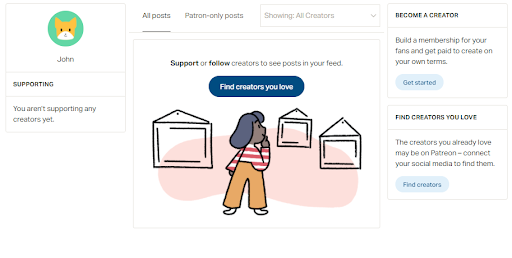 The user gets two separate feeds one of which shows all kinds of content and the other shows only creator subscription posts. They can start exploring their favorite creators by typing in their names.  
Users can also become a creator on Patreon whenever they want to. The steps would be the same as mentioned above.
Now that you have an overview of how Patreon works, let's looks at the Patreon business model. 
The Patreon Business Model
In this section, we'll look be looking at the different ways how Patreon helps creators make money (and how the platform makes money for itself). 
One of the primary ways creators make money on Patreon is with the help of subscription tiers. Like any other social platform, users should opt-in for a subscription plan to view the creator's content. Let's see how Patreon subscription works. 
How Does Patreon Subscription Work
When you set up a Patreon creator account, you will be asked to create tiers which is nothing but the subscription plans. 
You can choose what to offer and customize the subscription tiers to display to their Patrons. 
This is how the tiers look like when you set up a creator account.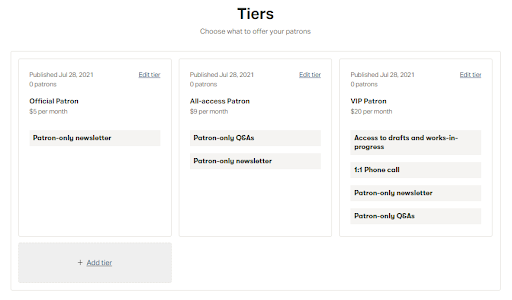 You can set the basic tier price as $1 and choose to add additional tiers if you want. 
Here's Doughboys, a podcast that talks about food chain restaurants on Patreon.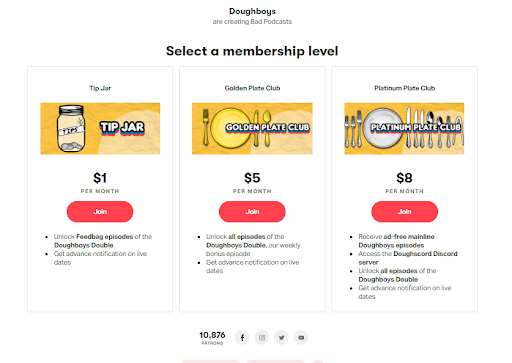 They've chosen to go with three subscription tiers and have around 10,000+ Patrons. 
As for how Patreon gets benefitted, the platform charges a 5 – 12% of what you make. The percentage is based on the plan they choose.
Yes! Patreon gives you everything you need to grow your business right from marketing tools to analytics & reports. Here are the pricing plans of Patreon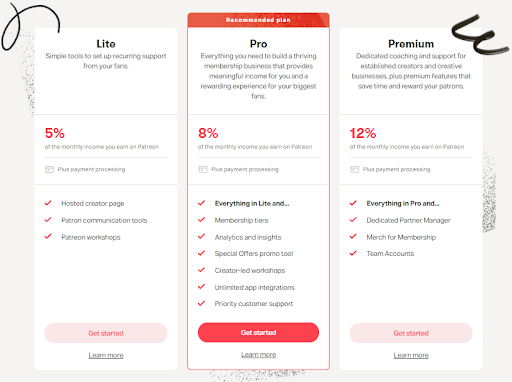 You can choose the pricing plan that you think would work best for your growth on the platform. Basically, Patreon is free to use. You just need to pay the percentage of what you earn. 
Though Patreon takes only a 12% cut, the processing fee adds up and in the end, you see an approximate 20% of your earnings going out. 
But with everything that Patreon offers, it is worth every penny you give!
Sounds good, right?
That's one way how Patreon allows you to earn money. And here's the next one! 
Patreon Exclusive Merchandise
Patreon goes the extra mile in helping you retain your Patrons and drive new subscriptions. The Patreon merch option allows you to send customized gifts to your subscribers. 
What's cool here is, you don't have to interfere with the packaging and shipping stuff. Patreon does everything for you!
That's the reason why Patreon charges you an additional 3% apart from your existing fee. But if you're opting for Patreon's premium plan, the merch membership option comes along! 
You can send your Patrons customized, 
Stickers

Mini Prints

Mugs

Posters

T-shirts

Long Sleeve Shirts

Organic Tote Bags and 

Hoodies
You can choose from one of the two delivery options that Patreon has.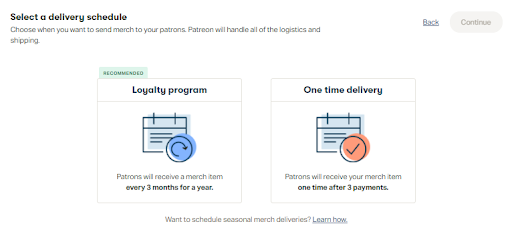 Sending exclusive gifts to your subscribers is a great way to retain them. And Patreon helps you do this the super cool way! 
Apart from this, Patreon also allows you to live stream using YouTube and sell pay-per-view content. 
So, that's pretty much about the Patreon business model. 
You now know what is Patreon, what is Patreon used for, the steps to setup a Patreon creator account and its business model. That's pretty much everything you need to know about Patreon – for the beginning at least! 
Just when we were about to end this read, we thought why not let you know some interesting statistics. And here they are! 
Patreon Quick Stats & Facts
This could go on forever but we've pulled out the most important ones for you here! 
Patreon, as of today, has raised more than $400 million in funding.

Creators on Patreon, when combined, make an approximate $1 billion in revenue annually. This was only $150 million in the year 2017.

There are more than 6 million monthly active supporters in Patreon and there was a 50% increase in the number of Patrons last year alone. 

Approximately 4 million new users have joined the platform since 2017. 

Patreon had accumulated 25% of its existing creator base only in the last two years. 

The platform, as of now, has 187,732 creators who have the support of at least 1 Patron.

The most profitable content categories on Patreon are Video Producers, followed by Podcasts and Games. 

Patreon has more than 200 full-time employees in 4 offices – 3 in the US and the other one is in Ireland (Dublin). 
Quite insightful, aren't they? You can know more here! 
So, let's head to the bonus part of the read! 
Bonus: How to Make a Patreon Clone Website
While setting up a creator account on Patreon is quite a good way to earn money, what if you can create your own Patreon clone website? 
Yes! You heard that right!
Today, there are a lot of Patreon clone scripts that allow you to build a website like Patreon. The benefits are huge. Starting from keeping 100% of your earnings to growing yourself as a brand, a Patreon clone website is the way to go in the long run! 
Since the social media subscription trend is only beginning to gain traction, this is the right time to create a Patreon clone website! 
You can know more about how to create a Patreon clone website here! 
Final Few Words
Patreon has become the go-to creator community platform for a huge number of creators out there!. 
The platform is robust, fully featured and gives you everything you need to become a successful creator. 
So, if you're thinking about becoming a creator on Patreon, there's no reason to wait! But also, make sure you think about creating your Patreon clone website – profitable & powerful as well! 
Let us know if you've any questions regarding Patreon in the comments section below! 
Cheers!