It's no surprise if you're favorite pornstar has an OnlyFans account today!
Because OnlyFans has become so huge that many experts look at it as the future of social media subscription platforms. And it's not only about pornstars. OnlyFans has creators from all industries, making it a go-to creator community platform for artists across the globe. 
Though Patreon came into existence way before OnlyFans, the fact that OnlyFans allows adult creators has made it more popular than Patreon (or any other social media subscription platform). 
So, if you're reading this, there could be a couple of reasons,
Looking to create a website like OnlyFans

You simply want to know what is OnlyFans on a very high level or 

Want to know how OnlyFans works and its business models
If the above-mentioned is one of the reasons why you're here, then you've got it! 
We've done our bit of research!
In this read, you'll come to know what is OnlyFans, how does OnlyFans works, OnlyFans statistics and a lot more exciting stuff! 
Put in a phrase, this read has almost everything you need to know about OnlyFans and to start a business like OnlyFans!
So, let's get started, shall we? We'll start with the basics and go in-depth during the later sections of the read!
What Is OnlyFans?
OnlyFans is a social subscription platform where creators can share their skills in the form of videos/photos on the platform. And creators are supported by their fans. 
OnlyFans was started in the year 2016 by Timothy Christopher Stokely, a British Entrepreneur. The platform initially didn't gain much traction and popularity until the COVID-19 pandemic hit globally. 
Since 2020, the OnlyFans platform has grown exponentially both in terms of revenue and usage. The platform has new subscribers and creators coming in every day. And by every day, we mean every single day. 
OnlyFans primarily works on the subscription model, where creators can create their own subscription plans and set pricing for them. Fans, if interested, can pay the specified amount and subscribe to their favorite creators. A subscription allows fans to see what their favorite creators are coming up with. 
We'll look at how the subscription model works and other OnlyFans monetization models in the OnlyFans business model section. 
So, that's the quick overview of OnlyFans. Now that you have a basic understanding of "What is OnlyFans," let's look at some interesting OnlyFans statistics. 
OnlyFans Statistics & Interesting Facts
OnlyFans, like we already mentioned, grew exponentially during the last two years and the rate at which it grew made people go "Awww!. 
We've pulled up a couple of interesting OnlyFans statistics for you! And here they are!
Today, OnlyFans has more than 120 million registered users and over 500,000 new users are coming to the platform every day. OnlyFans achieved the 100 million user milestone much quicker than Facebook. Facebook took five years to cross this, whereas for OnlyFans, it only took four years.

OnlyFans has more than 1 million creators on the platform today. This was only around 60,000 during the mid of 2020. OnlyFans CEO Tim Stokely stated that creators on the platform are paid more than $200 million a month. 

The OnlyFans website has more than 5.5 million daily visits. This constitutes approximately 170 million-plus monthly visits. 20% of this traffic comes from Google and 10% of this traffic comes from Twitter. 

OnlyFans has more than 600,000+ followers on Twitter which is the highest for any subscription-based platform. 

Bella Thorne, a famous American singer and actress, made more than 1 million in revenue during her first day on OnlyFans. 

The top 1% of creators on the platform are responsible for bringing in 33% of the platform's money, while the top 10% of the platform's creators bring in 73% of the money. 
That's pretty much the statistics we wanted to share with you. Pretty cool, right? 
For a platform that is not even aged a decade, growing so huge shows the potential for the market and the interest of people explicitly. 
Okay, let's move to the next part of the read
What Is OnlyFans Used For?
In a phrase, OnlyFans is used by all kinds of creators who have the skills to showcase. The platform is used by a wide range of creators like photographers, fitness enthusiasts, musicians, adult workers and more. 
The platform is used by creators to
Share latest videos/photos

Teach new tips & tricks to help fans grow

Promote their upcoming movies or performances

Let users know about their latest videos/merchandise

Sell their personalized goods to their fans and platform users and more. 
The platform supports diversity and allows users to upload videos/photos or sell all kinds of merchandise on the platform. This is one of the main reasons why OnlyFans grew to become one of the most popular creator community platforms around the world. 
We've mentioned some popular creators from different industries to help you understand that OnlyFans is not only about adult creators.
Fitness Creators
TJ Hoban  –

WBFF Champion & Celebrity Trainer

Starr Hawkins –

Exclusive Videos, Live Stream Workouts & Food Plans

Lil Lulu –

Fitness Training Videos

Paloma –

High-Intensity Interval Training Videos
Music Creators
Cardi B –

American Rapper and Actress

Swae Lee –

American Rapper, Singer and Songwriter

Rubi Rose –

Rapper, Songwriter and Model

Safaree Samuels –

American Rapper, Songwriter, Businessman and Television Presenter
Other Popular OnlyFans Creators
Sonja Morgan –

Fashion & Travel

Joseph Saady –

Cooking Lessons and Meal Planning Tips

Georgia Hirst –

Personal Life Travels, Livestreams and Fan Interaction

Chameleon Kandy –

Makeup Tips & Tricks and Creative Tutorials
Like we already mentioned, OnlyFans isn't all about nudity and adult creators. Anyone willing to showcase their skills can use OnlyFans to get started with.
Now that we're done here, let's move to the next part of the read! 
How Does OnlyFans Work?
Guess you've been waiting for this section for some time now! 
Well, here we are! 
In this section, we'll be looking in-depth into the OnlyFans creator community platform – right from the account creation process to the multiple monetization models.
We'll start with how OnlyFans works for a creator. 
OnlyFans Creator Account SignUp Process
Becoming a creator on OnlyFans is one of the best decisions a person could have made in 2020! That being said, let's look at how individuals can signup for a creator account on OnlyFans. 
The process is quite simple and a no-brainer!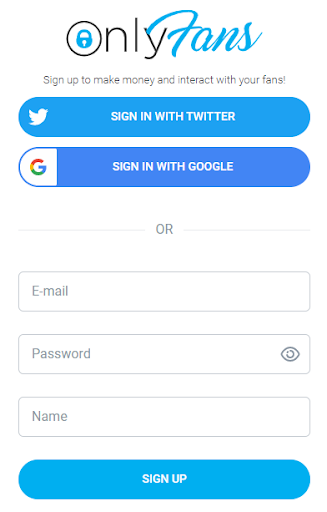 This is the first step of the creator account signup process. The individual has to head to OnlyFans.com and sign up using their email address, name and password. 
To make things easy for creators, OnlyFans has come up with the option where creators can signup for the platform using their social logins (Google & Facebook) – it saves time and offers a perfect onboarding experience.
Also, OnlyFans ensures that you are 18+ when you signup for the platform! Once done, you have to verify your account with the email that is sent to your inbox. 
When this is done, you'll be taken to your dashboard.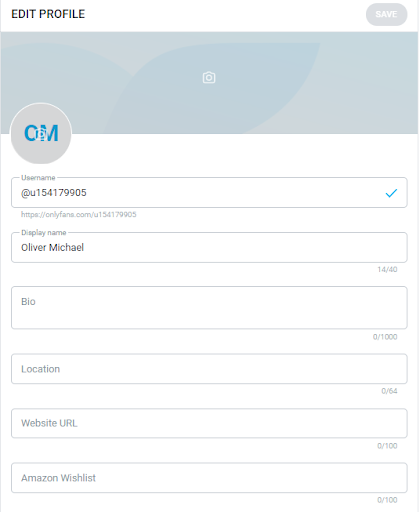 You can seamlessly edit your profile information when you head to the setting page. You can decide on a display name for your profile, add a custom bio, location, and website URL. 
The username you mention will appear alongside your OnlyFans profile URL. For example, if you are JohnSmith1999, your OnlyFans URL is going to be https://onlyfans.com/johnsmith1999.
Also, the Amazon wishlist is for you to add things you'd like to purchase on Amazon. Any super crazy fan takes a look at this and you'll be gifted all these items! 
Sounds great! What about you? 
OnlyFans – A Look Into Its Dashboard
Here's a screenshot of the OnlyFans dashboard.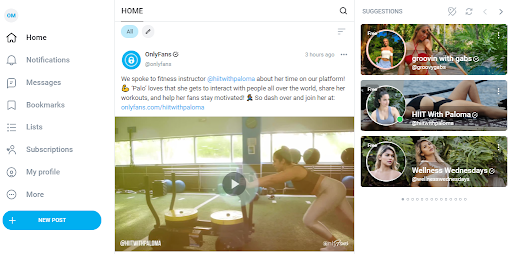 The platform is clean, aesthetically designed, and resembles Twitter at times. When you initially signup, you'll get suggestions and your feed will be filled with posts from OnlyFans. But when you start following other creators, you'll have your personalized feed.
Let's look at what each button on the OnlyFans dashboard is for! 
Notifications Tab – This particular tab lets you know information like messages, fan donations, subscriptions and promotions. 
Messages Tab – You can view the interactions between yourself and your fans in this section. 
Bookmarks Tab – In case you are saving a post to watch later, you can find it under the Bookmarks Tab, just like Instagram. 
Lists Tab – This is where you'll know your followers, which contacts you've blocked and more. You can also create a custom list and add specific followers to it. 
Subscriptions Tab – You can view and manage your subscriptions in this tab. 
Apart from this, you can simply create a post by clicking on the "New Post" button on your homepage. OnlyFans allows you to add media like videos and photos and even create polls in your new posts. 
That's pretty much the overview of the OnlyFans dashboard and the signup process. 
Let's look at the monetization models OnlyFans has for its creators. 
OnlyFans Business Model
The success of a subscription-based platform depends on how effective it is when it comes to helping the creators grow. And let's just say that OnlyFans has aced in it! 
The platform has multiple monetization ways with which a creator can make money. And OnlyFans, on the other hand, gets equally benefited as well! 
So, let's look at the different monetization ways of OnlyFans, 
1. The Subscription-Based Revenue Model
Like we already mentioned, OnlyFans primarily works on a subscription basis model. Creators can come up with multiple subscription models and offer content on the platform.  
The minimum subscription cost would be around $4.99 and the maximum subscription can be set up to $49.99. Users can also create bundled subscription packages and offer discounts to the users on the platform.
Here's a quick example! 
Below is the OnlyFans profile of Safaree Samuels, a famous American rapper and songwriter.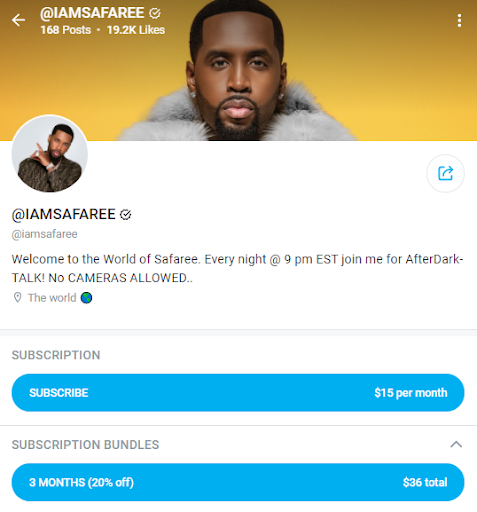 To view his content, one has to opt for the subscription plan, which costs $15 per month. But when one opts to go for a three-month subscription bundle, it costs only $36, a 20% off. 
Similarly, OnlyFans allows creators to create multiple subscription bundles for 6 and 12 months as well.
Gated Content/ Lock Premium Content
When a creator is quite new to the platform, it is not good to develop subscription plans (unless they are super popular). 
Creators like this often choose to go with a free subscription. For such creators, OnlyFans allows them to lock and monetize specific content on their profile. 
This allows creators to grow and make revenue while doing so. Any user/subscriber on the platform should pay the set price to view the locked content, making it another effective monetization method.
Private 1-1 Chat
This can be a lucrative monetization method for creators, especially when they become quite popular and have a lot of time to spend!
A private 1-1 chat is where the fans can directly interact with their favorite OnlyFans creators.
The monetization options are plenty here like, 
A fan can donate tips to their favorite creators via the 1-1 chat. 

Creators can send photos and videos to fans and monetize them.

Creators can also accept custom requests from fans and monetize them. 
Apart from the monetization methods mentioned above, there's another way to make money on OnlyFans. 
Sell Personalized Merchandise
Creators can also sell their merchandise using OnlyFans. 
OnlyFans allows creators to connect their Shopify store in a single click. When connected, all the products on the creator's online Shopify store will be displayed on OnlyFans. 
A creator who has a huge fan base will be immensely benefitted from this feature. 
There's something we didn't speak about here – how OnlyFans gets benefitted! 
"OnlyFans takes a standard 20% commission of every transaction that happens on the platform."
Irrespective of the monetization method, OnlyFans takes a standard 20% commission of each transaction. 
So, if a creator makes $10,000, OnlyFans takes a 20% commission of $2000. 
So, yes! That's pretty much the overview of OnlyFans. You now know what OnlyFans is, a couple of interesting OnlyFans statistics, how OnlyFans works and its business model.  
Now that we're done here, it's time we take a look at how you can build an OnlyFans like website using Fanso. 
This brings us to the question, what is Fanso?
Fanso – Subscription-Based Creator Community Platform Script
Like the title says, is a subscription-based community platform script that lets you build sites like OnlyFans, Patreon and more. 
Built with a clean code and comes with built-in features like, 
Subscription Model – Models can create custom subscription plans and also lock content and set pricing for the same. Admins can manually set the commission percentage. 
Live Streaming – Creators can conduct both public and private live streaming with Fanso. The per-minute charging model makes it easy for creators to monetize live streaming. 
Built-in eCommerce Store – Creators can sell both physical & digital products using the built-in eCommerce store. Discount coupons can be generated and the platform comes with the option to create custom tokens. 
Creator Dashboard – The in-depth dashboard allows you to manage all other activities like scheduling content, geo-blocking users, shipping tracking, earnings management and more. 
Social Community – Fanso comes with social features like IG style stories, internal messaging, the verified profile mark, user engagement features like comments, likes, social sharing and more. Fanso also supports multiple languages. 
Like we already mentioned, Fanso is power-packed and has all the features you need to create an OnlyFans like website. Since Fanso is a 100% white label solution, you can customize it easily to suit your needs.
Speaking of creating an OnlyFans like website, let's look at the steps as to how you can create an OnlyFans website using Fanso. 
Steps to Create an OnlyFans Like Website Using Fanso
Create a website like OnlyFans with Fanso is quite simple. 
Let's get to the steps directly.
Step 1: Buy a domain name for your OnlyFans like website. 
Step 2: Once you've bought the domain, it's time you choose a hosting provider for your website. If you're planning to allow adult creators, make sure the hosting provider you choose allows adult website hosting. 
Step 3: Purchase the Fanso script and install it on your server. 
Step 4: Customize your website to make sure it looks the way you need – add your branding and stuff, additional features if you want to and more. 
Step 5: Set the basics right – add payment gateways, market your website on social handles and your website is all set to go live! 
Note: The Fanso support team takes care of the customization stuff and the installation part. You just need to let the team know your requirements. 
Simple, right? On a scale of 1 – 10, how simple do you think the process is? Let us know in the comments section below! 
That said, it's time we wrap this read! 
The Bottom Line
Creating an OnlyFans like website today can help you reap huge benefits down the road! 
Because OnlyFans does not have a huge list of competitors. With only a handful of competitors like Patreon, AVN Stars and more, you don't have to worry about scaling your OnlyFans like website.
With scripts like Fanso, creating your OnlyFans like website is no big deal! So, now that you need everything you want to create a website like OnlyFans, why don't you get started? 
Create Your OnlyFans Like Website Today!
Frequently Asked Questions
How much does it cost to create an OnlyFans like website using Fanso?
When you use Fanso, it costs you approximately $2000 to create a website like OnlyFans. As for the timeline, it takes around 2-3 weeks. 
Does one need to have coding knowledge to create an OnlyFans like website using Fanso?
No. You need not have coding experience to create a website like OnlyFans using Fanso. Since Fanso is a perfect OnlyFans clone script, you can simply continue to launch your website. 
Do we get lifetime access to the source code?
Yes. When you purchase OnlyFans, you get lifetime access to the source code. You can customize the script whenever you want to. 
Is OnlyFans profitable? 
Yes. OnlyFans has grown exponentially and has witnessed an increase in revenue as well. During 2020, OnlyFans made an approximate $400 million in revenue.