OnlyFans has seen a tremendous rise in the recent past owing to the lockdown that happened all around the world. With people confined to their homes, there was a sharp spike in the demand for adult content. Gone are the days when generic adult websites used to rule the roost, with the growing demand for fresh content, sites like OnlyFans have slowly started to replace generic adult content. Websites like OnlyFans provide users an opportunity to communicate in person with the models that satisfy the need of the users for a human connection.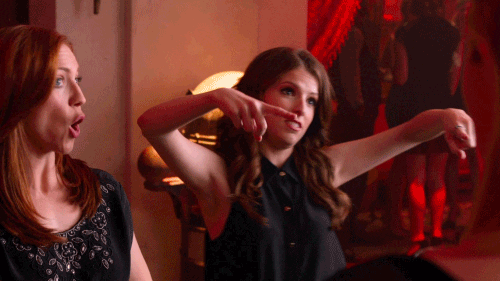 Recently OnlyFans announced that they are going to ban adult/explicit content on their platform which led to a lot of backlashes from the adult creator community. Although OnlyFans soon backtracked on their decision, this announcement made adult creators on their platforms look for sites similar to OnlyFans. In this blog, we will take you through the know-hows of a website like OnlyFans and its alternatives and provide insights on how you can make your own site like OnlyFans.
What is OnlyFans?
OnlyFans is a subscription-based social community where creators can publish their content and earn money by selling it. The business model of OnlyFans works on users buying subscriptions of their favorite creators to gain access to their content. Creators have the liberty to post any kind of content they want on OnlyFans including adult content. OnlyFans provides various ways through which creators can earn money like paid subscriptions, live streaming, selling PPV content, selling products, etc. Whatever is the earning by any creator, OnlyFans takes a 20% cut from it. Since its inception in 2016, OnlyFans has grown to have more than 130 million registered users on its platform.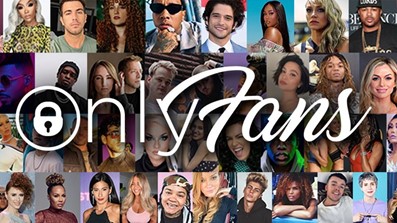 With the rise of content creators and influencers, it is safe to say that the world of social media has changed. As the internet has developed over the years, more and more ordinary people like us have turned to content creation as a career option. As per reports by SignalFire, more than 50 million people consider themselves to be content creators. That is huge, considering that the creator economy came into being just a decade ago. This societal shift can be partly credited to the smartphones with better cameras and connectivity along with creator-focused social networks, and partly to the yearning to feel more fulfilled in our jobs and being our own boss. This has led to a massive shift in people choosing content creation as a career over the more regular and stereotypical 9 to 5 jobs. And with a willing audience that wants to consume fresh content rather than the usual daily soaps, the creator economy is bound to grow even bigger.
How can someone make money as a Creator? 
Being a creator means you amass a fan following that would love to see your content which you're good at. Now when you start selling your content to your fans, that's when you get into the business of money-making by selling your talent. A creator can have any talent, some might be good at painting while some might be exceptional dancers, even a model with a good body can sell her pictures and videos as content and make money out of it.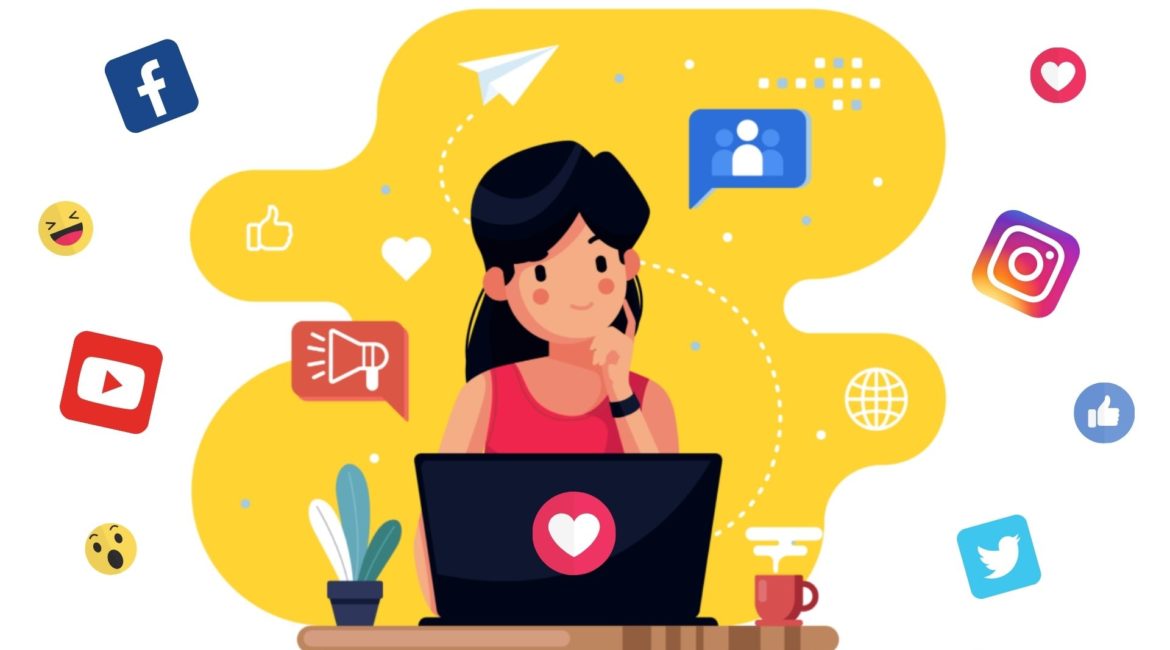 The rise of the creator economy has given an opportunity to many social platforms to spring up that helps creators monetize their talent. Like for example, OnlyFans boomed recently due to the high demand for adult content and OnlyFans was at the right place at the right time. Models on the OnlyFans platform made money through fan subscriptions, live video streaming of their shows, private chats with their fans, selling exclusive content as PPV, and general tips from their fans. And we're talking of good money.
As per reports, more than 2 million global creators earn a six-figure income. Yes, this sounds luring and makes you want to jump into the content creation business right now. But it's important to remember that not everyone makes it to the top in this business. With stiff competition from other content creators, it is very important to figure out the right platform to sell your content.
Why is it important to choose the right platform?
There are millions of creators and users around the world today, which means you will face stiff competition when you decide to get on to any content-sharing platform as a creator. So, it becomes really important for you as a creator to choose the right platform for your content. Now it wouldn't make sense if as a fitness trainer you try to sell your content to an audience that is looking for steamy adult content, would it? That's why it's really important to understand the audience's needs and then choose a content platform that specializes in your niche of content.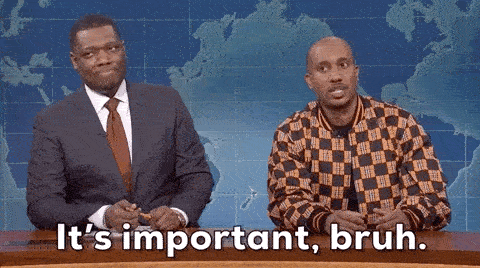 There are many apps like OnlyFans that cater to the needs of different types of content. Be it adult or non-adult content, you will find a platform to showcase your skills. Like for example if you are an artist or a podcaster, a platform like Patreon is where you can sell your content and make money from it. Patreon has creators with various skills in different categories like dancing, fitness, music, writing, photography, etc. Instagram is a great platform for influencer marketing where you can do brand sponsorships and earn money from it. If you're someone who teaches various courses, then platforms like Udemy, PinLearn, etc. are where you can make money by sharing your knowledge.
Similarly, you'll find various platforms if you want to sell adult content too. If you're a newbie in the adult world and would like to make money from mild x-rated content, then platforms like OnlyFans & MYM are your best bet. If you're a British adult content creator and want to attract a British audience, then AdmireMe can be your go-to platform. If you want to tap into the gay community, then Just For Fans provides you with the platform to reach the right audience. If you specialize in mainstream or non-adult content, then you can earn money on platforms like Patreon and Fangage.
Important factors one needs to know before choosing the right platform? 
Now that you know your audience and have narrowed down your choices for an adult platform for your content, there are a few important factors that you should know which will help you decide which platform to go for.
Security of your content
Your content is precious and shouldn't be accessible to anyone except who pays for it, simple! Before choosing your next platform do some research and find out which platforms offer the best security for your content. If your content is freely available on Google search, why would anyone pay you to buy the same content?
Window shoppers vs Actual spenders
Don't just go by the number of users registered on a website. These numbers might just be bloated, and the actual user count can be lower. Over this, the users who in real pay money to buy content and tip the creators can be even lower. There might be a website with 100k users but only 10 of them are spenders, do the calculations and find for yourself how much money will you make. Talk to other creators and find out which platform offers a good conversion ratio of watchers vs spenders.
Payout percentage
New content platforms might try to lure you with a 100% or 95% payout promise, but let's be honest, signing up on a new platform and building a fan base is going to take time and there's no guarantee it will take off. The standard payout rate in this industry has been around 80%, and anything less than that shouldn't be acceptable to you, and anything exorbitant won't be possible. Try to choose a platform that already has a name and gives a decent payout rate for you.
Payout time
You should also consider what's the minimum you must earn before you're eligible on a platform for payout. Also, take into consideration the time taken to make the payouts. With a lot of payment gateways charging higher rates for the adult industry, you must choose your platform carefully.
Respect for the adult industry
OnlyFans built its business on the adult industry and once it made a big name has tried to ditch the very people who laid the foundation of OnlyFans. You should choose a platform that respects your work and makes you feel safe and comfortable on their platform. You should have ample space for promotions on the website and your content shouldn't be avoided on the website to make it look 'clean'.
Ease of migration of your content and fans
It is difficult to persuade your fans to move to another platform and it becomes more difficult if the next platform is not easy and user-friendly. Choose your platform which provides an easy and seamless integration of your current content and also is easy for the users who want to follow you to the new platform.
Public image of the brand
It's easy to say that people working in the adult industry don't mind the public image of the brand. But in reality, whichever platform you choose to sell your content on gets attached to your name. A well-known and easy-to-remember brand name will help users to recall the brand name and in turn, lead to better chances for you as well as the platform to sell content.
Owner values
Owners and the company values play a vital role in your well-being and promotion as a creator. An owner who understands the adult industry can empathize and provide more insights to you as a creator, compared to an owner who jumped on this ship just to make big money will only think of profits. It's always better if the company's values align with that of yours.
Site usability for a creator
Most of the platforms in general care for the user experience all the while ignoring how compatible is the website from a creator's perspective. As a creator, you would need a platform that provides a good layout, fast upload speeds, and handles the payments smoothly. As a creator, you'll be spending most of your time here so it's essential that your experience on the website is also smooth just like a user's experience.
Top 10 OnlyFans Alternatives
1. Flirtback
Flirtback is an adult content subscription and sexting platform that's designed specifically for users who want to experience virtual dating. The platform is inclusive of all sexual orientations and ensures anonymity in all interactions. By sending a flirtmate request to a creator, you can chat (flirt) with them. However, if you think Flirtback is only suitable for chatting and getting to know the creators, you'd be wrong. The site allows you to get access to content like nudes and sex clips of the creators on a subscription basis. Moreover, Flirback was a 2022 runner-up as the best platform for newbie creators by follower.co To understand Flirtback better, here are some of its impressive features:
Flirtback promotes creators' profiles and drives traffic relieving them from the worry that is typically associated with other platforms.

Creators can monetize their content through subscriptions (€9.99 a month), tips, and selling premium content to their subscribers and fans.

For creators, the platform will take up to 40% of your revenue as commission, and the payout starts at €50.

Only users who have paid the verification fee can access Flirtback and get in touch with the creators, making it a premium platform with only paying users.

To get access to custom content (VIP Content) or to unlock the 1-on-1 video call feature, users have to purchase Flirback tokens.

Unlike other platforms, the creators of Flirtback focus on providing a satisfying digital flirting experience instead of gratification. 

The platform contains 100% adult creators. So a user, you can request customized adult content from anyone.
2. Fansly
Fansly is almost like an identical site of OnlyFans with a few differences in the features offered. Even the layout and logo of Fansly is similar to that of OnlyFans. As the news of OnlyFans banning adult content broke out, Fansly received around 4000 new registrations per hour leading to a server crash. Let's take a look at some of the features that makes Fansly a great OnlyFans alternative platform. 
Fansly allows users to follow creators for free along with paid subscriptions. In the free subscription users just see what the creator wants to show. If they want to see more uncensored content from creators, they will have to subscribe.

The free subscription works well for new creators too who would want to establish their base first. Creators just share some teasers on their free profiles and entice users to go for a paid subscription to see much more.

Fansly gives users the option to search for content creators and models, unlike OnlyFans that doesn't have any search feature.

Fansly provides the creators with tiers for subscriptions which means that creators can set up different tiers of paid subscriptions on their profile including the free subscription, and then post separate content for each tier.

Creators also get the option to add emojis to their content. This way they can hide some parts of the content they post and ask the users to pay to remove the emoji from the content.

Fansly offers a suggestions tab where they show the most popular and verified creators to all the users browsing the website.

Like OnlyFans, Fansly also takes a 20% cut in all the earnings done by the creators.
3. MYM
MYM or Meet Your Model is the first French subscription-based adult social network. MYM is an excellent platform for users to interact with their favorite personalities. The business model of MYM is similar to that of OnlyFans where users can buy subscriptions for models to access their content. MYM also offers a platform dedicated to agencies, agents, labels, producers, etc. Let's explore what MYM has to offer as a site similar to OnlyFans.
Other than the features that are similar to that of OnlyFans, MYM offers a push media feature that is really helpful for the models to promote their profile to more users. Push media lets a creator send out a content piece to all their followers, past and present, increasing their chances of users buying their content.

MYM unlike OnlyFans provides the users with a search option through which they can search for any model, ethnicity, region, country, niche, etc. This feature comes in very handy for new creators who can tag themselves in various places and make it easier for users to find them on the MYM platform.

While in OnlyFans a creator can ask for a payout of anything above $20, MYM sets the payout at 50$ for a creator to request for payment.

Creators on OnlyFans get to keep a flat 80% of the earnings on any type of revenue they generate. MYM gives a flexible model of 75% on subscriptions, 80% on any media, and 90% on any tips received by the creator.

There is also a 1% bonus if you're considered a Superstar on MYM.

The referral model on MYM is also better as compared to OnlyFans as you get a 10% bonus for every model referral that too forever. OnlyFans gives only 5% for each model you refer for up to 12 months or $50,000 whichever is less.

MYM also plans to launch MYM TV which will provide the creators with their own TV channel to broadcast their content like live shows, backstage stories, etc.)
4. FanCentro
With over 12 years of experience in the adult industry, FanCentro is the newest addition to the attractive Centro suite. Created in 2017, FanCentro has been a vocal defender of the rights of sex workers. Let's explore the features that can make FanCentro your OnlyFans competitor.
One feature that's missed out in OnlyFans is the search tab. FanCentro provides you an option to search for models, categories, niches, etc. on their website.

FanCentro runs an Affiliate program that gives incentives to both the model as well as the affiliate to promote your work. The commission is split 3 ways i.e., Models- 50%, Affiliate- 25%, and FanCentro-25%.

FanCentro also runs a referral program that pays out 10% earnings for every model for 1 year which is great in comparison with OnlyFans.

You get customizable 

subscription bundles

that give more flexibility to the models as well as the users to pay for the content they want to see.

Models earn 75% of all sales and payouts are sent weekly. The payout is lesser as compared to OnlyFans but FanCentro provides the models with access to ModelCentro through which models can have their own dedicated website.
5. Unlockd
A new entry to the adult market, Unlockd was created in the year 2020 and offers a lot of potential to be the next big subscription-based social platform. Let's dig deep to find out how Unlocked can be your next OnlyFans competitor.
The best part about Unlockd is that it provides an 85% share to the creators and keeps only 15% for itself. This by far is the best rate you as a creator can get on any adult platform.

Another feature that is very useful is the search option which contains many filters through which users can search for specific content they're looking for.

Unlockd provides an automatic weekly payment to all its creators that is convenient, but you can withdraw money only after you've made $100 on Unlockd.

Although OnlyFans and Unlockd are very much identical, Unlockd claims to have better customer support and guarantees to address any issues in 24 hours.
6. AdmireMe
Created by the British glamour model, Chelsea Ferguson, AdmireMe VIP is a new but attractive subscription-based adult social platform. A former stripper, Chelsea noticed that other adult sites are minting money for themselves, so she thought of creating something which will be more beneficial for the creators. If that works or not for you, let's take a look at some of the features that make AdmireMe one of the alternatives to OnlyFans.
As it's a British company, the default currency is GBP, but international creators can charge in USD and Euros if they prefer to.

With a search option available, AdmireMe makes it easier for fans to connect with their favorite models as per their niche choice.

AdmireMe gives the option of organizing your content in albums. This makes it easier for users to head straight to the specific fetish content they want.

AdmireMe provides more visibility to the creators by featuring models with 50 standard posts on the homepage.

AdmireMe takes a 20% cut from a creator's earnings which is the standard rate in the adult market. The only thing to worry about is that there is an admin fee if you want to withdraw less than 100 GBP.
7. AdultNode
AdultNode is more of a free platform that uses the token system to make money on the website. AdultNode looks like a hybrid of Twitter, Instagram, and Facebook and makes it easier for new users to navigate. AdultNode has a very loyal and close-knit community that makes them very user-friendly. Let's explore how this new platform can be your OnlyFans alternative platform.
AdultNode follows a token system, which means that as a creator you can earn money by getting tips from fans, charging tokens for private video calls, private messages, etc.

Although a token-based system, AdultNode offers the best rates in the markets for the creators. They only take a cut of 15% and the rest 85% of the earnings go to the creators.

AdultNode provides creators with the option of CrowdPay where creators can set goals to unlock their content and users pay tips to unlock that content.
AdultNode offers a subscription-based VIP account upgrade to creators which gives many benefits like boosting posts for better visibility, the profile is shown as recommended on the homepage to new users, etc.
8. JustForFans
Created in 2018 by Dominic Ford, JustForFans or JFF is a subscription-based content-sharing platform just like OnlyFans. JFF claims to be built by and for only sex workers and adult performers. Non-sex workers aren't allowed to make performer pages on JFF. As it's managed by someone who knows the adult industry, JFF proudly calls itself an adult site and hopes to empower sex workers to earn more via JFF. Let's explore the features of what makes JFF different from OnlyFans.
JFF provides an explore function using which users can search for specific content niches and models.

The subscription packages on JFF start from $4.99 to $14.99.

Users can also purchase individual content posted by their favorite models.

JFF keeps a 30% cut from the earnings made on the website and the rest 70% goes to the creators.

JFF offers monthly or weekly payout options for the creators.

Users can get access to models exclusive Instagram and Snapchat accounts by paying for them.

JFF also offers health packages for the models on their website.
9. LoyalFans
With over 35 years of experience in the adult industry, LoyalFans is a subscription-based adult social website. Founded in 2019 by cam studio entrepreneur Eduard A. Braileanu, LoyalFans is dedicated to the adult industry and its needs. Take a look at how LoyalFans stands in comparison to sites similar to OnlyFans.
LoyalFans takes a 20% cut of all the earnings on the website and the rest 80% are for the models.

Users can subscribe to the model's profile and access exclusive content on their profile.

LoyalFans pays out twice a month with a minimum payout rate of $50.

LoyalFans gives more visibility to the models with the search option for the users through which they can search for their favorite models and niches.

The referral program on LoyalFans offers a 5% commission for every model you bring in for a lifetime.
10. IsMyGirl
A premium adult social network, IsMyGirl creates partnerships on other social networks for cross-platform promotions. Founded by Evan Seinfield, IsMyGirl provides more ways than any other platform to earn money for the models. Let's see how IsMyGirl stands out differently from OnlyFans.
The homepage search option allows users to quickly search for what they are looking for. Be it a model or a specific genre, they can find it all.

IsMyGirl keeps 20% of the revenue generated on the website and gives the rest 80% as earnings to the models.

The pay-out period is twice a month with a minimum of $50 as payout amount.

Models can set up their premium Snapchat account on IsMyGirl and make more money from it by sharing exclusive content.

IsMyGirl has strategic partnerships with many platforms like Inked magazine that help in reaching a wider audience for the models.
How can you make your own Best OnlyFans Alternative?
Now that we have been through the best OnlyFans alternatives available in the market, you might be wondering if you can make your own site like OnlyFans. Well, the answer is a big YES! You can always explore the option of making your own subscription-based adult social website integrating the best features of all the current best sites similar to OnlyFans.
There are 3 ways through which you can build your OnlyFans similar website:
Build from scratch – Choose this if you have tech expertise and invest a lot of time and money into this. You'll be the boss of your work, but the investment is huge.
SaaS products – You can buy a readymade SaaS product available in the market that works exactly like OnlyFans. The downfall of this is that you depend on the parent company for any customization and scaling in the future. Also, you're bound by their regulations as your website is hosted on their server.
Whitelabel solutions – Your best and cheapest alternative to build an Onlyfans Clone is a Whitelabel solution like Fanso.io. Fanso provides you with a readymade turnkey Onlyfans Clone script using which you can customize your website and integrate all the features that you want. As you own the source code after you buy Fanso, you can scale anytime in the future as per your need. Also, Fanso is a self-hosted solution that means you don't need to depend on anyone to host your website. Fanso is affordable and needs just a few days to set up depending on your customization requirements, making it your best option to build your own

site similar to OnlyFans.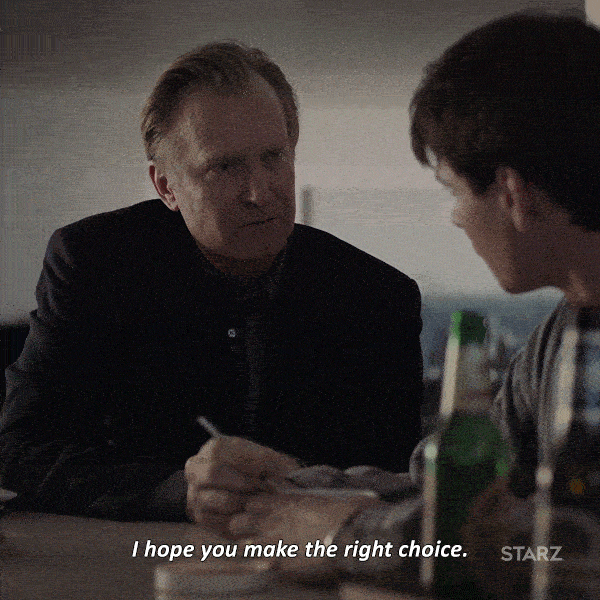 What makes Fanso the right choice for your OnlyFans alternative?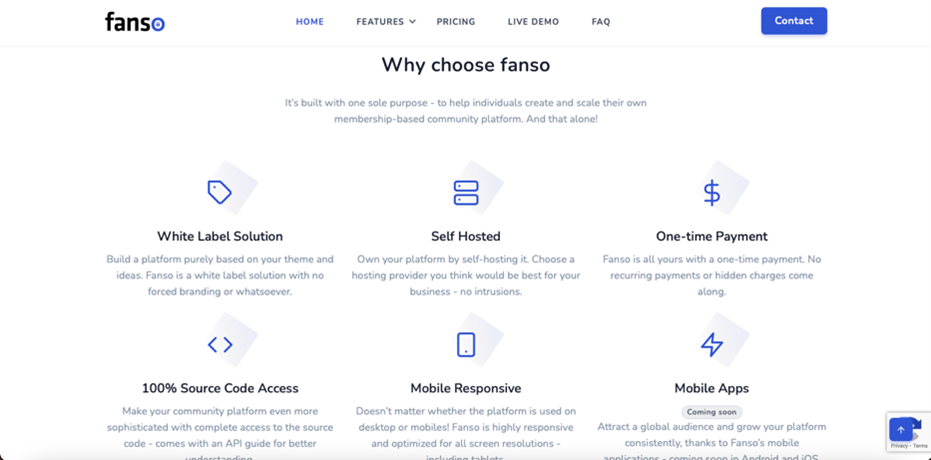 Let's take a look at some of the features of Fanso that makes it the best choice as your OnlyFans Clone:
Subscription platform – Multiple tiers of subscriptions available.

Live streaming – Using ANT media, Fanso provides the best in class live streaming experience.

E-commerce – Integrated selling platform to generate more revenue for your website.

Social community – Social feed, Instagram-like stories and much more make Fanso your best Social community.

Chat platform – Private chats, Group chats, Fanso has it all. You can opt for per-minute billing to make more money.

Dashboards – Individual User, Model, and Admin dashboards giving you complete power to oversee and manage your website.

Payment gateways – Fanso comes with safe and secure payment gateways like Stripe Connect & Paypal for a smooth experience.

Tech stacks – Best in class tech integrations giving options like e-mail, analytics, live streaming, chat, payment gateway, etc.
Final Verdict
Until and unless you have a pathbreaking new feature in mind, building a new website from scratch won't make much sense when you have more affordable and quicker options like Fanso readily available for use. So, if you have been thinking of having a site like OnlyFans of your own, then readymade turnkey scripts are the best solution for you. You just need to integrate your brand colors, feel, logos, etc. to your platform and you're ready with your own OnlyFans alternative. With the flexibility of customization, you can integrate all the best features of other alternatives of OnlyFans on your website and rule the game.