How wonderful it would be to receive birthday wishes or a personalized note from the legendary hybrid Klaus Mikaleson🧛  or the famous Russian boxer Dolph Lundgren🥊 ?
Sounds cool, right?
Earlier, this would have never been possible, but the Cameo App has made this totally possible today! In fact, we did take our sweet time to look into the celebrity list Cameo App has and we were amazed!
Okay! We got a bit excited and carried away, credits to Cameo! 
This read is all about Cameo – what is Cameo, how does Cameo app work, its business model, how it makes money, and more. And there's a little bonus for you as well – we'll reveal it at the end! 
So, let's get started, shall we!
What Is Cameo?
Cameo is an online platform where you can receive personalized shoutouts from your favorite celebrities across the globe.
Cameo is available both as a website and application making it easy for individuals to use the service.
On Cameo, you can find celebrities from all sectors – Actors, Athletes, Martial Artists (Scott Adkins just entered Cameo😍), Musicians, YouTubers, and more. Simply put, you name industry, you get it! 
Note: One can become a celebrity on Cameo only if they have more than 20k Instagram followers. This is to make sure that only celebrities are creators on the platform. 
Cameo is extremely easy to use and changes the way fans interact with celebrities – it bridges the gap and gives fans a personalized experience. Celebrities, on the other hand, make money by completing fan requests.
That's the quick overview of "What is Cameo". 
Let's start looking in-depth at Cameo starting with a bit of its history and interesting facts!
Cameo Video Sharing Website – History & Statistics
Like the title says, Cameo is a video-sharing website that was started in the year 2016. Headquartered in Chicago, Cameo was created by Devon Spinnler, Martin Blencowe, and Steven Galanis.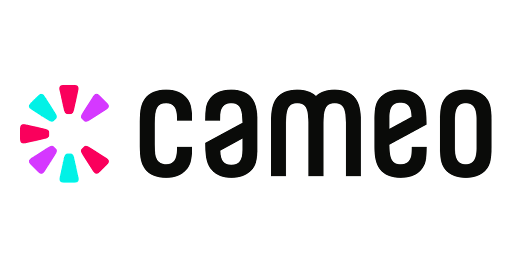 Though there's a huge story behind the starting of Cameo, it all became live when Blencowe got Cassius Marsh, an NFL player, to record a video and send it to a fan. The response was great and powerful. You can know more about the story here!
The idea shot to fame and in no time, Cameo saw itself flocking with celebrities and fans. The monetization happened seamlessly and the growth was significant in the coming years.
We'll be looking at how Cameo works in the following sections of the read. But now, we'll look at a couple of interesting facts and statistics about Cameo – we've covered mostly about 2020 because that seems to be the golden year!
Cameo, since its launch, grew steadily and its Chief Financial Officer revealed that Cameo's revenue was six figures in 2017, seven in 2018 and eight in 2019.

During 2020, the Gross Merchandise Value witnessed a significant 4.5% YOY growth. 

In May 2020, the Cameo app hit a new milestone  – it hit its one-millionth Cameo.

The lockdown drove the Cameo app growth and there were more than 1.3 million Cameos completed.

The total hours of content produced during 2020 were 30,000+ hours. The longest video was 1 hour 22 minutes and the shortest one was 64 seconds. 

Mobile usage grew to a massive 450% and there were more than 2 million app downloads.
That's how powerful Cameo is becoming. The platform is new and driving celebrities and users from all parts of the world!
That's all the statistics you need to know about Cameo. Let's move to the important part of the read!
How Does Cameo Work?
It's pretty simple and clean!
Users can simply search for their favorite celebrities or choose one from the available Cameo list of celebrities.
They can request the celebrity to make a custom video by sending custom notes, scripts and instructions.
It is up to the celebrity to choose whether or not to complete the request. 
That's pretty much it! Simple right? 
Here's how sending a request to the celebrity works on Cameo – we thought it'd help you understand better! 
We thought to ask for a birthday request from Scott Adkins and this is the walkthrough of the procedure!
How to Create a Request to a Celebrity in Cameo?
Before you ask for a request, you need to look at a few things,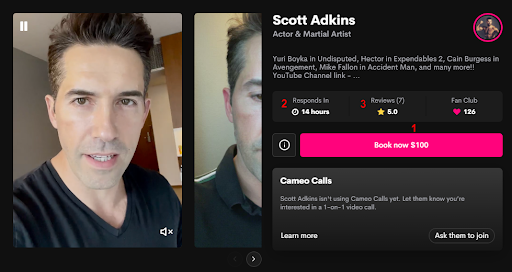 The Cameo Request Fee:

This is what the celebrity will be charging to complete your request. Here, Scott Adkins asks for $100 to complete customer requests. 
Responding Hours:

This is the time the celebrity takes to respond to your request. This doesn't mean you'll be getting your response only after 14 hours. It's just a timeline for you to wait – you can expect a response any moment after your request.

Reviews:

This gives you an idea about how well the celebrity handles customer requests. If you're crazy about the celebrity, you really won't take a look at the reviews. You need what you need! 
Once you're through this, it's time you book the celebrity!
When you click the "Book Now" button, you'll be taken to a separate page.
Step 1: This is the first step of creating your custom request. Since the entire process appears on a single page, you can review your request without having to shift in between pages.
You initially start by choosing who the Cameo is for, mention their name and you also get to tell who it is from. 
Or if you want a personalized shoutout to yourself, you can click the "Myself" option.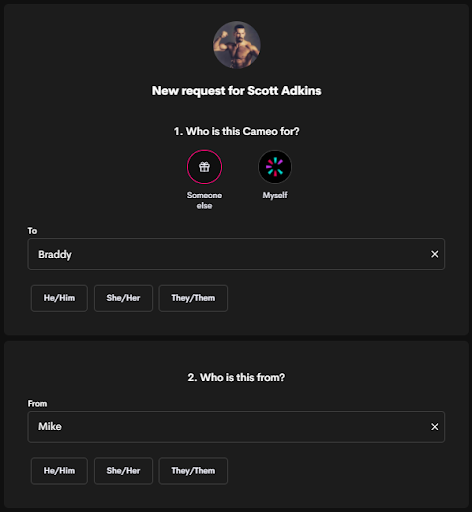 Step 2: Once you're done specifying "To" and "From", it's time to choose the occasion. Cameo gives pre-existing options like Birthday Wishes, Pep Talk, Roast, Other.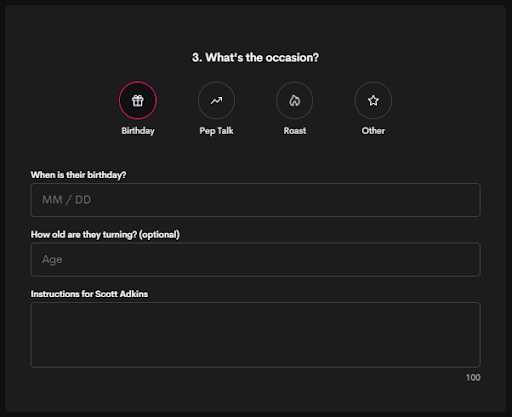 We're going with the "Birthday" option here. 
You've got to mention when the birthday is for the specific person, their age (if you want to) and detailed instructions for the celebrity. The character limit is 100, so make sure you give precise information within that!
Step 3: Once you have mentioned the specifics, the next step would be to give additional information to the celebrity. This helps Cameo celebrities to come up with a personal message to their fans.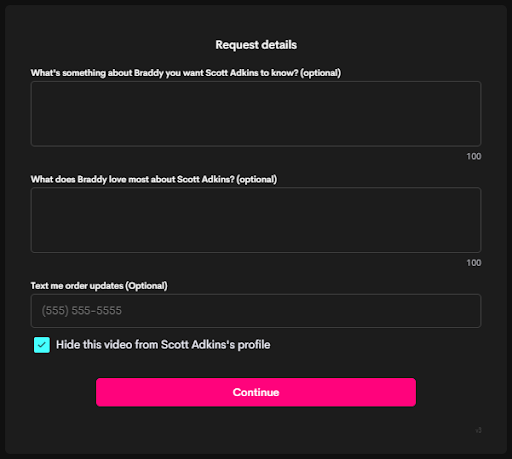 You can choose to receive order updates on your mobile phone. Also, if you're more of a private person, you can check the box that hides the video from the celebrity's profile. 
Step 4: The final step would be the payment. Cameo allows you to pay via credit/debit card. You can also choose to link your PayPal account if you find that more comfortable.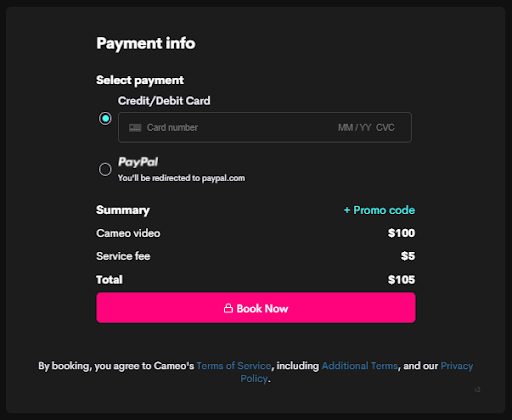 Cameo usually charges a 5% processing fee to get this done.
That's one side of the process. It's just you requesting a celebrity for a personalized video. Yes! There's the other side you should know about!
How Cameo and Celebrities Process Fan Requests?
Once when you send your request, the celebrity gets to know about it. They look at the nature of the request and decide whether or not to go forward with it. 
On the other hand, Cameo will notify you about the happenings on your registered email/phone number.
When you book a payment, Cameo puts it on hold for seven days or until the request is delivered.
If your request is not being completed within seven days, the amount will be credited back to your account. 
When the celebrity completes your request, you will receive a custom link to view the video. You can also share and download the video for your personal use. Once you get the video, it's yours and you can use it wherever you want to!
So, that's pretty much the answer to the question "How Cameo Works".
Let's move to the next part of the read!
Cameo Business Model
This is where we'll be looking at how Cameo makes its revenue. By now, you should pretty much have an idea but let's look into it!
1. Cameo Video Requests
This is what we just saw above. You ask your favorite celebrities to send a custom shoutout video by sending the specifics.
Celebrities can set pricing from $1 to $2500. Some of the cheapest Cameo shoutouts cost an average of $10. 
It all depends on what the celebrity sets their price as. Cameo, on the other hand, takes 25% of every transaction. 
2. Cameo 1-1 Call
This is another app-only exclusive feature Cameo has come up with. 
Celebrities can choose to opt-in or out for Cameo calls. Similar to video requests, celebrities set their pricing for their 1-1 call as well.

You can see whether the celebrity offers a call option and choose to go for it. When you click the button, you'll head to the payment page directly. 
What's super cool with Cameo 1-1 call is, you can invite up to 4 guests and at the end of the call, you get to take a screenshot as a memory!
3. Cameo Paid DMs
Apart from the videos and 1-1 calls, there's another feature called Cameo paid DMs. Like the title says, Cameo allows you to send paid DMs to your favorite celebrities.
You can send as many DMs as you want to your favorite celebrity but as to the question of whether you'll get a reply or not, it's unsure!
Cameo also has a custom token called Cameo Credits which is available for US users only. This can be used to send DMs to celebrities.
4. Cameo Merchandise
Cameo also sells merchandise but it is minimal. The store has only t-shirt as of now that come in multiple sizes.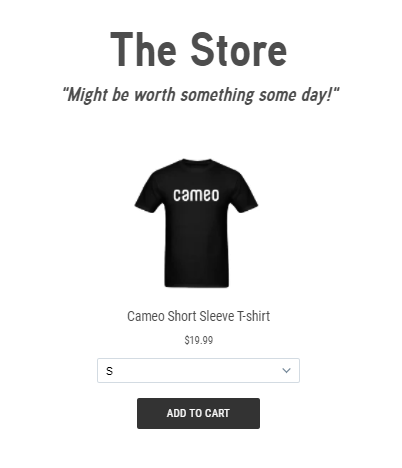 As we said, we could find only this particular tee in the store – not sure whether Cameo will come up with more different goods.
5. Cameo Referrals
This is not one of Cameo's monetization methods. This is something even better – the referral model! 
Yes! Cameo has a solid referral system that helps bring more users on board. And an average user who loves Cameo celeb shoutouts would never fail to make use of the referral system. 
Here's how it works!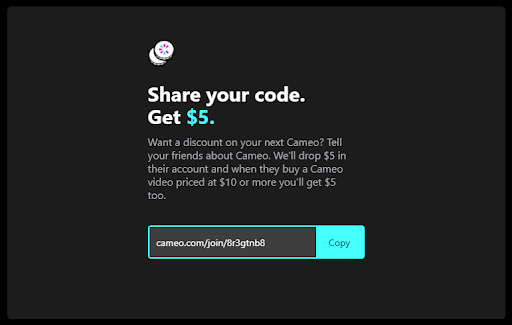 Cameo gives you a personal referral code (that one is ours) that you can share with people you know. When they join Cameo using your referral code, they get $5 credited.
And if they book a celebrity shoutout video priced at $10 or greater, you'll be getting $5 as well! 
Sounds, cool right? 
Or, if you find the "sharing referral code" task quite time-consuming, you can simply share your friend's email address and Cameo will do the job on your behalf!
It seems Cameo desperately wants new users onboard! 
So, that's pretty much the overview of the Cameo video-sharing platform! You came across what Cameo is, a couple of interesting facts, how does Cameo work – both the user's & creator's end and Cameo's multiple monetization models!
Wait! You thought the read is over? Not yet! Remember about the little bonus we talked about? 
It's time we got there!
How to Create a Website Like Cameo?
You should have guessed it! Anyways, this is the bonus we were talking about – how to create a website like Cameo!
With the internet almost accessible to every individual out there, a platform like Cameo has high potential to become successful out there!
The main features your Cameo like website should be having are, 
Personalized Video Streaming 

Celebrity Profiles along with booking options and details

Options to share videos to other social platforms and download the same

Options to interact with celebrities using comments

Notification options to keep users updated on requests
The options mentioned above are the basic features you need to run a business like Cameo. If you're planning to build from scratch, it will take a couple of months and cost you an appropriate $20,000 – $50,000. 
Instead, you can use custom creator community platform scripts to get started! 
One such solution is Fanso!
Fanso – Creator Community Platform
Like the title says, Fanso is a subscription-based creator community platform that lets you create websites like Patreon, Cameo, OnlyFans, and more.
Fanso is built with clean code and is a white label solution. This means no trouble when it comes to branding and also allows options for high customization.
Fanso comes with built-in features like,
Subscription Membership Options 

1-1 Live Streaming Feature

Built-in eCommerce Store to Sell Merchandise

Social Community Features for Engagement

Powerful Creator Dashboard and more
With a little bit of customization and a week or two's time, you can create and launch your own Cameo-like website – it's easy and is going to cost you way less than other possible solutions.
You can know more about Fanso here!
So, we're finally coming to an end of the read!
Final Few Words
That was a pretty long read, wasn't it? But yes! We did take a closer look at Cameo and come to know almost everything about the video-sharing platform! 
Cameo is one of the successful businesses out there with a unique business model! And coming up with one such website on your own can turn out to be a great success in the long run! Do a bit of research, and you'll know how to take things through! 
That said, have a great day then! 
We're going to continue our search for popular celebrities on Cameo! It's fun! 
Cheers!