If there is one ingredient that can make or break your OnlyFans future, that is your OnlyFans bio. 
Yes, it is your OnlyFans bio; if it can't lure OnlyFans users with your Bio (as it is what they see first on your profile even before knowing you), then it's game over!
So when it comes to a killer OnlyFans bio that actually converts fans to subscribers, you must know how to write to SELL. 
Every Bio is different, and so is every creator. Hence, this blog isn't a definitive guide. Instead, it gives great OnlyFans bio ideas to enhance your bio to grow your account and drive conversions.
Significance of a Good OnlyFans Bio
It is no surprise that OnlyFans is one of the fastest-growing social platforms. How do you get your profile to stand out among an ocean of accounts with approximately 170 million registered users? 
A killer OnlyFans bio is a great way (and the primary way) to make a splendid first impression. 
 Your Bio influences whether or not a fan subscribes to your OnlyFans profile, so it is important for you to make it the best. 
This is because your potential subscribers can only see the following:
Your profile image.

Your cover picture.

And your bio section. 
And your OnlyFans bio helps to:
Make your fans understand what type of content you have in your OnlyFans feed.

Entice fans to pay for your content. 

Help OnlyFans search engines find your profile.
Out of this, helping your OnlyFans search engine find your account must be given more importance as the platform doesn't have a search function. And due to this, many users leverage other ways to find your profile, like searching on Google and using other platforms to search for an OnlyFans account.
The Best Ways To Write an Impressive OnlyFans Bio
A good OnlyFans bio has to be thought-provoking, sleek, introductory, and funny. Finally, there must be a call to action that tells your OnlyFans what they should do.
Creating an attention-grabbing bio isn't that challenging if you put in a little effort in a well-planned manner. 
Here are some tips you need to adopt to get the maximum out of your Bio. So let's straightway get into the tips:
Ditch the single-line Bio
If there is one thing that you must avoid when writing an OnlyFans bio, it has to be this- Writing a single-line bio. Hold tight; we will be exploring the topic a little while later. 
Fans get enticed by a catchy and detailed OnlyFans bio that explains things more clearly than a single-line bio.
So what are the things that you must include in your OnlyFans bio to make it detailed? 
Here is some information that you shouldn't miss out on:
Write about yourself and your passion. 

Explain your content category ( For example, NSFW if you offer adult content).

Add amazon wishlist.

Use emojis to hook visitors.

Add an 18+ warning if you are an NSFW content creator.

Add social media links.

Mention if you accept DMs.

Point if you do PPV messaging.

Add some humor lines

Describe what you aim with your OnlyFans account
Keep it clean
The OnlyFans Bio has to be kept clean and simple. This means don't put some much content into your OnlyFans bio. It has to be short, trimmed, neat, clean, and, most importantly, up to a point.
It is also significant for your profile image and cover picture to be linked with your Bio. For example, if you are a fitness enthusiast, the cover photo has to be similar to that of a fitness enthusiast. That goes true for NSFW content too. 
Modify your Bio as required
Once you add your Bio, do not leave it as it is afterward. Make adjustments to your OnlyFans bio as often as you need so that you can keep your fans abreast of what is happening on your OnlyFans profile.
For example, if you have broadened your passion, this can be added, or if you are offering something new to your fans, these details will help your OnlyFans account have a personal touch and give your subscribers something to look forward to.
Don't ignore the role of Google
As the OnlyFans search engine is not that great, most OnlyFans users found the pages of their favorite models and creators through Google search. When Google shows search results, it displays a small part of the bio. Just like you see in the image below:
To be precise, the first 160 words of the OnlyFans bio of a creator will appear in the search results. Keep this piece of information when writing your OnlyFans bio; add the best information in the first 160 words.
Add your social media links
When a fan wants to spend their money to view your content, they have to get to know the authenticity of your OnlyFans profile. Adding your social media profile links on other social channels like Instagram and Twitter helps fans build trust in you. In this way, you also get a chance to get more subscribers on linked accounts.
Avoid copy paste game
While copying and pasting interesting OnlyFans bios of other creators sounds quick and easy, it doesn't help attract potential subscribers. Yes, taking reference of good OnlyFans bio ideas is great when you are trying to write a compelling bio.
But never copy them; make sure you add personalized information in your bio to attract more users by allowing them to know the real you.
Don't lie about anything that you can't provide
OnlyFans creators tend to sugar-coat things in their OnlyFans to spice up the Bio. But make sure you don't promise anything you can't provide. Refrain from making bold claims if it is unattainable; you might lose your credibility and the trust of your fans if you don't keep your promises.
At the end of the day, it is the content that your OnlyFans subscribers look for, and if they are happy, they will reward you with tips and engagement.
OnlyFans Bio Ideas- Examples From Real Users (Celebrities and Top Performers)
While OnlyFans is famous for its adult content, it isn't just for porn stars. Dozens of celebrities and models have hopped on the bandwagon, with some stars reeling in the big bucks as a result. And let's explore OnlyFans bios (real ones) of popular OnlyFans users if you are looking for OnlyFans bio ideas.
Bella Thorne, the former Disney actress who made a staggering $1 million after a day of joining OnlyFans, has a short bio; you can see it here.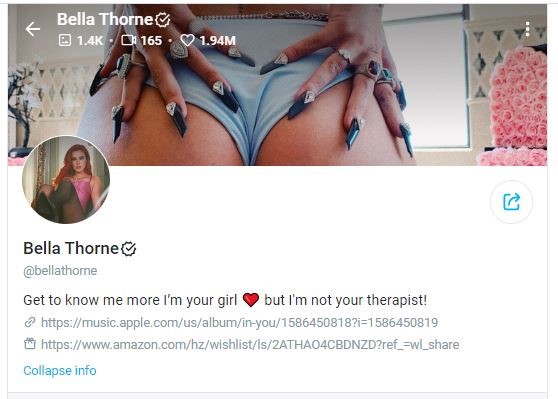 Bhad Bhabie, the "Cash Me Outside" fame, is on OnlyFans and has created headlines by earning over a million dollars in the first six hours of opening her account on OnlyFans in 2021. 
So here is what her Bio looks like: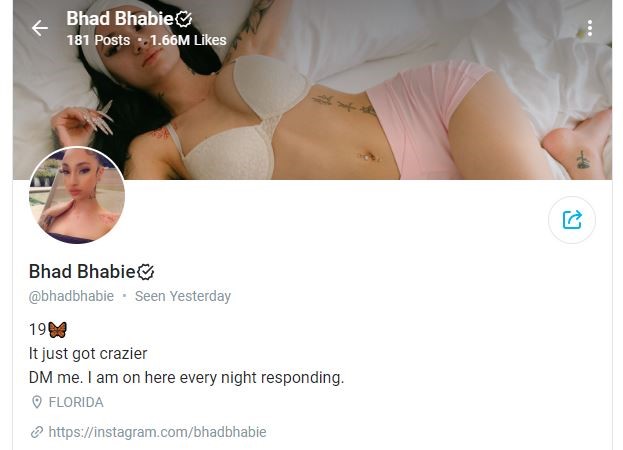 Coco Austin, who paved the way for curvy models, joined OnlyFans, and she has a detailed yet crisp bio which is as follows: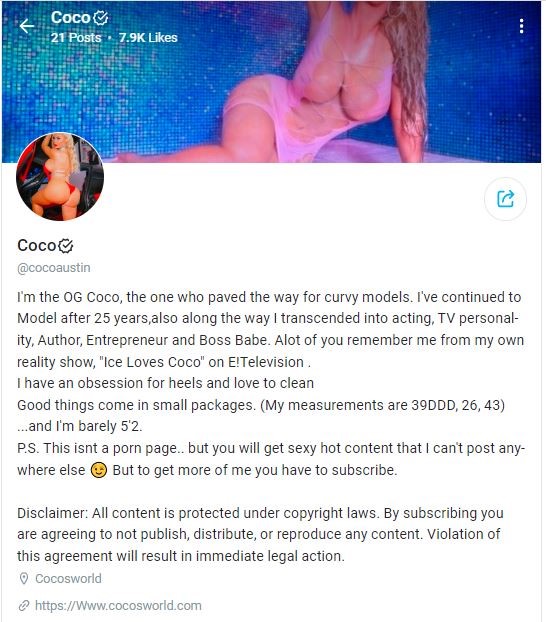 Starting her account in 2022, Whitney cummings is a popular comedian who roasts trending news to politics and everything that is in the limelight. 
Here is how she has framed her OnlyFans bio: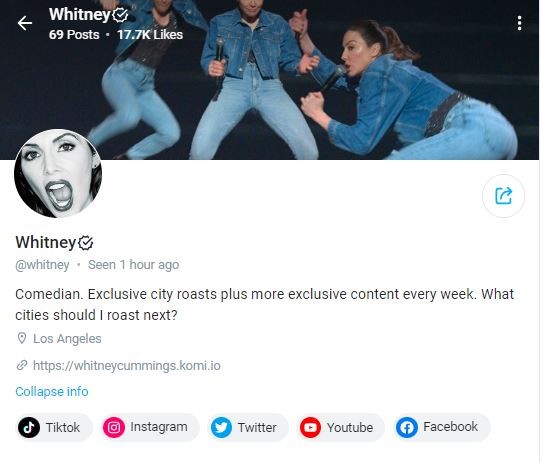 Lottie Moss is the younger sister of Kate Moss, who joined OnlyFans in 2021, and the model has set her page for free access, but she offers VIP access to anyone who tips her $200 or more.
Here is her bio: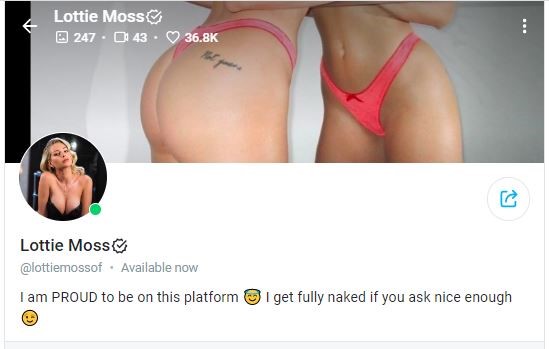 What to Avoid in your OnlyFans Bio?
But there are certain things you must avoid adding to your OnlyFans bio (for good). So here are a few things that you should not add to your bio or things that you wont find in best OnlyFans bios:
Never mention harassment phrases or banned words

Never limit your bio to a single line.

Don't mention your phone number.

Never mention your official email id associated with your OnlyFans profile.

Never mention links that video OnlyFans guidelines
Conclusion
Your bio is your last point of OnlyFans conversion. It Is extremely important to give your potential subscribers all information that could persuade them in making a buying decision.
The perfect OnlyFans bio must be clear, precise, and appealing; it should be, at most, a couple of sentences. Anything more than that is a waste of space. Find out what's the best and most appealing to your target audience and sum it up in the most interesting way. 
And a golden tip- If you think it isn't working, change it up. Keep experimenting with the new angle until you start more fans subscribing to your content.