Over the past two years, OnlyFans has turned into a legitimate way to make money. Thanks to some of the high-profile names joining the platform and Beyoncé mentioning OnlyFans in a remix of a Megan Thee Stallion track. 
But how much do OnlyFans creators make?
For those oblivious to the existence of the OnlyFans and what it entails, it works as a platform where creators can make money by selling original media content. While there is content from various niches, in the majority of cases, the content found on OnlyFans is sexual in nature. Content creators can grow their fan base that pays a subscription fee and can make even more by selling exclusive content. 
How much does the average creator make on OnlyFans?
When considering how much do OnlyFans creators make, you need to factor in that some creators aren't into the habit of posting regularly or don't have a popular page as they have few subscribers, and hence they will be making less. 
For this reason, unless you already have a large following from Twitch, Twitter, or Instagram, being on OnlyFans is unlikely to be worth the effort. 
The average earnings of creators differ significantly, an estimate of which you will come across in the upcoming sections.
Different ways through which you can make money on OnlyFans?
The most common way by which creators on OnlyFans make money is through subscriptions. Unless you run a free account, you can price your subscription service starting from $4.99 along with other revenue models like private messages, private content requests, and tips. 
The ratio of how the money is split varies depending on the size of your fans and your niche. A loyal fan base willing to spend on exclusive content can help you make more money than a large fan base primarily looking for cheaper subscription prices. 
The following are the effective ways through which you can make money on OnlyFans:
Recurring subscriptions
OnlyFans support monthly subscriptions around $5 to $49.99, where creators can offer exclusive content for the set fee. The platform allows you to run different deals where you can set a trial period, say 3, 6, or 12 months. 
Referral program
The referral program is another way creators can make money on OnlyFans. When you invite a creator on OnlyFans, you earn a share of it, say 5% of what they earn the next 12 months and 1% of what they make till their revenue reaches $1 million.
Along with that, referrals don't have any limitations, which is great for creators who want to make extra money.
Receiving tips
OnlyFans allows creators to receive tips from loyal fans. But to receive tips from your fans, you must make them happy (really happy) with your content. If they are satisfied and love what they see, you will get a tip from them.
You can set a custom tip bar where you can give multiple services tied to your niche and accept tips. This could be going live for a specific person or anything of that sort.
Selling steamy content- Pictures, and videos
OnlyFans allows creators to set a custom price for pictures or videos besides the monthly subscription you have in place. The image or video you post will appear blurred on the feed, and if users want to view it, they have to pay for it to unlock.
Private shows
Another effective way by which you can make money on OnlyFans is through private shows. Private shows are live stream sessions between you and your fans. You can also accept tips during live streams besides the live streaming fee so that you can even earn up to $500 per live session. 
Alternative ways to make money
Even though OnlyFans is popular for its adult content, there is a growing number of people who make money keeping their clothes on. However, this requires more creativity and will cost you more to promote. 
Alternatively, some creators also make adult content without showing their faces, which helps earn substantial revenue while being anonymous.
How much do best OnlyFans creators make?
So if you ask how much do OnlyFans creators make, a survey from UK-based company MRQ states that top creators on OnlyFans make a hundred times more than average paid workers like doctors and teachers.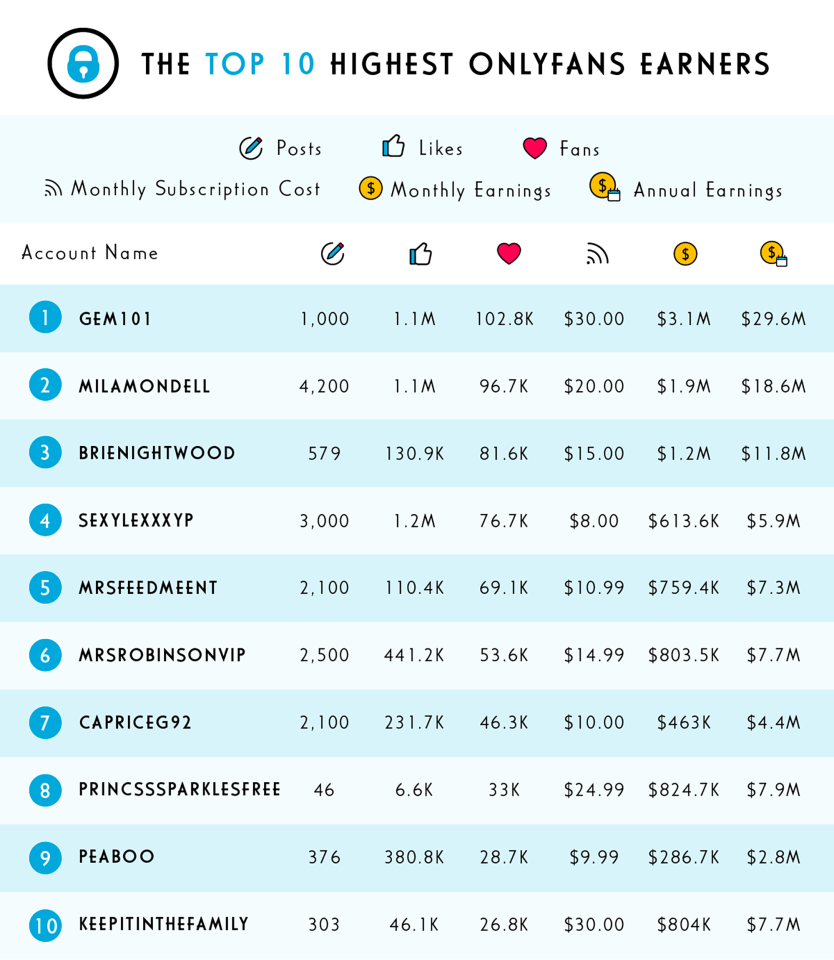 So here are the earnings of the best content creators on OnlyFans. The data is from the MRQs survey, which compares professionals' incomes in education, healthcare, law, and journalism. 
Here are the subscription costs, monthly earnings, and annual earnings of the best OnlyFans content creators.
Example 1:
After deducting the customary 20% cut taken by OnlyFans from the total earnings of creators, the best OnlyFans creator, Gem101 earns around $29.4 million per year, which is a pretty great income figure.
It is estimated that she makes the money which is almost 270 times more than what a doctor typically earns at the peak of their career.
Example 2:
Another example: Mia Khalifa makes far more money on OnlyFans than she ever did on Porn. Mia Khalifa, who has swapped her porn career for selling exclusive content on OnlyFans, is reportedly making more money than she did on Pron. 
Her words say: "Don't do Porn, and if you do it for yourself on your own terms, not for a company.
She is not creating nude content; instead, she is treating her OnlyFans page like Instagram without terms of services and content restrictions. And yes, she is making much more than she used to make from Porn.
What skills do best OnlyFans content creators need?
While these skills aren't essential to growing your page on OnlyFans, having these skills will help you increase your potential to generate more revenue. OnlyFans users have become accustomed to a certain quality of content, so you must always adhere to content creation and promotion fundamentals. 
Best OnlyFans content creators work on the following skills to create their premium content. 
Video production:

 In addition to images, you must frequently upload videos on OnlyFans to keep your fans happy. Learning video production techniques will ensure you offer quality content. 
Photography:

 OnlyFans is a visual platform, and people come to enjoy content from their favorite creators. Hence it is important to master editing apps to improve the quality of your pictures. 
Proper lighting:

The proper lighting can make or break the quality of an image. Learn the right lighting techniques until you find the right setup. 
Modeling expertise:

You need not have professional experience, but it would help if you practice a few poses to find how you look the best on camera. Look at professional models to see their poses and try to replicate the same.
Marketing strategy:

No matter the niche, every creator must learn the marketing techniques needed for their OnlyFans promotions. Learn how it works so that you can attract new fans.
Networking: The ability to network with other creators on OnlyFans is an important aspect of growing your own brand. Top OnlyFans creators right now believe in collaborating with other creators to reach a broad audience and often find success. 
Average earnings of content creators on OnlyFans
Keeping aside the celebrity profiles or Top OnlyFans creators right now who effortlessly make millions on OnlyFans as they already have a huge Instagram follower base, let's look into the average earnings of creators. 
Most creators take home around $145 per month or less after deducting commissions. To make more money on OnlyFans, you need to make more per month than the cost of hours spent engaging. The ideal take home revenue per month must be $136 every month. If you take a creator's time at a $15 monthly fee, the median creator must spend less than 9 hours every month on OnlyFans to break even. This comes around 20 minutes a day. 
Subscribers expect regular content and prompt engagement, and you need to consider OnlyFans like running a serious business. 
Conclusion
Like most people think, OnlyFans isn't a get-rich-quick platform, but it offers the potential for content creators to make a lot of money on their own terms, either as a fun side gig or even a full-fledged career. Your "fans" are not just fans; they are paying customers. To keep the money flowing to your account, keep up the passion, and work harder to satisfy your subscribers.