Making money with a side gig is excellent; it becomes more exciting if we can do it on our terms. That's exactly what OnlyFans is all about. Unfortunately, there aren't any magic formulas to help you succeed to make millions. So you just got to play the game right to make it big on OnlyFans.
This blog will discuss the ins and outs of how to make money on OnlyFans, a world famous adult social media platform that's the hot talk at the moment.
Are you in?
We will cover working with OnlyFans, how to make money from OnlyFans, and how to be successful on OnlyFans. This is for you all aspiring content creators who want to make money from OnlyFans.
How does OnlyFans work?
OnlyFans is a platform for content creators to create and distribute exclusive and premium content users can't get anywhere else. Creators can set their accounts free or paid, and followers pay to receive exclusive content from their favorite creators.
The platform allows content creators to set up their profiles for free, but when they start making money, it pays out 80% to creators, keeping 20% of the earnings as a fee. As most content on OnlyFans is explicit, only users above 18 years are allowed to use the platform and will have to produce a government-issued id to sign up to the platform.
The branded content of each creator is protected by OnlyFans ensuring that it can't be shared outside the app. The content will be blacked out even if a user tries to capture screenshots while on the platform. The platform also has the authority to ban users who attempt to record or screenshot what's happening on the screen.
Who uses OnlyFans
OnlyFans is a community marketplace that is home to all sorts of creators, not just sex workers and porn artists. Musicians, actors, physical fitness experts, and celebrities all use OnlyFans to create their own community and make extra money. Content creators can receive money directly from subscribers on a monthly basis, from pay-per-view features, or from tips.
As you can see below, British combat performer Sadie Gibbs is on OnlyFans sharing her personal and professional life with her loyal subscribers. And, of course, she gets paid for that.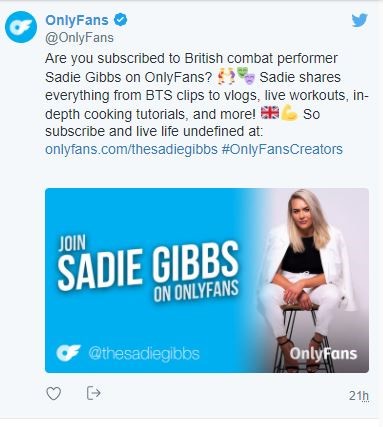 Not just artists, but fitness trainers and enthusiasts also have a special place on the platform, just like any other creative user.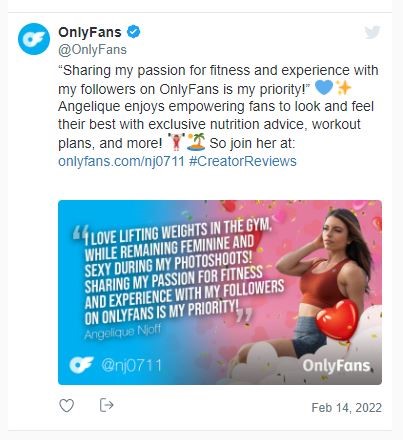 However, the platform is commonly known to be a hub for porn stars and sex workers. As OnlyFans allows creators to post content that otherwise would be banned on other social platforms like Facebook, and Instagram, no wonder it's used by amateur porn stars.
How much money can you earn on OnlyFans?
OnlyFans allows creators to set both minimum and maximum subscription rates. The minimum rate is $4.99, and the maximum rate is $49.99 per month. Users can also set up paid private messages or run tips that start at $5.
Fun Fact: Miss Swedish Bella is one of the top-earning members of the platform, although her subscription price is just $6.50.
So how much can you make on OnlyFans?
Creators with a decent fan following on other social platforms like Instagram and Twitter can earn between $749-$3747 as a monthly income. The calculation is based on 1% and 5% of the followers subscribing (assuming approx. 5k followers) with a monthly subscription fee of $14.99 per month. This value excludes revenue from pay-per-view messages, tips, and other revenue sources.
Where does the money come from?
OnlyFans generated over $2 million in sales with a yearly net income of $400 million. The platform pays out over $200 million each month to its content creators.
But how do you make money on OnlyFans?
The most common way by which OnlyFans models make money is through subscription fees, tips, private content requests, and private messages.
● Premium subscriptions
Subscriptions are one of the best revenue generation methods most content creators adopt. Once users pay the subscription fee, they gain access to the exclusive content of their favorite creator. Creators can set subscription fees from $4.99, and as the subscribers grow, so will the amount content creators earn every week.
● Tips
If you are brainstorming about how to make money from OnlyFans, tips are another good approach you can adopt. Tips are a way to show appreciation for entertainment or a particular service. Creators often go the extra mile to create great content for their fans, and they get tipped for it.
Lottie Moss, the younger sister of Kate Moss, joined OnlyFans in June 2021. She allows her fans to follow her for free with no subscription fee. But the model is offering VIP access to anyone who tips $200. VIP members also receive perks like "Unlimited free chat and panty purchases".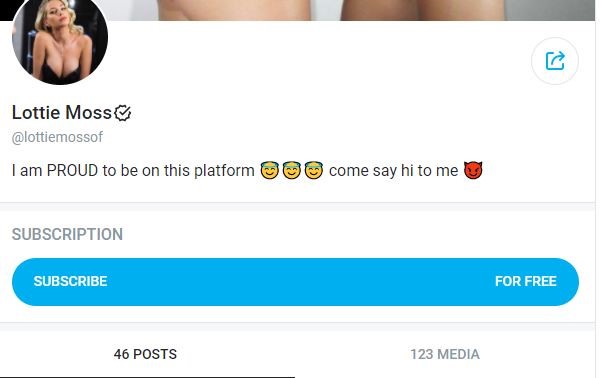 ● Live streaming
Live streaming is a great way to entertain and engage users on a social network. OnlyFans is no different. Users can tip the creator during live streaming, which is a great way to make more money.
● Premium messaging
Premium messaging works this way- Users can send messages to their favorite content creators through pay-per-view. For sending a premium message, OnlyFans will charge a specific amount from users. This is not just a great money-making tool; it is also a great engagement tool.
● Referral programs
Using this approach, content creators can recommend the content of other creators. When a creator registers to OnlyFans through the shared link or referral code, they get a percentage of their income.
● Fundraising
Besides the common revenue streams, creators can also set fundraising goals to raise funds.
OnlyFans creators who make over $1 Million-Examples of OnlyFans success story
Some of the top OnlyFans creators are celebrities, and they're the top earners for obvious reasons. However, top earners being celebrities doesn't mean that you should feel that you won't make it to the top list. Instead of viewing your competitors as hurdles to fulfill your dream, take their success stories as motivation and guidance to create your own story in making money on OnlyFans too.
Blac Chyna- Black Chyna is a Reality TV star who currently tops the OnlyFans creator list. She offers a subscription fee of $19.99 per month and provides access to X-rated images and videos.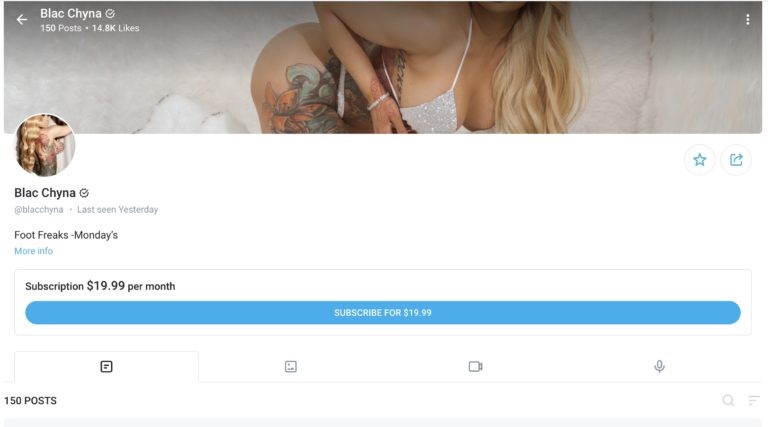 Bella Thorne – She joined OnlyFans and earned up to $2 million in her first week.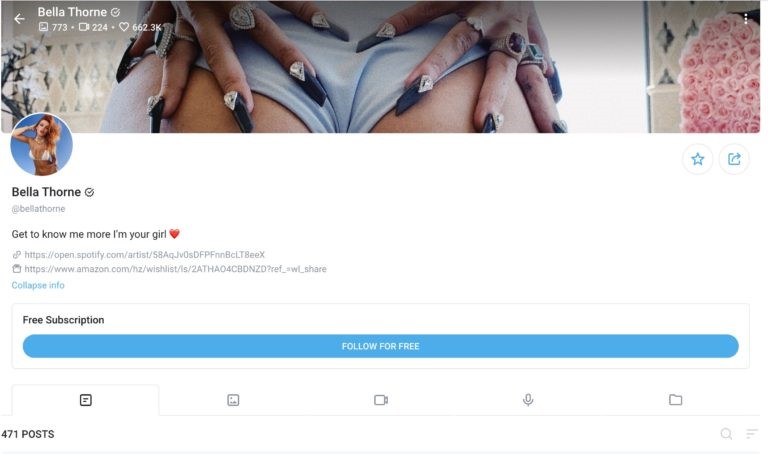 Safaree Samuels – The popular rapper, songwriter, and celebrity is a top creator who earns a lot with a subscription fee of $15 per month.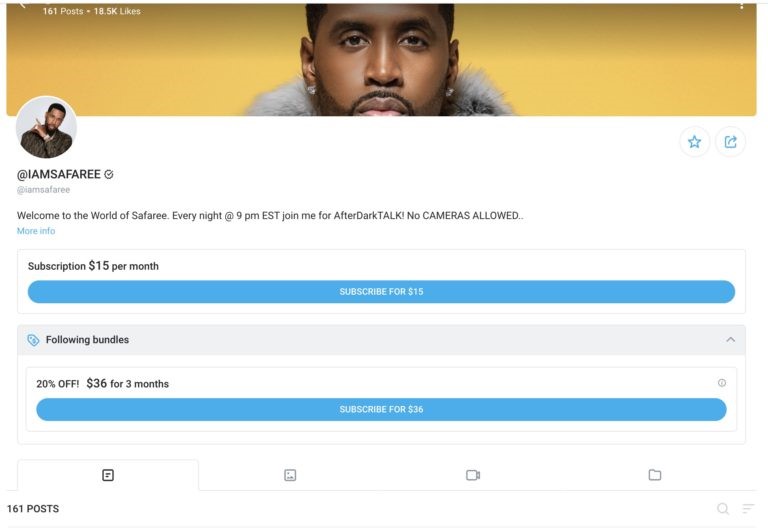 How much should I charge my OnlyFans followers?
The maximum amount a creator can charge on OnlyFans is $49.99 per month. On average most creators charge between $9.99 and $19.99 as a subscription fee. On top of that, they find ways to make money from other ways which we have already discussed.
How to grow your OnlyFans subscribers?
It is easy to create an OnlyFans account, but gaining followers and, most importantly, sustaining loyal followers takes hard work.
If you don't have a huge social presence, establishing an organic following can be difficult.
● Analyze your demographic and popular countries
Content creators should assess and understand who their target audience is. Demographics is another important starting point to figure out how to get the attention of your target audience. Based on the data you gather, post content that suits your audience's interests. If your fan base is from one specific country, make sure you sponsor content targeting that country.  
● Promote, promote, and promote on social media
If there is one success mantra to grow your subscribers, it would be to PROMOTE your content. I know it's not a fancy tip, but there is a reason why it is on the list. The more places your content can be found, the higher your chances to attract new followers.
Find out where your fans hang out to make the most out of it. Chatrooms, forums like Reddit are great places to begin your search. Reddit has one of the largest OnlyFans communities, which you can take advantage of. Content creators can promote their accounts and content to a specific audience.
● Offer incredible discounts to keep your subscribers happy
Who doesn't like exciting offers and discounts? If it's exclusive, it becomes more incredible. You can use forums to announce the discounts to the community, which leads to the users taking a step further to subscribe to your account for premium content. All followers crave great deals from their creators.
● Cross collaborate with other creators
Cross-collaboration is quickly becoming one of the most popular ways to grow your subscribers and to promote yourself online. Create collaborative live streams, or feature in a photo or video together with another creator, which is a great way to increase the exposure and grow your audience. Display your talent to a similar audience who love what you are promoting.
● Never miss any opportunity to engage your customers
Promoting your OnlyFans account is important but engaging with your local community is more important. Don't miss any opportunity you get to socialize with your followers to show them how much you appreciate their contributions. Connect on a deeper level to express your gratitude. New potential subscribers will see your level of interaction with the existing community. This will incline them to become your loyal subscribers.
Growing brands and businesses can benefit from being present on subscription platforms like OnlyFans in different ways. Brands are constantly brainstorming ideas to stay ahead of social media trends, and some brands have taken their business to OnlyFans.
For example, Designer Rebecca Minkoff, an industry leader in accessible luxury accessories and apparel, launched her OnlyFans account for Fashion week. She shares behind the scenes content of fashion events that she is a part of.
The next example is that of a major media publisher, Munchies, the online food channel owned by Vice Media. Munchies made it to OnlyFans and charged fans a monthly fee of $4.99 to access exclusive food-related videos.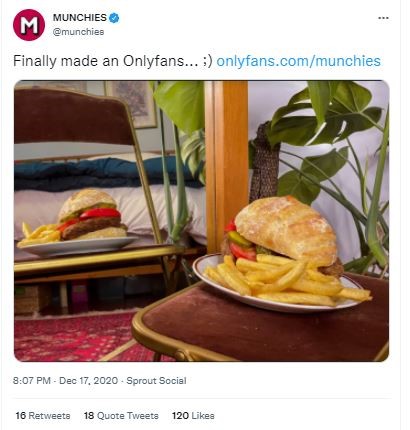 So what are the benefits brands get upon joining subscription-based social media platforms?
Here are some.
● Start conversations about products they offer
Businesses can use OnlyFans to encourage communication and build a growing community for their business. Brands can adopt this strategy to differentiate themselves from their competitors. Through a subscription-based community platform, brands can successfully build excitement about their products and boost up demand.
● Provide genuine value to their brand advocates
Thanks to the convenience of OnlyFans and similar apps, and the excitement created among the audience, customers can become advocates of your businesses and help you greatly in your marketing efforts.
● When a customer subscribes, they are investing in the long term success
Subscribing to anything is a relatively long-term commitment that requires trust. If your audience subscribes to your OnlyFans channel, it means they want to hear from you every month. And now that's repeat business.
Conclusion
OnlyFans might look like a get-rich-quick scheme that suits everyone, but that's not true. Making money on OnlyFans requires you to put in hard work and do the right things. Use the tips in this blog to attract subscribers and turn them into your loyal fans- and see yourself where this can take you.
And, what's the worst that could happen anyways! And now that you know how much you can make on only fans, you can also think about creating a platform like OnlyFans, which we will help you with. So if you have that entrepreneurial spark, we can guide you in the right direction and even provide you with the best solution. You just have to get in touch with us.