Social media platforms for content creatives to bring out their talents are popping up all over the internet. But platforms specially designed to funnel money to creators' pockets are fewer, and OnlyFans is the most popular among all.
A quick scroll through Twitter and Instagram will let you know that people are making serious money by selling uncensored content online. Like any third-party platform that caters to content creators, OnlyFans also make money from commissions. While the platform itself is free to use, you need to pay a price for every penny you earn on the platform. 
But how much does OnlyFans charge creators? We are going to see exactly that in this blog. Let's get started. 
How Much Does OnlyFans Charge Creators?
If you wonder does OnlyFans cost money for creators, joining the platform is absolutely free. However OnlyFans deducts a commission fee from every transaction the creator makes. 
OnlyFans has a fixed commission rate of 20% from each subscription and pays creators 80% of the money they make. The business model of OnlyFans has proven to be successful as the website has surpassed other adult content creation subscription platforms like Patreon.
OnlyFans also runs referral programs for creators to make extra income. A creator who refers another to the platform will earn up to 5% of the first million dollars the new creator makes. And the refereed creators will lose 25% of that deduction. While it is hard to make money this way, the new creator who is a part of this referral program will get more exposure and "promotion."
Top OnlyFans Earners: How much does OnlyFans take from Creators?
So how much does onlyfans charge creators, not just the average accounts, but the celebrities? OnlyFans positioned itself as an online fan club platform for content creators, many stars took advantage of their massive audience by joining the website.
Mary-Belle Kirschner, popularly known as Belle Delphine, is an English celebrity, YouTube, Pornographic actress, and model who has made over $1.2 million from OnlyFans in December 2020. By calculating the 20% deduction, it means OnlyFans took over $240,000 away from her. 
Blac Chyna has average earnings of $20 million every month. Being her payout provider, OnlyFans takes a cut of $4 million.
The self-proclaimed popular Adult streamer Amouranth states that she makes over $ 1 million per month. You can view it in this Tweet.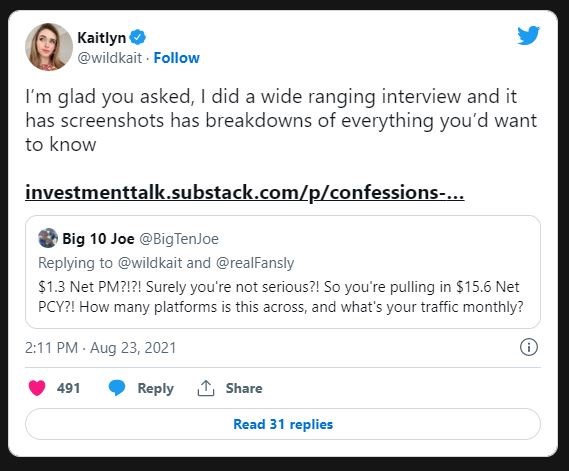 This means OnlyFans takes an estimate of $200,000 from her monthly revenue. 
OnlyFans modified its payment policy by setting a limit to the subscription amount models charge to $50 and the tip amount to $100. This move from OnlyFans was after Bella Thorne earned $1 million on the platform in a day.
Though OnlyFans stated that its policy changes have no connection with Bella Thorne joining the site, the platform has set a limit on the amount creators can charge their fans as subscription fee and tip. 
Today, OnlyFans has a policy that the fans could no longer give limitless tips. The platform had imposed a limit on how much people can charge for subscriptions, which is $50 now, when before there was no limit.
Some OnlyFans content creators took to Twitter to voice their concerns about the new payment policies of OnlyFans.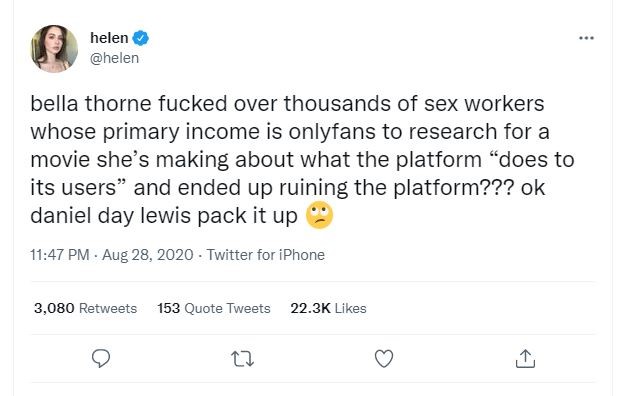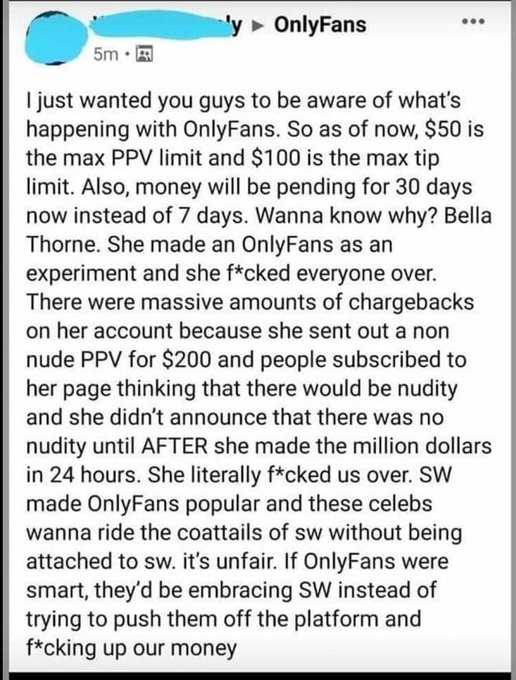 OnlyFans cleared it out by saying the limits on subscriptions and tips are imposed to help prevent overspending and to allow users to enjoy the platform safely. OnlyFans also said they value the community's feedback, and the transaction limits are not based on any particular user.
How do you make money on OnlyFans?
Now the question "Does OnlyFans cost money for creators" is clear; let's look at different ways by which content creators can make money on OnlyFans.
Subscriptions are the primary way by which creators make money on OnlyFans. From there, you can also make more money through tips, which you can suggest every time you post content on your page. Selling custom content packages is also a great way to make money. 
The amount of money you can make on OnlyFans greatly depends on the audience you appeal to. That's why it's important to know your target audience so you can have a good idea of what their interests are and what kind of content they are looking for.
The happier your followers are, the more they will continue to pay you subscriptions, tips, and other extras. Creating content consistently is also a great way to keep your audience happy.
Here are three primary ways by which content creators make money on the platform. 
Subscriptions
Content creators can lock their profile behind a paywall. To see the content, followers need to pay subscriptions to unlock access. Monthly subscriptions can range anywhere from $4 to $50. As a thumb rule, high-profile creators like celebrities with a massive following will charge a higher subscription. 
Whereas, average OnlyFans accounts will hover around the $10-$20 range.The default subscription option is for a month. If fans want to stay subscribers to creators, they need to activate their rebill setting. 
Pay-per-view (PPV)
Content creators can offer pay-per-view content to followers through two ways. First, they can post content on their wall, meaning that any fans can pay instantly and access the content. The next option is to send content to users through direct messages. 
Either way, once a follower pays the fee, they get access to exclusive content, which can be images, videos, or even audio files. 
Tips
Fans can tip models anytime, and for amounts less than $5, OnlyFans asks users to use funds in their digital wallet. Fans can tip under a post or send tips through messages.
Creators can ask for a specific tip amount and send content once the money reaches their account. New users can tip creators a max of $100 at a time for the first 4 months, and after that limit goes up to $200.
Live streaming
Live streaming is another excellent way for creators to showcase their content, connect with fans personally, and make money. With live streaming, creators can either lock their live videos behind a paywall or make money by accepting tips from creators during live streams. Live streaming options are available to free accounts on OnlyFans, and the minimum ticket fare you can set for your live sessions is $5.
How to cash out on OnlyFans
When content creators like adult models, sex workers, or porn performers create OnlyFans accounts, they can link their accounts to their accounts as you do with PayPal. By setting up automatic recurring payments, the money you make will be directly transferred to your bank account. 
You can also set a manual transfer where you can decide when to request for a payout. By sending a "Payout Request,"; the withdrawals take around 2 days to reflect in your account. 
As income taxes aren't deducted from creators' earnings, they need to pay them at the end of the year. OnlyFans will send a tax form of yearly income to creators who then can file it as a 1099 self-employed person.
Some creators suggest planning around 25% of your yearly earnings to pay your taxes and keep track of it in an Excel sheet. If you are not saving part of your income for taxes, you might end up paying a massive tax bill at year-end.
How much Profit do you make?
Now that you know what percentage do OnlyFans take, it retains 20% of creators' earnings to cover hosting, referral payments, payment processing, support, and all the services provided by the platform. 
OnlyFans models and performers will have two balances: 
A pending balance: Balance of earnings that are still being processed
Current balance: Balance they can readily withdraw.
All payments from followers directly go to the pending balance, which becomes eligible for withdrawal 8 days after earning.  The minimal withdrawal limit for most countries is $20, meaning content creators can withdraw money from their current balance when there is at least $20. Cashing out can be either done manually or through automatic recurring payments on a daily, weekly, or even monthly basis. 
Conclusion
As a relatively young adult fan club subscription platform, OnlyFans is yet to disclose much information about its earning methods. However, it's true that the platform dominates the amateur adult industry. With more celebrities joining the platform, more and more adult content creators are flocking to the platform for better income opportunities. 
We hope you found this blog interesting and informative; we promise to bring the latest news and best practices. If you need any assistance in creating an OnlyFans-like platform, get in touch with us.