If you are wondering how to start an OnlyFans as a guy? or how to make money on OnlyFans as a guy? We have got all covered for you.
OnlyFans is big, being a source of income for models who are ranking in cash by selling nudes to their subscribers. Love Island star Megan Barton-Hanson is officially a millionaire, thanks to her OnlyFans account. She charges her fans $24.99 monthly to access her steamy content- including nudes and "uncensored" pictures.
Key Insights: Statistics on Male-Exclusive OnlyFans
Approximately 29% of the creators on OnlyFans are men.
Male creators comprise 30% of the top 1% earners in the Onlyfans
On average, age of male OnlyFans creators is 25yrs
Approximately 13% of the content created by males on OnlyFans creators is related to LGBTQ.
Fitness, photography, cooking are the popular niches of male creators apart from adult niche.
Can men make money on Onlyfans?
It is obvious that male models on OnlyFans earn less than female models. Of the top models on OnlyFans, only two are males.
A Men's rights activist raised their voice for equal Pay on OnlyFans.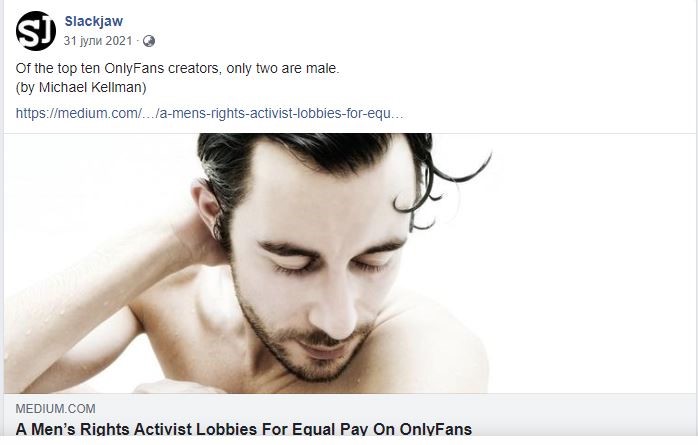 But does that mean there is no demand for men on OnlyFans? 
OnlyFans has a sizeable demographic of bisexual men and gays who are willing to subscribe and purchase content from male models. As there is a growing demand for LGBTQ performers, males who have the same orientation have more chances than straight models who aim to gain female followers.
Who are the audience for male creators
Your primary audience is expected to be overwhelmingly composed of gay men, likely exceeding 99%. While there are indeed women who consume adult content, their presence in this market is relatively low, estimated at approximately 0.01-2%. Therefore, tailoring your content specifically for a female audience may not be the most productive use of your time. If you're approaching OnlyFans with the sole expectation of interacting with women, you might want to reconsider your motivations for joining, unless it's purely for personal enjoyment rather than income generation.
In this competitive landscape, appearances do play a significant role. As the male creator market is quite saturated, especially within the gay segment, it's essential to acknowledge that certain physical and personal attributes can enhance your chances of success.
If you are creating an account on OnlyFans to begin as a successful male creator on OnlyFans thinking of interacting with women alone, you must reconsider your decision.
Here are some tips to help with starting an OnlyFans as a guy and making an income.
Flaunt your athletic build. If you have a great physique, you are blessed, and you have to flaunt it.

Be comfortable with revealing your face.

The willingness to create more explicit content.

An openness to collaborate with fellow creators and engage with fans.

Embodying the "Twink" archetype like young, slender and more submissive.
5 Steps on How to Start Onlyfans Account as a Guy
If you're a guy and are curious about the possibility of earning money on OnlyFans, the answer is a resounding yes! In this extensive guide, we will provide you with all the information yon how to get started on OnlyFans as a guy.
Step 1: Signup on the Platform
To get started on the platform, complete the sign-up process by providing your essential information, including your bank account details, to receive payments.
Step 2: Choose a Cool Username
Choose a straightforward and easy-to-remember username without numbers or special characters to make it easier for people to find you.
Step 3: Write a good OnlyFans bio
Craft a profile description that entices potential subscribers with your content offerings as a male creator, such as videos, pictures, and live chats. They can access this content by paying a monthly fee for exclusive access.
Step 4: Make Regular Postings & Engagement
Focus on building engagement with your audience by posting frequent updates and expressing gratitude to your current supporters while also interacting with new followers. Leverage social media marketing to promote your OnlyFans account, and consider advertising to reach new viewers.
Step 5: Promote Your OnlyFans Page
Compared to other social platforms, the visibility on OnlyFans tends to be lower. Therefore, besides consistently sharing high-quality content, it's essential to actively promote your account. Also, offer promotions and discounts to incentivize people to subscribe to your content. 

12 Tips to Succeed on OnlyFans as a Guy
If you don't have the guts to sell nudes, don't worry, you can still make money on OnlyFans. Are you brainstorming about how to start an OnlyFans as a man and make money? If yes, bring your skills to the table. Be it your fit physique or your cooking skills, congratulations, you are eligible to make money on the platform. 
OnlyFans presents unique opportunities for all creators, both males, and females. GrandMaster Chef Jojo is one of the chefs who make money on OnlyFans by with his passion for flavors and immaculate plating. Subscribe to view his exclusive content.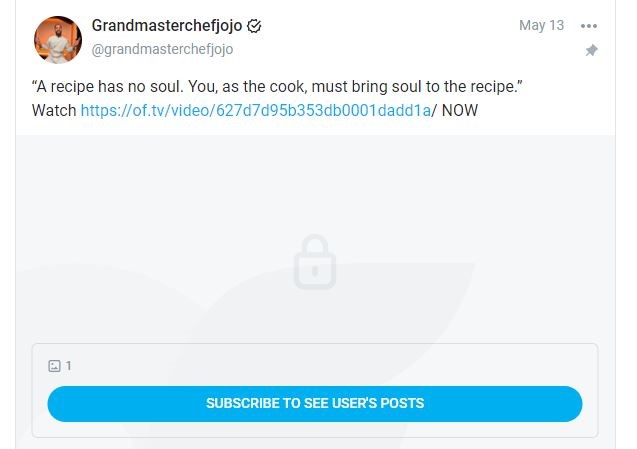 Here is what you need to do to make money on OnlyFans as a man.
Tip 1. Sticking to a niche
The first thing you need to do when starting an OnlyFans as a guy is to choose a niche. Before starting to sell content, be specific in what category you are going to create content. The more niche-oriented you are, the more you can attract subscribers. 
So what are the niches to make money being a guy on OnlyFans?
Being a gay man: Not all men on OnlyFans are straight; some males have an orientation towards the same sex. If you are gay, you can market your content the way women creators do. 
Bring on your other creative skills: As we quoted the example of Grandmaster Chef Jojo, you can use OnlyFans to make money from your creative skills. Whether you are a musician or fitness enthusiast with a larger Instagram following, you can consider selling your content on OnlyFans. 
Be a bull: A lifestyle called HotWife lifestyle is popular among the OnlyFans community, where a couple wants to involve a stranger in their life. You can take advantage of that when you are in the business of selling exclusive videos to your fans, and they are willing to pay for something "hot and Unique."
Sell your feet pics: This might sound odd to the common man but not to someone from an adult community. You know how demanding the feet pics of women are. The same goes for male models as well. If you are thinking about how to start OnlyFans as a guy, you can sell your fetish feet pictures on OnlyFans and get paid for the same.
Tip 2. Promote on Instagram
The reason why I didn't mention social media is because Instagram is a very visual medium, and there is an overlap with the target audience who enjoy adult subscription platforms like OnlyFans. 
And without any surprise, if you have a good following on Instagram, it becomes easy for you to get more subscribers on OnlyFans. As a thumb rule, around 1-2% of your Instagram followers will convert to fans on OnlyFans. 
Tip 3. Reply to direct messages
I know what you are thinking now; replying to all DMs is impossible. But direct messages are one of the easy ways to generate more revenue on OnlyFans, and it doesn't take as much effort as other approaches. 
Many top performers on OnlyFans swear by DMs as a major share of their revenue comes from tips earned through direct messages. No matter how small or big your subscriber base is, most fans enjoy chatting with a model they follow. Be the first one to start the conversation by reaching out to them.
Tip 4. Reward your tippers
People tip their favorite creators as they want to show their support and get noticed for the same. Out of your huge follower base, there are always going to be a few who react to every post you share.
These followers are considered super tippers, and super tippers' contribution is very significant when it comes to making money on OnlyFans as a guy.
To receive tips from fans includes posting images of things you would never show off, using emojis when sending DMs or offering free gifts.
Tip 5. Share images on Reddit
Reddit is a great platform to market as it's highly targeted toward fans who enjoy adult content. It is common for people to share links to their OnlyFans account within the comment section of Reddit. If you habitually post content often, you can expect around 5% of your posts to generate new fans.
Tip 6. Sell merchandise
If you want to increase your profit on OnlyFans, consider selling merchandise to your subscribers. Along with conventional merchandise, there is a high demand of followers who want to purchase clothing models have worn. 
Tip 7. Join the community of OnlyFans creators
There are lots of Facebook and Reddit groups dedicated to OnlyFans content creators. Joining these groups allows you to be a part of the network and get access to important information that might lead to future business leads. Most of these communities meant for content creators allow you to create sub-forums where you can promote your account.
Tip 8. Get paid for reviews
If you are looking for innovative ways to make money being an OnlyFans creator, getting paid for reviews is a great choice. Growing models, especially guys, would be willing to pay to get their content reviewed by experienced (and successful) OnlyFans creators like you. 
You can charge them by offering genuine reviews for their content. But this doesn't suit everyone as you could also receive nudes and disturbing content, but you can get paid a good amount.
Tip 9. Top earners uses multiple platforms
If you want to know how to start OnlyFans as a man, look at what top models do. Top earners on OnlyFans aren't only there on OnlyFans; you can find them on multiple platforms simultaneously. Not just Instagram, Twitter, and Facebook, you can find top talents on other sites like MyFreeCams, LiveJasmin, and more. 
If you are starting an OnlyFans as a guy and don't have the same reach as of the top performers, try spicing up your social media like Instagram and build your follower base there. 
Tip 10. Collaboration
Collaborating with other creators on OnlyFans can be a great way to expand your reach, attract new subscribers, and potentially increase your earnings. Before collaborating, have a discussion with the other creator to set clear goals and expectations. Discuss topics like revenue sharing, content creation responsibilities, and the duration of the collaboration.
Tip 11. Be creative with your exclusives
If you are finding ways on how to make money on OnlyFans as a guy, try a variety of content until something clicks. Rather than copying other models (even top ones), try creating original content that your audience likes to see. 
The thumb rule to success is to beat the competition. If you follow someone else's style, you will end up not growing. Think out of the box and incorporate ideas no others are adopting. That's when you will start getting identified and attracting subscribers. 
Tip 12. The Depth of Engagement with Your Fans
"Do I engage with DMs? How frequently? What's my approach?"
Your loyal patrons, whether contributing through tips or PPVs, serve as valuable critics and future content inspiration. When they express enjoyment in your content, there's no harm in conveying gratitude for their subscription. For top contributors, consider sharing an exclusive image or video, using their name for a personal touch. This emphasizes their individuality beyond mere 'fans' or 'subscribers'.

How much can men make money on OnlyFans?
The male presence on OnlyFans is making waves in the statistics. Men make up roughly 20% of content creators on the platform, with over 10,000 using it as a source of income. Their earnings typically range from $1,500 to $7,500 per month. Interestingly, the number of male creators tripled during the pandemic, while women only doubled their numbers. The average age of male creators is 25, and 70% of them focus on fitness modeling or music-related content.
Examples of OnlyFans top male earners
The most common doubt everyone has is- can man make money on OnlyFans? The highest earning guy on OnlyFans is Michael Ray Nguyen- Stevenson, popularly known by his stage name Tyga. The popular American rap artist has secured the fourth position on the top OnlyFans earners chart though he has deleted his page to launch another platform. 
He managed to attract 21.6 million followers who paid a $20 monthly subscription fee to enjoy his private party videos and behind the scene pictures and videos of his musical performances. His estimated earnings on OnlyFans were $7.6 million a month.
Reno Gold and Gymnast, who went on to become a stripper, is one of the top male performers on OnlyFans. So how much does he earn on OnlyFans- Around $100,000 a month?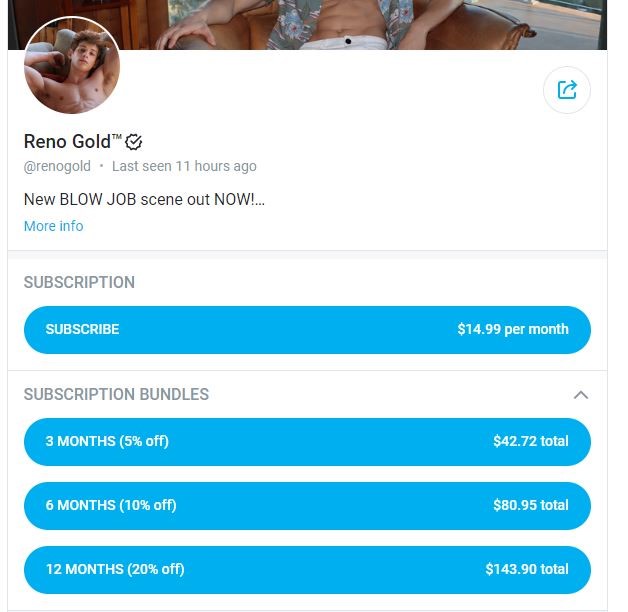 So If you ask can guys make money on OnlyFans, Reno Gold is one example of a non-celebrity who makes around $100,000 every month on OnlyFans.
What's his secret?
He knows his audience well, has built his OnlyFans page, and encourages tipping. Reno Gold has set his subscription fee at $14.99 per month and posts a minimum of one new picture every day. 
Take away on Starting OnlyFans as a Guy
Starting an OnlyFans as a guy and making money might not be as easy as it would be for a woman. However, it isn't impossible. We hope this guide has explained how to start an OnlyFans as a guy. The most significant thing to remember is that you must be consistent as a content creator and offer premium quality content to your subscribers.
Immerse yourself in a hands-on journey with our demo page. Explore the rich features and user-friendly UI/UX.
FAQ
1. Can guys make money on OnlyFans?
OnlyFans has a sizeable demographic of bisexual men and gays who are willing to subscribe and purchase content from male models. As there is a growing demand for LGBTQ performers, males who have the same orientation have more chances than straight models who aim to gain female followers.
2. What is the average number of male content creators on OnlyFans?
Approximately 30% are male creators.
3. Who is the highest paid male on OnlyFans?
Tyga, whose real name is Michael Ray Nguyen-Stevenson. 
4. How can guys promote OnlyFans?
Social media platforms
Engage with your audience
Collaborate with others
Utilize hashtags
Offer exclusive content
Run promotions and discounts
Create compelling content
Leverage other platforms such as Reddit
5. How much does the top 1% of male OnlyFans content creators earn?
$5,000 to $20,000 per month.
6.
How much does an average male OnlyFans make?
Average monthly earnings are $180.
7. What age group do male creators on OnlyFans typically belong to?
18-34 years old.
8. What is the main category of content typically produced by male creators on OnlyFans?
Adult and explicit content. However, some creators also offer fitness, modeling, and game content.
9. Who are the audience for male creators/ guys on OnlyFans?
A substantial portion of your audience may consist of gay and bisexual men.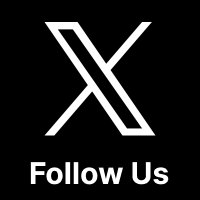 Want more insights on OnlyFans & other platforms?
We write articles for creators & entrepreneurs interested in starting a subscription business. Follow us on X for latest trends, tips and product updates.