What is Fanfix? A newly emerging platform for creators which has all the potential to become the next OnlyFans or Patreon. One couldn't deny the fact that the creator industry is at its peak! The internet is booming with content creators today and you can see them almost on all creator platforms showcasing their talents & monetizing their skills.
Statistics say that 50 million people will be joining the creator economy soon. And more than two million global creators already make a six-figure revenue, thanks to popular content creator platforms like OnlyFans, Patreon and the newly-emerging platforms.
We'll be taking you through sections like,
What is Fanfix?

How does Fanfix work?

What makes Fanfix a popular content creator marketplace and

How to launch a content creator platform like Fanfix on your own
So, that's the gist of the article. Let's dive in now.
What Is Fanfix?
Fanfix is a premium subscription platform that adult allows creators to monetize their skills with their fan following base. 
Fanfix was launched by Cameron Dallas in August 2021 followed by the launch of the Fanfix app on the 26th of October 2021. Currently, the CEO of Fanfix is Harry Gestetner.
Here's what Co-CEO Harry Gestetner stated about Fanfix,
"Fanfix allows creators to earn while doing what they love. We shift the power away from the large social media conglomerates and put it back in the hands of the creator."
Popular creator categories on Fanfix are artists, chefs, gamers, athletes, fitness trainers, chefs and more.
Now that you have the answer to the question "What Is Fanfix?", let's move to the next section of our article – the business model of Fanfix.
Explosion of Gen Z creators on Fanfix
The rapid growth of Gen Z creators in the content creation realm has given rise to innovative platforms tailored to their specific needs. As social media platforms continue to gain popularity, many users are seeking alternative ways to monetize their content beyond traditional advertising methods. One such platform, Fanfix, has emerged as a frontrunner in this space by offering a comprehensive service that enables creators to establish a paywall for their subscribers, simplifying transactions for both influencers and their fans.
Boasting an impressive user base of over 10 million and a creator community of 3,000, Fanfix has proven its mettle. According to a report from TechCrunch, active creators on the platform enjoy an average annual income of $70,000. This success can be attributed to Fanfix's commitment to clean content and its ability to provide creators with higher payouts compared to other platforms. With a commission fee of only 20%, Fanfix ensures that influencers retain a more significant share of their earnings, fostering a mutually beneficial ecosystem.
However, Fanfix's appeal extends beyond its paywall feature. Creators can avail themselves of additional functionalities, including personalized videos, live streaming, one-to-one calls, and in-depth analytics to track performance and enhance their content. These added features have contributed to the platform's popularity among creators, resulting in Fanfix paying out an impressive $11 million to date, with projections indicating a staggering $50 million payout by the end of 2023.
Fanfix's success has coincided with potential bans and discontinuations faced by other platforms like TikTok and Reels Play bonus programs. As a result, Gen Z creators have turned to Fanfix as a compelling alternative, further bolstering its appeal as a go-to platform for monetizing their content.
How Does Fanfix Work?
Understanding how Fanfix works is simple. To put in a phrase, here's how Fanfix works – create, connect and earn.
Like Harry Gestetner stated, Fanfix allows creators to earn by doing what they love.
Creators on Fanfix can upload photos, videos and blogs, make money using their skills and even give early access to some of their new releases, conduct giveaways and do more. Creators can come up with custom subscription plans and set prices according to their wish.
And fans, on the other hand, can follow their creators, get access to their exclusive content, subscribe and support their growth.
Here's how the screen looks when one applies to become a creator on Fanfix,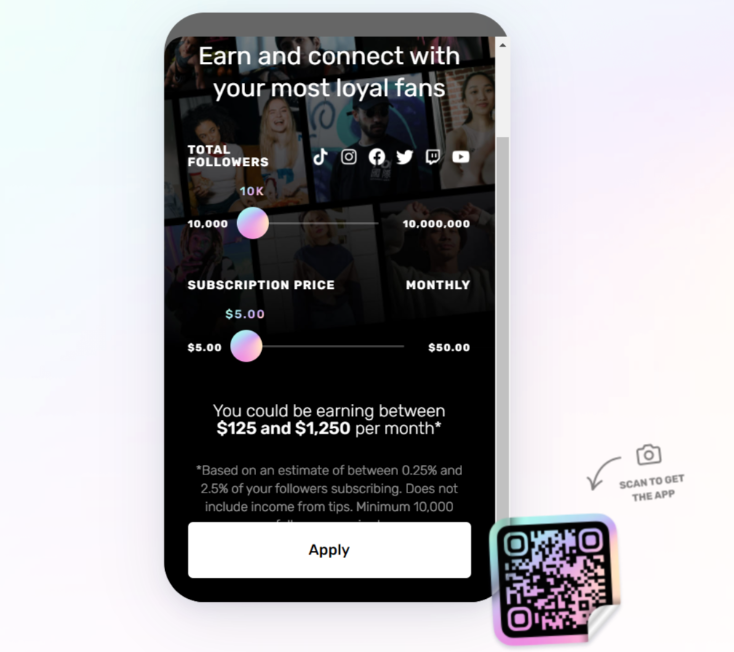 There's also an approximate calculation as to how much a creator can make based on their followers' count – motivating and definitely insightful.
As for the followers, here's how the screen appears,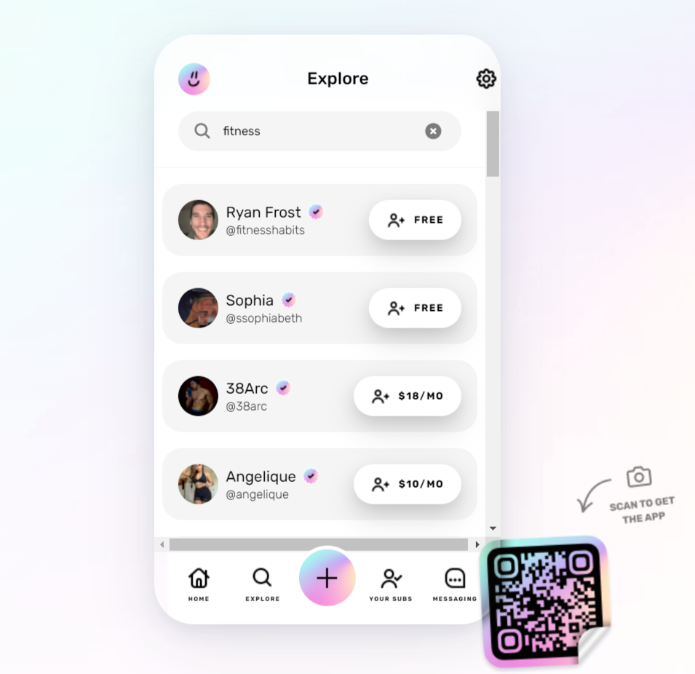 Followers can sign up and start exploring creators within the app. Here, we've used the keyword "fitness" to explore.
The platform shows us creators related to the fitness niche. There are both free and subscription-based creators shown on the screen. Users can browse creators and subscribe to them.
Followers can also message creators within the app itself. Here's how the message window appears,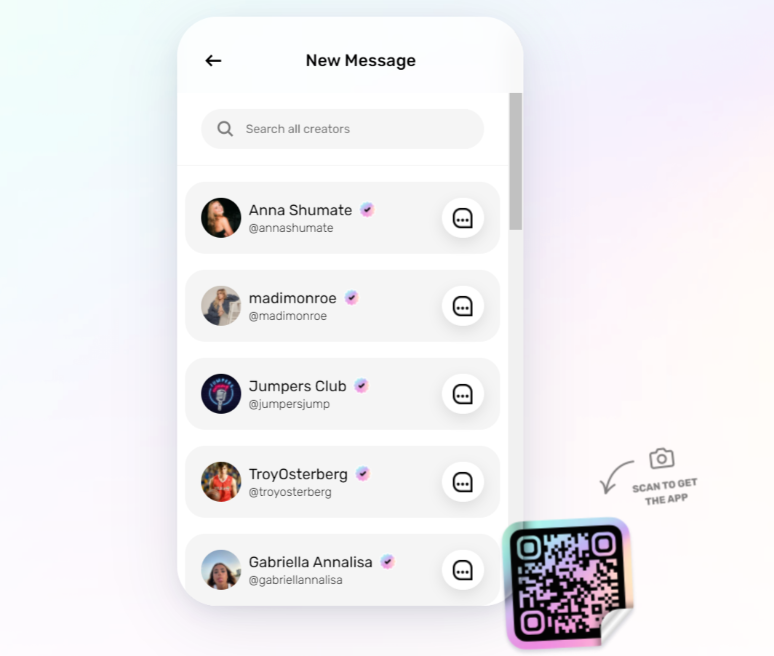 Like we already said, the platform is clean and easy to use.
P.S. We accessed the platform on the desktop. The mobile version is even more smooth and gives a great experience.
You can access the Fanfix app here.
Is Fanfix like OnlyFans? Fanfix Vs OnlyFans
FanxFix shares similarities with OnlyFans in several aspects, but it also possesses distinct differences. When comparing FanxFix Vs OnlyFans, one notable distinction is that FanxFix maintains stringent policies prohibiting sexual content, unlike OnlyFans.
While OnlyFans predominantly caters to adult content, FanxFix does not permit explicit sexual material. Another noteworthy difference in the FanxFix vs. OnlyFans comparison is the payout structure. FanxFix processes payments on a schedule that does not occur daily. The platform utilizes Stripe as its payment processing application, which typically takes a few business days to release payments to creators.
What Makes Fanfix the Popular Creator Marketplace?
There are a number of reasons why Fanfix is increasingly becoming the popular creator marketplace. One reason is mainly that the platform is clean, easy to use and offers a clean user interface for both platform creators and users.
Let's look at the highlight features of Fanfix that makes it one of the popular creator content market place,
Premium Subscription Platform: Like OnlyFans and Patreon, Fanfix also has the option where creators can create a subscription plan and set their own pricing.
Exclusive Content: Creators can make their content exclusive and allow fans to access them for a set price.
Easy Monetization Options: Creators can make money using the subscription option and tips from followers.
Multimedia Upload Option: Creators can upload photos, videos and blogs making it easy for them to monetize.
With the launch of the app on the Koji link-in-bio platform, Fanfix has become even more popular. Like LinkTree and Beacons, Koji allows people to see more of the creator's content easier and direct them to the place efficiently, making it an ideal choice for creators and influencers. And here's what Harry Gestner had to say on this,
"By bringing Fanfix to Koji's App Store, we are creating a platform for creators on our multiple social media platforms. Promoting and monetizing exclusive content across accounts is making it easier to reach even more."
So, these are the reasons why Fanfix is becoming more and more popular as every single day passes by.
Now that we've revealed everything you need to know about Fanfix, let's see how you can create a content creator marketplace like Fanfix.
How to Launch a Creator Marketplace Like Fanfix?
With the advancement in technology, launching a content creator marketplace like Fanifx is a walk in the park today.
Fanso is a content creator platform script that lets you create and launch subscription-based platforms like OnlyFans, Patreon and Cameo on the go.
Fanso is power-packed and comes with features like,
Subscription tier options for creators to monetize content
Live streaming session to increase audience engagement
Built-in eCommerce store for creators to sell merchandise
Dedicated creator dashboard that offers in-depth analytics & insights
A social feed with Instagram Style Stories that enhances the platform usage experience
Fanso is a 100% whitelabel software with complete access to source code. The platform is built with robust tech and supports 200+ languages, making it super easy for you to build your own content creator marketplace like OnlyFans.
Book a Fanso Live Demo Here
Final Few Words
As we said, the content creator industry is booming. And platforms like Fanfix are on the rise. We've seen in-depth about what is Fanfix and how it can help you grow as a creator in this article.
Creators are looking for platforms where they can establish their presence and monetize their skills. So, if you're a creator you can easily monetize your skills with popular platforms like OnlyFans, Fanfix, Patreon and more. Or you can create your own content creator marketplace and build a loyal audience following and earn revenue from them.
Either way, as a creator, you have a lot of opportunities in front of you. What's left is for you to start capitalizing them.
That said, we're wrapping up this article!
Frequently Asked Questions
1. What is Fanfix App?
Fanfix is a content creator marketplace like OnlyFans and Patreon where creators can monetize their content from their followers. The platform was launched in August 2021 and has been gaining traction since then.
2. Is Fanfix like Onlyfans?
Fanfix is similar to OnlyFans. It is a subscription-based content platform that allows creators to earn money by sharing exclusive content with their subscribers.
3. Does Fanfix allows users to create subscriptions?
Yes. Creators on the Fanfix app can come up with subscription plans and set prices for them. Users have to pay the monthly subscription fee in order to access the creator's content.
4. How does Fanfix earn money?
Like other creator community platforms like OnlyFans and Patreon, Fanfix takes a commission percentage from what creators on the platforms make.
5. Is Fanfix safe to use? 
Yes.
6. What is Fanfix used for?
Fanfix is a subscription based platform that lets user access content from their favorite creators.