When ranking the sexiest body parts, "feet" might not be even a choice for many. But that isn't the case with people with foot fetish. They get turned on by feet making it an excellent way for fetish models to make money utilizing the trend. 
Selling foot pics is a legit side hustle; foot models worldwide sell their foot pictures on social media, dedicated platforms, and their personal websites. 
OnlyFans and FeetFinder are the two most trustworthy platforms where you, as a creator focusing on foot fetish can make money selling feet pics and videos. 
This blog is all about selling feet pictures on feet finder vs. OnlyFans. Let's get started to find out the better options and know what you are getting into.
What is FeetFinder
While you must be familiar with OnlyFans, you might be wondering what is FeetFinder? FeetFinder is a legit website, an exclusive platform for people to sell and buy feet pictures online. Started in 2019, FeetFinder is currently accessible to people residing in the USA, Europe, the UK, and Canada.
FeetFinder, like OnlyFans, is a platform that works on a marketplace model that connects buyers to and access features of the website and content of foot models. You can see here how FeetFinder works.
And this is a sample FeetFinder model profile: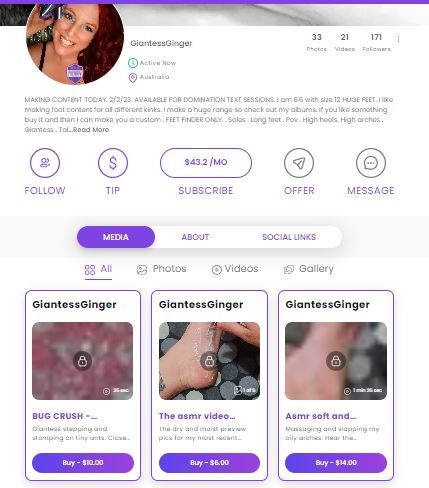 Now coming to FeetFinder Vs. OnlyFans, the former, works similarly to OnlyFans, allowing buyers to subscribe to the creator's channel for a monthly fee and purchase individual images and videos. The primary difference between FeetFinder and OnlyFans is that FeetFinder isn't a free platform; it has a subscription fee users need to pay to use the platform. 
Best FeetFinder packages
FeetFinder is a paid subscription platform that caters exclusively to foot models to monetize their beautiful feet, foot art, foot fetish, and everything related to the foot. 
FeetFinder started out as a free website to buy and sell foot images and videos, but later it was converted to a paid site with subscription charges for sales. 
Here are the FeetFinder packages you need to know:
Basic package
As the name suggests, this basic package allows sellers to enjoy the basic yet great features. When a seller joins the platform, they need to buy the package priced at $4.99. If you choose to bill the package yearly, you will get a discounted price of $1.25 per month. 
Here are the benefits you get with the basic package:
Attract buyers.

Direct message and custom offers.

Automatically blur.

Unlimited uploading limit; you can upload 15 images per album, and in the case of videos, the maximum time limit is 10 minutes per video.
Premium Membership
This is another fully loaded premium package of FeetFinder that is priced at $14.99 per month and $2.5 per month if you bill annually. The lifetime subscription will cost you $80. And here is what you get with the premium package:
Profile and content appear at the top of the list.

All other features in the basic package.
How to make money on FeetFinder?
Foot models can generate revenue by selling the images of your foot to buyers. Sellers on the platform receive 80% of the money they make, and the remaining 20% is deducted by FeetFinder as the commission for website operation just like how it is on OnlyFans.
The platform also runs referral programs for foot models, allowing them to receive 10% of the transaction when they create an account on the platform using the unique referral link. The 10% you make comes from the FeetFinder fee, which means the foot models who join the platform using the referral will get a share of all the sales.
Now let's look into the quick ways to sell feet pics on FeetFinder:
Add images and videos with elaborate descriptions
When you join FeetFinder as a foot model, use high-quality pictures and add elaborate descriptions of the pictures. 
Add the right keywords to appear on searches of your target audience easily. The images will be blurred when you upload them first on FeetFinder for the protection of your content. The photos must be within 1 GB, and the videos under 10 minutes.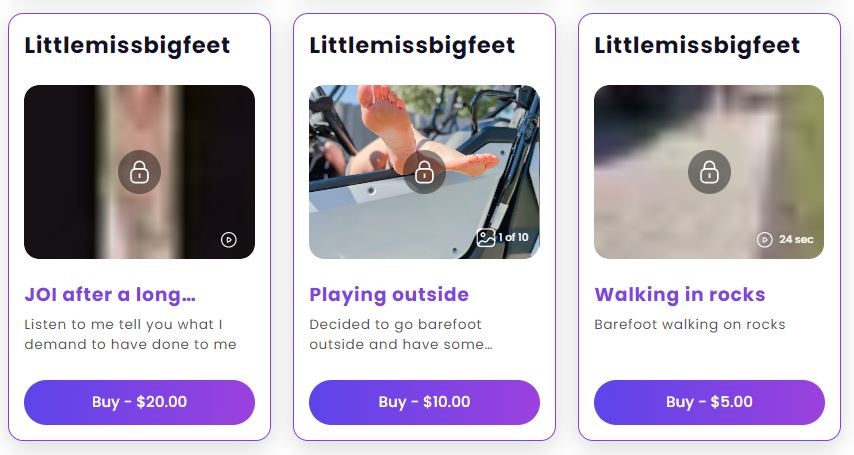 Upgrade your account
When you consider FeetFinder Vs OnlyFans, FeetFinder has a premium feature that helps you to enjoy all the revenue generation features. To avail of the premium service, there is a subscription fee of  $14.99 monthly or an annual subscription of $29.99.
Marketing strategies
Promotion strategies play a significant role in sales to increase the chance of selling your feet picture. While FeetFinder performs marketing activities for you to an extent, you can sell more if you also plan marketing campaigns from your side. 
To sell more foot pics on FeetFinder, you have to connect with interested users on the platform. You must make it a practice to engage with the buyers to increase the chance of sales. 
How much should you sell your feet pics for?
The average foot image sells for around $22, and for the video, the average price tag comes to around $19. To make money on FeetFinder, it is an excellent way to mix up the prices for your feet images and videos to increase sales. 
If you ask how much can you make on OnlyFans for feet images and videos, it varies with the quality of your content and your target audience. Definitely, it also depends on your subscription rates and the rate at which you price your individual pictures and videos. Make sure you produce quality content so that you can sell it for a premium price.
How does the FeetFinder payout works?
Unlike OnlyFans, the Feetfinder payout is different depending on your location. For example, for US bases users, payment requests are processed through Segpay, and the transactions are done directly through FeetFinder.
For residents outside the users, payout requests are processed through Paxum.
Pros and Cons of FeetFinder
As we have talked about FeetFinder Vs. OnlyFans, let's now explore the pros and cons of FeetFinder. 
Pros of FeetFinder
Two weeks trial for models: You will have to pay $4.99 per month when signing up on FeetFinder; you can try the website for 14 days. If you don't like the site when the trial ends, you can cancel the subscription and receive a refund.
Excellent reviews: FeetFinder has excellent reviews among users, and the platform has a 4.9 rating on Trustpilot too.
Great customer service: According to reviews, the customer service of FeetFinder is really great for both models and regular buyers. 
No Restrictions on deleting the account: You can effortlessly close the account if you want to delete the account permanently.
Cons of FeetFinder
The monthly subscription fees: Besides the monthly subscription fee of $4.99, the platform also deducts a 20% commission from creator earnings. 
No mobile app: FeetFinder doesn't have a mobile app, so creators have to upload images on FeetFinder from the computer, which is not so convenient for many.
ID verification: Not all users are comfortable uploading their Government ID, but it is essential to do extra security to confirm both buyers are sellers and real people.
FeetFinder vs. OnlyFans- The main differences between the two
Let's simplify it if you need clarification on selecting FeetFinder or OnlyFans to sell your foot images and videos. Here is what is different in selling feet images on FeetFinder and OnlyFans.
FeetFinder is a niche website, while OnlyFans isn't
As you already know OnlyFans is a subscription-based platform that hosts both adult and non-adult content, which includes foot fetish too. But FeetFinder is an exclusive subscription-based marketplace that allows people to buy and sell feet related content.
Due to this peculiarity, the exposure foot models get on FeetFinder is greater than what you would get on OnlyFans, as you can easily connect with your target audience on FeetFinder.
OnlyFans is free, while FeetFinder isn't
Being an exclusive platform that caters to foot models and buyers, FeetFinder isn't free. It charges a specific amount that has either to be paid monthly or yearly by selling to list and sell their images and videos on the website. Whereas, OnlyFans is a free platform that helps people sign up for free and pay to access and buy the content.
Revenue generation techniques
On FeetFinder, feet models can make money in three main ways: 
By selling your feet albums for a price.

By selling subscriptions to sell foot images and videos as a subscription package. 

Through referral programs
Whereas OnlyFans allows foot models to get paid by subscriptions, pay-per-view content, live streaming, paid messages, receiving tips, referral programs, etc.
Buying merchandise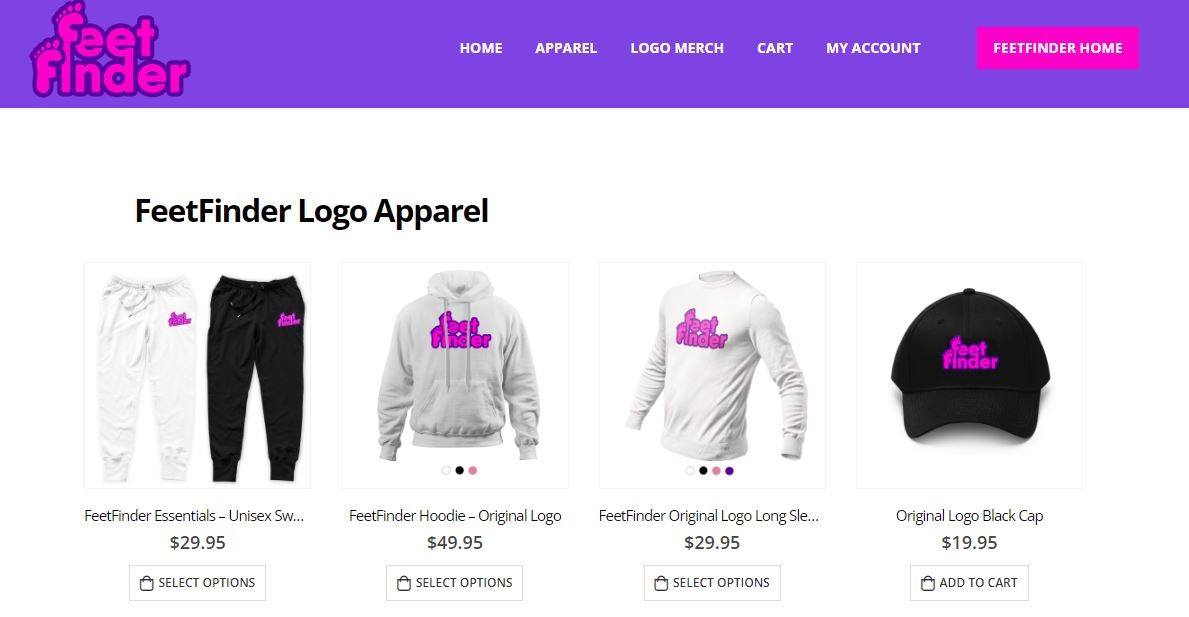 When you consider FeetFinder Vs., OnlyFans, the former has an exclusive merchandise store that sells apparel and foot care tools. This is one exclusive feature that differentiates FeetFinder from OnlyFans.
Staying private
If you want to keep your identity private, feet finder might not be your best option. But if you want to go anonymous and still make money as an adult model, OnlyFans can be your go-to choice. 
Conclusion
Now that you know What is FeetFinder, you must understand it takes a while to sell feet pictures. Consider promoting your new page on FeetFinder and on other social media pages as well.
To become a popular foot model, you must find a trusted platform that suits your needs where you can make money by foot play, have fun with your feet, and slay. You can also launch your own website and start a blog that sells pictures and promotes your FeetFinder and OnlyFans account faster.