From the lockdown to today, OnlyFans has had unprecedented fame, becoming a mainstream platform that could be a game changer for sex workers to monetize. 
Leaving aside the controversies regarding banning pornographic content, it is interesting to note that the popularity of OnlyFans is still on the rise.
Owning an OnlyFans account has become a lucrative way for content creators to make money. And social media also plays a significant role in promoting your OnlyFans account to reach a broad audience.
But have you ever wondered how to promote OnlyFans without social media? Is it even possible? Yes, it is!
How to get popular on OnlyFans without social media
A successful OnlyFans account is indeed dependent on a large social media following. If you don't want to rely on social media to promote your OnlyFans, aim to increase your fan base on OnlyFans. The more fans you have, the more revenue comes from subscriptions and PPV messages.
So here are some proven ways on how to get followers on OnlyFans without social media:
The follow-unfollow strategy to hack growth
If you aren't familiar with the follow-unfollow methods, the strategy is as simple as it sounds. It's just following lots of accounts with the aim of getting a follow in return. Once you get followed by people, you can unfollow the users who do not follow back and even the people who followed you. 
The follow-unfollow method has been used for years to boost accounts swiftly. This method has helped some accounts get hundreds of followers per well.
But here are things you should do when applying this strategy to increase your fan base:
Do not follow random people; instead, follow target people of similar OnlyFans niches to yours.

Never follow the inactive account.

Do not overuse the feature; too many follows and unfollows will lead to your profile being banned.

Never unfollow people too fast.
Follow 25 to 100 people who have liked your posts. If you have more than 500 followers, you can follow 50 and more or up to 100.
If you have a new page, follow just 25 people or less than that, and you can do it twice per day.
Collaborate with other OnlyFans creators
When you use the follow-back strategy, you are likely to follow some content creators like you as well. If they are good content creators with great content and follower base, do not unfollow them. If they are in the same niche as yours, you can send them messages to see whether they want to collaborate. 
This can be in the form of shoutouts called as S4S (shoutout for shoutout) or SFS. 
So what is a shoutout? A shoutout is when OnlyFans users agree to give each other's profile a reference on their respective profiles. This can be an effective technique to gain exposure and new subscribers if they are in the same niche.
Use paid advertising for your OnlyFans profile
Using paid advertising methods to promote adult content can be difficult as many platforms have strict rules again sexually explicit content.
If you want to use paid advertising to promote sexually explicit content, consider the following:
Consider using adult-specific platforms designed for adult content creators, like FansMetrics, ManyVids, model hub, etc.

Use age targeting to ensure that your ads are displayed to users of the age group of 18-25 years. 
Several websites allow content creators and agencies to register as an advertiser and create ad campaigns.
One of the examples is Traffic Stars, where you can advertise your profile and choose how the ads must appear. 

When choosing a promotion website, look for pages that have real fans. Analyze how much you spend on OnlyFans promotions along with the outcome you receive. Did you pay $100 to get 2 fans who only spend $10 on messages? If so, it is recommended to rethink the promotion strategy so that you don't lose money in the long run.
Build your own website
One of the best ways to promote your OnlyFans account is through your own website, especially if you don't want to involve social media. As you can create a blog on any niche on your website, you can add links to your OnlyFans posts through your blog.
Whether you are a chef, a motivational speaker, an adult content creator or a photographer, you can get the planet on OnlyFans subscribers through this approach. Once you are able to build a good fan base for your blog, it becomes easier to convert your fans to subscribers. 
Run promotional campaigns with attractive discounts
We all love discounts, isn't it? Running promotions is an excellent way to reconnect or reach new fans. OnlyFans gives you the entire control over the promotional offers, and they are also easy to set up.
Here is what you need to do:
Go to the OnlyFans profile page and choose " Add a promotional campaign.

Set the subscription limit.

Set the duration of the offer.

Apply Discount.

Click Create, and you are good to go.
OnlyFans details how to set the promotional campaigns here. Check it out. 
And here is a glimpse of what it looks like on your OnlyFans profile.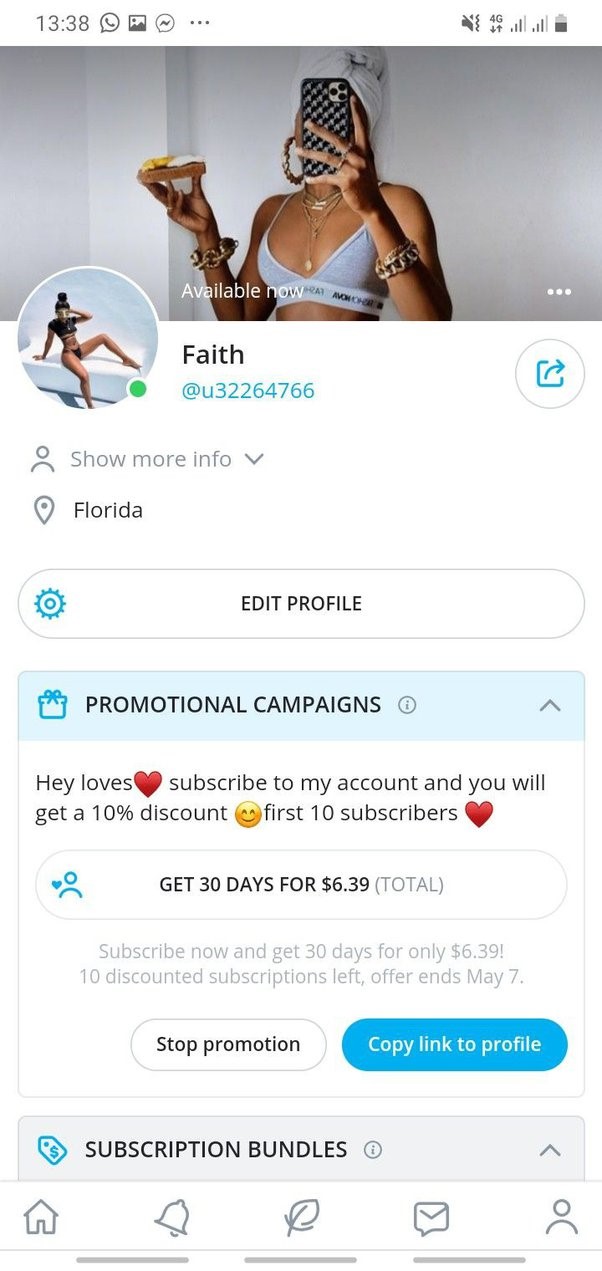 Promote your OnlyFans through Tube platforms
Tube platforms refer to porn tube sites that are specific destinations for adult content. To gain subscribers, you can use interesting images and short and interesting videos on YouTube sites by ManyVids. Short clips indicate the content type you create for your fans. If they are interested in more, they will come and subscribe to your OnlyFans profile for more.
Leverage social media- But more privately
You might think it isn't this ironic to use social media when you want to stay away from social media. But if you are ready to give it a shot if it is to promote anonymously, this works great. 
Social media promotions are integral to growing your OnlyFans so that you can promote OnlyFans anonymously.
If you are worried about privacy on OnlyFans, going anonymous can help you hide your real identity from your family and friends.
This is how you can promote your OnlyFans account without revealing your identity:
Use a stage name to keep your real identity anonymous.

Create two accounts on OnlyFans, One for promotions alone.

Never use your photo on your profile; instead, use a logo.

Use geoblocking to block specific locations.
Success points to follow to promote your OnlyFans account
Post content your fans would love to see. And keep doing it!

Don't be a scam.

Interact as much as possible with your fans. Interact through comments, DM, and in live streams. 

Do shoutouts with creators of the same level and paid shoutouts with top content creators with higher followers than you.

Never go overboard with shoutouts. Fans might resist them if it is too much spammy. 
Conclusion
Growing your OnlyFans is not as easy as it seems, but it isn't impossible either. You just need to find the right strategy and learn about your fans; no one can stop you!
Creating engaging content, knowing the interest of your fans and keeping your audience entertained with promotional images and videos.
All it takes is a little effort, hard work, time and, of course, passion to build it. Don't forget to share this with an OnlyFans creator who needs to grow more.