While visual porn can quickly turn you on, audio porn depends solely on your imagination! And it results in more pleasurable and personalized experiences. 
Instead of viewing a story unfold before audio, you can think about whatever turns you on. There are no barriers; you can unleash your inner desires and put no limit. 
There is so much opportunity for audio erotica to create a positive context because you have so much control over it. 
With this said, let me get straight into what the topic of this blog is. 
Yes, as you might have guessed from the title 'How to sell erotic audio, this blog is a guide on selling erotic audio stories and making money out of it.
Why Erotic Audio is Booming
The erotic content industry is huge, and over 3 million dollars is spent every second on the internet.
Out of that, audio was booming in quarantine, just like video porn, where people were looking for pleasure, intimacy, and escapism. 
Since quarantine started, the audio porn app Dispea has witnessed an 84% increase in its subscriber count.
It is no secret that video clips on websites like OnlyFans, Patreon, and ManyVids get all the attention. But erotic audio or porn MP3s are still secretly vibrant and profitable on the internet.
Here are the real reasons why erotic audio is getting popular:
Less Guilt
Unlike erotic videos, erotic audio is something you enjoy without anyone else's involvement. It's just you and your desires. This doesn't make you guilty like when you watch video porn.
Power to Imagine
Storytelling is a powerful tool that can be used to engage, educate, and inspire the audience. Video porn aims to excite people, while audio porn aims to relax people.
Easily Accesible
Erotic audio is easily accessible through various platforms and streaming services, making it convenient for individuals to explore their fantasies privately. With the widespread availability of smartphones and the internet, people can access erotic audio content from anywhere and at any time.
Less Pressure
Listening to erotic audio can offer a form of relaxation and stress relief. It allows individuals to escape from their daily routines and immerse themselves in a pleasurable and arousing experience. The erotic audio stories can help individuals unwind, reduce anxiety, and enhance overall well-being.
Popular Erotica Audio Niches
Erotica audio encompasses a wide range of niches, catering to diverse interests and preferences. Using techniques like inflection, tone, and character development, it is possible to make the message more impactful and memorable.
While individual tastes may vary, here are some popular niches in the realm of erotica audio:
Audio porn for women
Erotica audio was created with a focus on female pleasure, emphasizing romance, emotional connection, and exploring the female perspective.
Audio porn for men
Erotic audio content tailored to male listeners, often highlighting explicit scenarios, power dynamics, and specific male fantasies.
Fetish and kink
Niches are dedicated to various fetishes and kinks, including but not limited to foot fetishes, latex and leather, body worship, role reversals, and other specific preferences.
Physical intercourse
Content focused on observing or getting into sexual encounters, emphasizing the excitement of enjoying the real sex.
BDSM
Audio content features dominant and submissive dynamics, bondage, discipline, dominance, submission, sadomasochism, and related activities.
Roleplays
Erotic scenarios where participants adopt specific roles or characters, such as doctor-patient, teacher-student, boss-secretary, or any other imaginative roleplay scenarios.
Erotic Hypnosis
Audio content that incorporates elements of hypnosis, trance, and mind control to create heightened erotic experiences and sensations.
Masturbation
Guided masturbation audio provides explicit instructions and sensual encouragement to guide listeners through pleasurable self-pleasuring experiences. It aims to enhance arousal and offer an intimate connection.
Dirty talks
Dirty talk audios that lead to masturbation from self-pleasure talk force others to explore their bodies.
Moaning & grunting
This type of erotic audio for women and men focuses on producing relaxing and pleasurable sensations through gentle whispers, soft sounds, and other triggers. It aims to create a sense of intimacy and relaxation.
Business Model of Erotic Audio Story Platforms
The business model of erotic audio story platforms can vary depending on the specific platform and its approach to monetization. 
Here are some common elements and revenue streams that are often seen in this type of business:
Freemium Model
Some platforms offer a freemium model where users can access a limited selection of stories for free but charge for premium features or exclusive content. This approach allows users to guage the platform and upgrade to a paid subscription for a more extensive content library or additional features.
The free model need not be a standalone business model; you can combine it with the subscription model. 
For example, both Dipsea and Ferly offer free services with a 7-day trial. After the trial finishes, users have to subscribe to view more content. 
Subscription Model
Many erotic audio story platforms operate on a subscription-based model. They offer users access to a library of stories and charge a recurring fee for this access. Subscriptions can be offered on a monthly, quarterly, or annual basis, providing users with a continuous stream of new content.
In-App Purchases
Platforms may offer in-app purchases to enhance the user experience. This could include unlocking specific genres, accessing bonus content, or removing ads. These purchases provide an additional revenue stream beyond the subscription fees.
Merchandising 
Successful platforms may leverage their brand and popularity to sell merchandise related to their content. This can include items like apparel, accessories, or physical copies of stories. 
Best Apps for Erotic Audio Stories
There are many erotic audio stories platforms online with different services. While many focus on sexy stories, you can also find platforms that follow a holistic approach to sexual health. The only thing is that these pleasurable add-ons come at an additional cost.
So how much do these costs? While many audio porn websites are subscription-based, and most come with free trial periods. 
Now, let's explore some of the best erotic audio platforms here: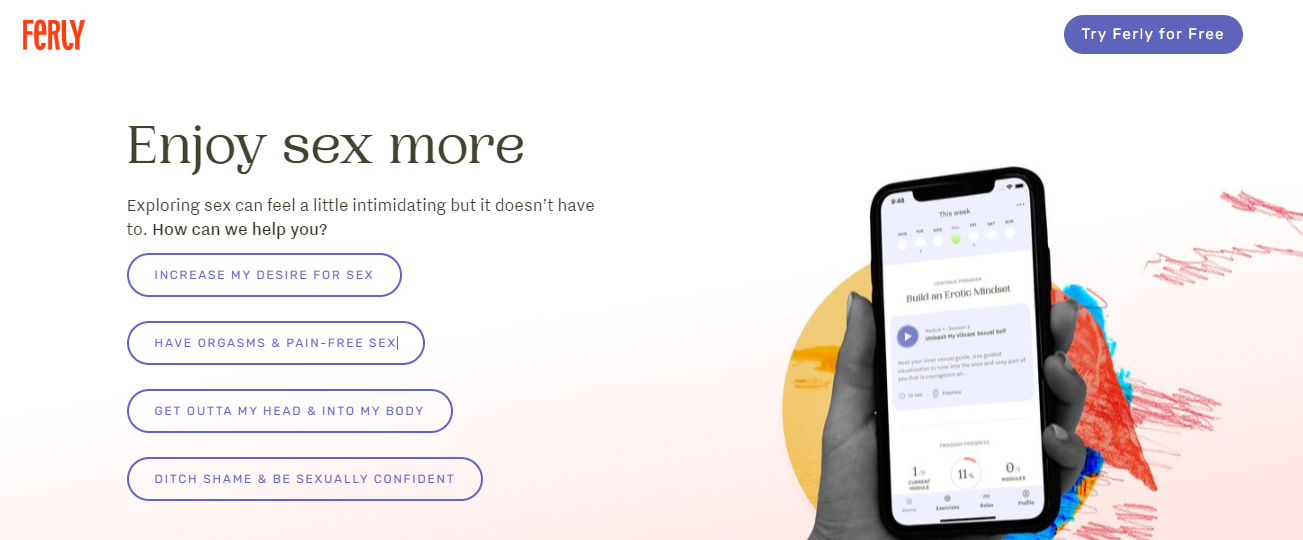 Ferly is an exclusive platform that hosts expert-guided audio programs to help people enjoy sex more. It has guided sessions where you can learn about the science of sex backed by research-based theory sessions. And most sex therapists recommend Ferly to their clients.
The platform connects users with certified sex coach and educators, psychologists and expert who offers sexual therapies and embodiment therapies etc.
Here are the peculiarities of the platform:
Guided audio programs with research-based theory sessions. 

Mindfulness exercises.

Touch-based practices. 

Opportunity for users to connect with others through discussion groups, community, and events.

Cognitive behavioral therapy practices to boost self-confidence.
A Ferly membership will give you access to the following:
Featured programs.

Single sessions like body mapping, podcasts and interviews.

Sensual stories guided journaling prompts.

Access the community.
Ferly is free to start, and after the free 7-day trial, you can choose between the subscriptions, which are as follows:
Monthly at £12.99.

Annual at £39.99.

Lifetime at £399.99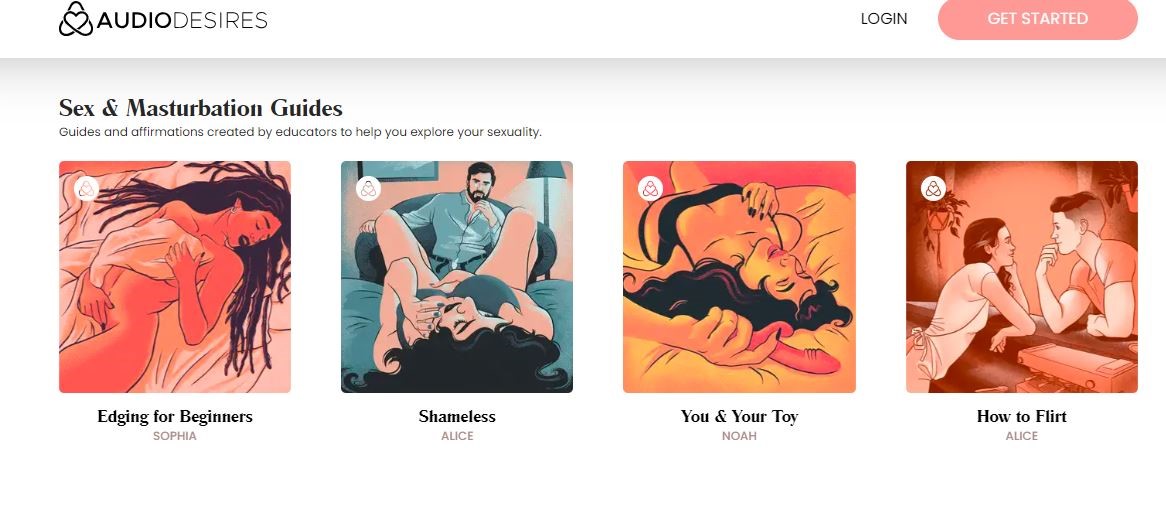 Audio Desires is a platform that helps you explore your deepest desires through immersive erotic audio content. The platform offers a realistic presentation of pleasure through erotic audio stories to help people live their best sex lives. 
The stories are 10- 30 minutes long, and the website also offers pleasure guides that sex educators and therapists create.
The platform is free to join and offers access to some stories every month. But the website also provides membership for the following price. 
Premium monthly membership: $7.99/month.

Annual membership: $59.88/year.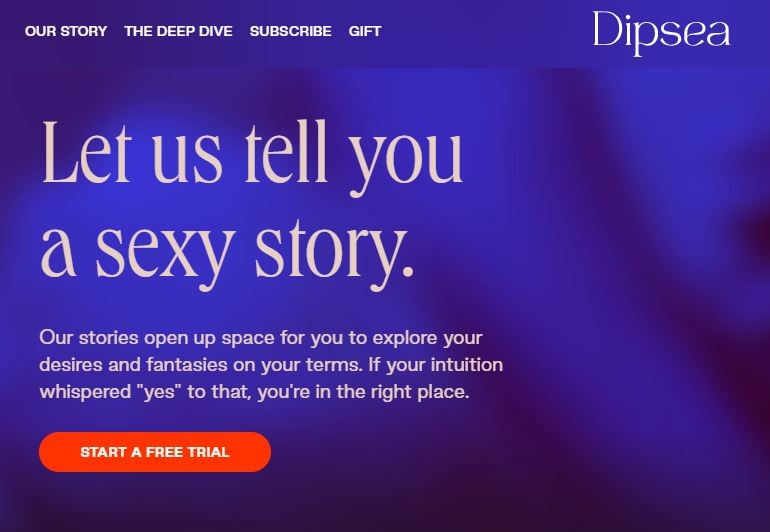 Dipsea is an erotic audio stories platform that allows people to pick their pleasures. Dipsea is an audio app for sexual wellness filled with short and sexy audio stories. Gina Gutierrez and Faye Keegan founded the platform; the platform hosts erotica stories under 20 minutes across different genres. 
Dipsea casts paid voice artists for certain scripts they have at home. The audio team directs it for actors recording remotely in booths and studios all over the world. You will find stories related to classic fantasies, quickies, open relationships, submissive relationship stories, and a lot more. 
The idea of Dipsea is to turn people in the mood and help ignite their imagination.
This is what Dipsea offers:
Sexy, narrative-based stories and

hot erotic stories for couple

.

Non-narrative guide audio on dirty talks, self-love, sexual taboos and pleasure.

Stories come with quirky artworks, a short synopsis, and related keywords (Moody or HER, Her+ Him, phone sex, fantasy, etc.)
Some stories are free to listen to after downloading the app. But you need to pay to unlock all categories after a 7-day trial.
This is the pricing structure after paying the subscription fee.
Monthly: $13.99 
Annually: $72.99
How to Create an Erotic Audio Website Using Fanso?
Building an erotic audio story platform is a great business idea, as audio porn is booming. Along with the technical implementation, you will also need to consider the legal and ethical factors, which is important. 
In this blog, we are going to look into the best way to create a platform for audio porn for women and men- Using a clone script- Fanso.
Here are the general steps involved in building an erotic audio stories platform. 
Let's get started.
Research and Planning
Study existing free erotic audio story platforms and paid ones to understand their features, user experience, and legal compliance. 
Explore the platforms AudioDesires, WeareFerely, and Dipseastories, and the other popular platforms for erotic audio stories or audio porn and see how they function. 
Identify your target audience and define the niche or focus of your platform. You can choose a specific niche among the niches we have mentioned or focus on 2 to 3 niches to cater to your audience. 
Determine the type of content you want to offer and the level of interactivity (e.g., user-generated stories, professional narrators, etc.).
Legal Considerations
Consult with legal professionals to ensure compliance with local laws regarding adult content, obscenity, age verification, and user-generated content.
Establish terms of service, privacy policies, and community guidelines to protect both users and your platform. You must also make sure the payment gateway you choose must support the creation of an adult merchant to accept credit and debit card payments. 
Getting approved for an account is much trickier in the adult entertainment industry than in any other business. Fanso supports different payment gateways like Stripe, PayPal, CCBIL, crypto payment gateways and more. Among these, CCBIL is an expert who securely handles transactions on adult platforms.
Fanso can also customize the payment gateway according to your unique needs, like your geographical location, niche, or preferences of the target audience.
Choosing a hosting provider
As you are building an exclusive platform for erotic audio porn, the niches you choose can be several. The niche your platform operates around will influence your choice of hosting services, as not all hosting provides support for all types of content. 
When you are building a website for audio porn for women and men, you have the flexibility to choose the hosting provider. 
We recommended using M3server for both domains and hosting as it is optimized to make the Fanso clone script site better and faster.
Here are some of the features of M3server:
Free server setup
The server can be configured and released at no extra charge. It also meets all Fanso server requirements.
M3 admin control panel
The M3 control panel is easy to use and lifts weight on server resources. 
FFMPEG setup
Facility to install FFMPEG with the essential codecs for optimized support for Fanso clone script. 
IP address
Serves come with one IP address which is a part of the premium M3 network.
Define your platform's and target audience, features, and business model
Determine the purpose of your platform and identify the specific audience you want to cater to. This will help you tailor the platform's features and design to meet their needs.
Now you can set your business model, which decides how your platform works and how it makes money. Most free erotic audio platforms work based on subscriptions and offer a 7-day trial. You can choose the monthly or annual subscription of your platform based on your requirements. 
Install the Fanso Software
Once you are ready with a domain name and hosting of your choice, you can install Fanso on the server.
The requirements to install Fanso are:
Your domain name.

A stripe account.

A VPS server, probably Ubuntu OS, with root access.

A wildcard SSL. 
Being a readymade script that can be installed without tech expertise, you won't find it difficult to install Fanso. But from the beginning, Fanso's tech team will assist you with the installation. After completing the installation process, you can add the features you want to add.
Fanso is a customizable platform which means you can customize the platform according to your unique preferences and requirements.
Planning on the content
Decide on your content acquisition strategy. You may choose to work with professional voice actors, allow user-generated content, or a combination of both. Create agreements or contracts regarding content ownership, usage rights, and compensation if working with voice actors.
Implement a content moderation system to review and approve user-generated erotic audio stories, ensuring compliance with your guidelines.
As you are building a marketplace model platform, you can invite voice actors and other users to sell their content on your website. 
Launch your audio porn platform
Once you have installed the Fanso software and selected the required features, it's time to LAUNCH your website. 
Perform thorough testing to identify and fix any bugs, usability issues, or security vulnerabilities.
Conduct a closed beta test with a select group of users to gather feedback and make necessary improvements. Once you are confident in the stability and functionality of your platform, you can launch it to the public.
Driving traffic to your audio porn website
Once you have finally launched your website for audio porn, it's time to think about driving traffic to your platform that other websites have been stealing all this time.
Audio porn is booming, and websites related to erotic stories are easy to market but still would need a push as compared to video porn websites.
Crafting a tailor-made marketing strategy to reach your target audience is important.
Here are some of the best strategies to drive traffic oy our audio porn website.
Email marketing
The old email marketing technique is still powerful enough to drive significant results. You can send invite emails to your audience and existing clients to inform them about your website launch and your services. 
To improve the chance of increasing the open rates of your emails, the best tip is to personalize every mail you send to your list. 
Paid advertising
Paid advertising is another effective way to drive traffic to websites where the advertisers pay the ad network when users click the ad. You can choose the ad formats to reach new customers. 
These ads are the most popular ones you can choose from.
You can leverage Google ads and capture user intent to run your ads successfully.
Display ads promote your services through banners of other ad formats, like images and videos on websites and social channels.
Social media marketing
The right social media strategy will help you find your target market and serve them according to their interest and preferences will help. 
When launching your audio porn website, optimize its search engines by conducting an extensive study and research on keywords.
YouTube advertising
We are living in the digital age when 50% of the day's time of an average adult is spent on the 3rd largest search engine after Google and Google Images.
YouTube also allows advertisers to target viewers based on their Google search history along with viewing behaviors on YouTube. 
Compared to running Google ads, YouTube ads are relatively inexpensive as well.
Conclusion
When it comes to exploring audio porn, there are several options to experiment with. But the market is still new and can accommodate new players. The best thing about audio porn is that you can unleash your creativity and experiment with the niches according to the interests of your target audience. 
If you want to sell erotic audio and want to build an exclusive platform that caters to your audience, we are super curious to partner with you. Get in touch with us to get started.