If you are an entrepreneur, an established business, or even a crypto enthusiast, you must have heard about NFT marketplaces and their fast-growing user base. As per NFTGo, the general capitalization of the NFT market has exceeded $16 billion in the first quarter of 2022. 
Content marketplaces are now giving access to creators to mint their own NFTs and make money with them. This brings artists, celebrities, independent musicians, and digital creators into the NFT game.
If you are an entrepreneur who is looking for opportunities to enter the world of blockchains and NFTs through an adult content marketplace, here is a complete guide for you to learn A to Z to create an NFT marketplace. 
What is an NFT marketplace?
Before understanding more about the NFT marketplace, let's talk about NFTs. NFTs or non-fungible tokens are a type of digital asset that leverages block chain to document the ownership of images, videos, or collectibles of any sort. It allows people to prove ownership of digital assets. NFTs store data on blockchains like Solana and Ethereum.
They are a type of digital container that holds unique, priceless digital artefacts with high market value. It can be anything from a signed baseball card to a rare image that is unique and has a high crypto value. 
Unlike cryptocurrencies like Bitcoin, NFTs cannot be exchanged for another NFT. This is simply because each NFT holds different assets, and the values attached to them differ. An NFT marketplace at its core is nothing but an eCommerce store for customers to purchase and sell merchandise and virtual stuff. 
Why Creating an NFT Marketplace is a Good Opportunity
It is no surprising fact that the latest craze to grip the world comes from the crypto space, with the fame of NFTs sharply increasing in the last year. From celebrities promoting NFTs to their fans who are willing to purchase the merchandise they sell, NFTs have exploded in popularity and price. 
We have recently witnessed a trend where the most prominent celebrities join NFT marketplaces and capitalize on it. 
For example, popular Musician Grimes has sold her unique digital artworks worth $6 million. She is one among the first celebrities to cash in on the NFTs, making millions from her own digital art collections.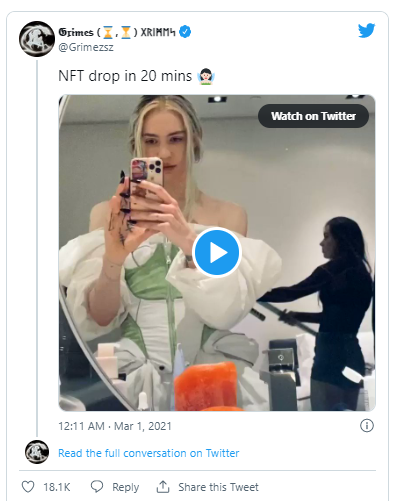 World-famous Rapper Snoop Dogg released his NFT collection featuring some of his artwork to make over $100,000 for just one of the pieces.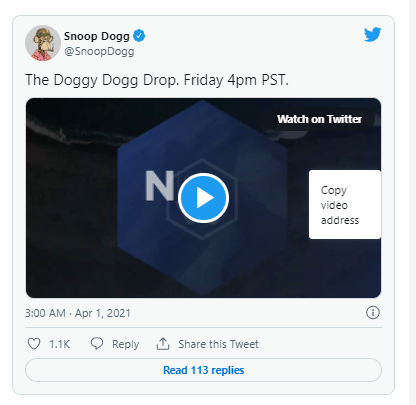 So what makes running an NFT marketplace in 2022 a lucrative opportunity for entrepreneurs? Why do you want to create your own NFT marketplace? Here are some valid reasons. 
A New niche in the crypto
NFTs are quite a new concept in the world of crypto. The notion of cryptographically verifiable and secure ownership of virtual assets is quickly becoming a favorite among people.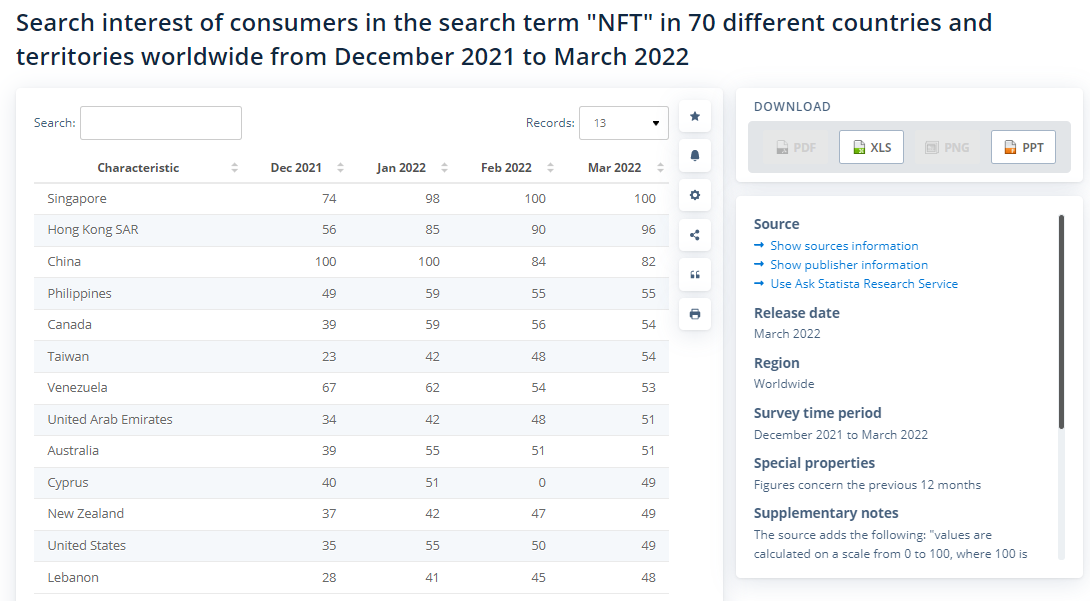 As NFTs exist and use blockchain technology, it becomes easy for crypto newbies to make an entry into the industry. Starting an NFT marketplace for content creators to sell their content is a good use case by itself. 
While Bitcoin took over 10 years to make $69k, a random NFT, a crypto token in the form of a JPEG image, was sold for $69 million in less than 30 days. 
Who can use the subscription-based NFT platform like OnlyFans?
When you create an NFT marketplace, it is important who your target audience are. Listed below are the type of content creators who can use the platform to its fullest potential. 
Models
Models have an unmatched ability to attract a given audience. Their photos and videos become viral on social media really quickly. So a subscription-based NFT platform is perfect for models to cash in on their celebrity profile. 
Celebrities
They are the first audience when it comes to thinking about how to create an NFT marketplace. Celebrities have a large fan base that you can turn into a cash stream. 
Artists
Artists are the other type of creators who are in high demand. The right audience is willing to pay a hefty amount for original work, which is valuable NFT material. 
Musicians
There is absolutely no one who doesn't like music, making it a high-demand creator profile. Musicians can present their work to a large audience which people will be willing to buy for any price.
Game streamers
Another type of creators who has demand among the audience is game streamers who could add value to your NFT-based subscription marketplace.
How do NFT marketplaces work
Before getting into how to build an NFT marketplace, it is important to understand how it works. Generally, all NFT platforms work in the same way, no matter whether you want to create an adult or non-adult content marketplace. 
Content creators must sign up to the platform and install digital wallets to store NFTs. Creators can build their assets by uploading their creative works. They can also decide on how to charge their subscribers. Content creators can choose between a fixed price for individual products or a subscription that brings recurring revenue. 
Creators can post their work like images, music, videos, journals, etc., and interact with their fans and followers, who will pay to access the content posted on the platform. Both non-paid and paid content will be available on the marketplace. The customers who pay will have access to the premium materials. 
Subscription platforms are mutually beneficial for both the NFT marketplace owner and the creator. The reason for this is that the content creator and their popularity will drive huge traffic to the platform, increasing revenue for the NFT marketplace owner. 
What do adult subscription platforms and blockchain technology have in common?
You might think there is nothing in common between blockchain technology and subscription adult marketplaces like OnlyFans. But, wait, you are wrong! For instance, to take a case, OnlyFans planned to ban adult content to comply with the guidelines of its payment providers and banking partners. 
Many creators were fearful about the new policy shift and requested to implement a decentralized version of OnlyFans. Many users have also requested for this through their Reddit posts which you can see below.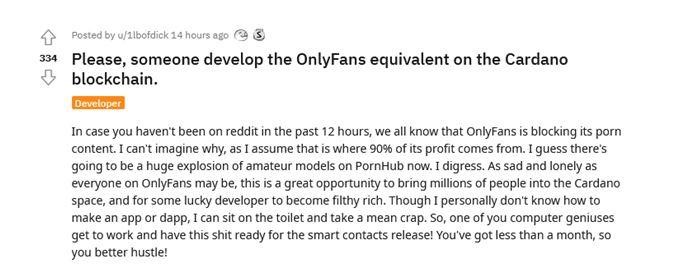 Followed by this, in Feb 2022, OnlyFans announced the launch of integration of NFT technology in its platform to allow content creators display authentic NFTs as their profile picture. According to the CEO of OnlyFans, Ami Gan, the platform will offer support for Ethereum based NFTs. 
NFT Marketplace Must-Have Features
Following are some of the features that need to be added while developing your NFT-based subscription platform.
eCommerce Storefront
An adult NFT-based OnlyFans-like platform must have a storefront that stores all the information related to the content creators want to sell. 
Search Functions
To allow subscribers to search for their favorite content creators, integrate search functionality using relevant filters. 
Product listings
Users must be able to create and post images, audios, videos, or any exclusive content using names, tags, and the relevant description. 
Advanced Filter options
Integrate multiple filters to make it easier to navigate the marketplace based on the user requirements. 
Public live streaming
Creators must be able to stream their live performances to their audience and choose between free or paid live streaming.
Buying 
Building a simple yet functional buying system for users which is the most important part of building an NFT marketplace.
Wallet
Integrate a secure wallet for sending, storing, and receiving cryptocurrencies and NFTs. For better convenience, allow users to connect wallets of their choice. 
Admin panel
Admin panel allows managing NFT sales, master wallets, users, revenue tracking, user profiles, payment processing, and more. 
Ratings
Integrating this feature will allow users to know the popular users and what type of NFTs to select. Users can also leverage them to reward the best creators for proving their reliability. 
How To Create An NFT Marketplace?
Before learning how to build an NFT marketplace, consider the following steps. 
Conduct market research and analyze the demand for digital assets
The global Digital Asset Management Market is expected to grow to $8 billion by 2027, growing at a CAGR of 13.6%. Before getting into building an NFT marketplace, it is significant to study the market thoroughly and understand the needs and trends of the market, which is critical to its success. 
Understand the blockchain technology
To solve the issue of censorship from traditional payment solutions and credit card companies, it is crucial to decentralize your subscription platform with blockchain technology. Before starting to create an NFT marketplace like OnlyFans, make sure you study the market and understand how blockchain works. 
It is safe to use Ethereum as it is reliable and OnlyFans also rely on the same. Blockchains can add value by running smart contract code, which cannot be stopped, offering an effective way to create platforms that are resistant to content censorship by third-party payment platforms. 
Create your NFT marketplace using Fanso
Among subscription-based adult marketplaces, OnlyFans dominates the market with over 170 million users. While the popularity of OnlyFans-like websites is soaring, these sites face payment issues like high commissions and banks charging huge miscellaneous fees. Integrating NFT technology into adult marketplaces will solve the major payment issues of the platforms and the content creators who work on them. 
NFT marketplaces allow content creators to create and sell their content, both adult and non-adult platforms and earn a royalty for a lifetime. The best approach to creating an NFT marketplace is to leverage Fanso, a white label clone script, to create your subscription-based adult content marketplace like OnlyFans. Fanso comes with features like a live cam, merchandise store, and different subscription levels through which models can make a stable income. 
Cost to create an NFT marketplace
The overall cost to create an NFT marketplace that is subscription-based depends on the development approach you adopt, the features and customizations you want to integrate, and a lot more factors. Customizations might cost you a bit if you want to build a complex platform with modern technologies, but it's always less and more cost-effective than building an NFT-based marketplace from scratch. 
When choosing Fanso to build the NFT marketplace, there are two price packages– Starters and professional, priced at $699 and $1499, respectively. You get the complete source code in the professional plan for the price you pay.
The self-hosted clone script includes free installations and comes at a one-time cost with no recurring or hidden fees. Isn't that great?
Some of the additional costs you need to bear are:
Domain registration

Hosting 

Server

SSL certificate
How to Make Money with an NFT Marketplace?
When it comes to making money on NFT-based platforms like OnlyFans, there are several ways creators can leverage. Each revenue strategy feeds to the NFT marketplace as the platform can take around 10%-20% of the commission of each transaction. In short, the more money that creators can earn for themselves, the more money the marketplace makes overall. 
As of 2020, the OnlyFans platform paid over $2 billion to creators showing how lucrative the business model is. If you want to create an NFT marketplace, you can build it on a subscription-based business model where users pay a monthly fee to access exclusive content offered by creators. 
Now let's have a closer look at how an NFT marketplace makes money.
Commissions
The majority of the money NFT marketplaces make comes from commissions and the revenue generated by content creators. An NFT marketplace can take around 20% of commission from the creators' income. Content creators get to keep the remaining. Adult content marketplaces like OnlyFans take around 20% as commission, whereas Patreon takes anywhere between 5%-12% from creators.
eCommerce sales
Besides commissions, NFT marketplaces also make money by selling branded merchandise via an integrated online store. You can allow content creators to sell merchandise like hoodies, t-shirts, stickers, or anything of similar kinds. 
With that said, there are three primary methods of how creators make money in an NFT marketplace. 
Here is a quick rundown of each method.
Subscriptions
Most content creators on NFT-based adult platforms like OnlyFans set their profile behind a paywall. Users have to pay the subscription fee monthly to access it. Depending on the content and the creator, monthly subscriptions can range anywhere from $10-$100 or more. As a thumb rule, popular creators with a huge following generally charge a higher subscription compared to other accounts. 
Pay-per-view (PPV)
There are two different ways by which creators can offer PVV content to their followers. They can post it on their wall for users to pay instantly for the material and access it. The next option is to send the content to users through direct messages, which must be accessed by paying for it. 
Converting digital assets to NFT
Now that you know how adult NFT-based content platforms make money, let's take a closer look at how to convert your digital assets to NFT and make sales out of it. 
Choose the assets
Assets can be anything from a digital image, a video, or even an audio clip that has a high value among the target audience. 
Choose the blockchain platform
To convert digital assets to NFTs, it is a must to register on a blockchain platform that will issue the NFTs. While there are several cryptocurrencies to choose from, Ethereum is the most popular blockchain most users rely on. 
Buy Ethereum
To convert the digital assets to NFT, you must purchase Ethereum to cover the conversion charges. 
Allow creators to sell NFTs
Integrate features that allow creators to upload their digital assets and create NFTs. Make sure the NFTs abide by sales guidelines set by your NFT marketplace. 
Why choose Fanso- Unlock new possibilities 
The NFT industry is in its nascent form, but it has the potential to create the most desirable environment for modern content creators to dive headfirst. Fanso is the best software solution to combine two of the most lucrative industries together- Subscription-based adult platforms and the NFT marketplace. 
Being open-source, Fanso is simple, easy to install, and comes with the ability to customize your OnlyFans-like website with NFT so that you can solve the hassle of payment gateways content creators face. 
Conclusion
NFTs are growing at a surprising rate. As more people join the movement, we expect it to reach new heights. This growth shows that NTFs aren't just a passing fad. 
NFT marketplaces hold the potential to grow beyond the competition in the future, becoming a prominent platform. Currently, there are several NFT marketplaces. Hence to create an impact, you must offer a solution no one else has explored. The effective way to stand out in the landscape is to create a new solution.