OnlyFans, which started out like any normal social media website, grew to an adult content platform since celebrities ranked in the millions. Featuring only a website with no app, OnlyFans is one of the popular content-sharing platforms today.
Creators provide their fans photos and videos and even can cat one-on-one for a set price. Since its launch, OnlyFans has given its creators freedom to upload any content (provided that they own the copyright), including adult content which is generally locked behind a paywall.
If you are a newbie planning to join OnlyFans, learning about top OnlyFans creators and what made them secure that position is important. 
Criteria to rank Top OnlyFans creators
OnlyFans is a subscription-based platform or, more precisely, a fan club website where content creators, models, or performers make money from fans who subscribe to their content. Content creators make money in 2 main ways:
Through subscriptions

Pay-per-view (PPV) content. 
Content creators can set their subscription rates ranging from $4.99 to $49.99 or set it to free. Performers on OnlyFans who set their subscription fee to free can also make money through live streaming. Live streaming is currently an option just for OnlyFans creators whose subscription is free. 
Another way by which you can earn through exclusive content on OnlyFans is through paid Direct messages and tipping, where you do custom videos and request tips.
When setting your subscription rate, you need to consider that the platform takes 20% of the creator's earnings.
Now coming to how to rate top OnlyFans creators and all criteria to be considered.
Quality content: The quality of the creator's content and how engaging it is. 
Subscriber growth rate: A faster-growing fan base typically indicates more influence. 
Community engagement: Engagement can be measured from metrics like average views, organic mentions on other channels and social platforms, audience retention, etc. Comments
Comments: If a creator has an engaging following, that will show directly in the comment sections. Genuine comments are real comments from users and are not generated by bots or spam accounts. 
Top OnlyFans Creators Ranked from 10 to 1
So who are the top OnlyFans creators who are ranking in the big bucks? Let's look at the top-earning OnlyFans creators.
10) Bella Delphine- $1.2 million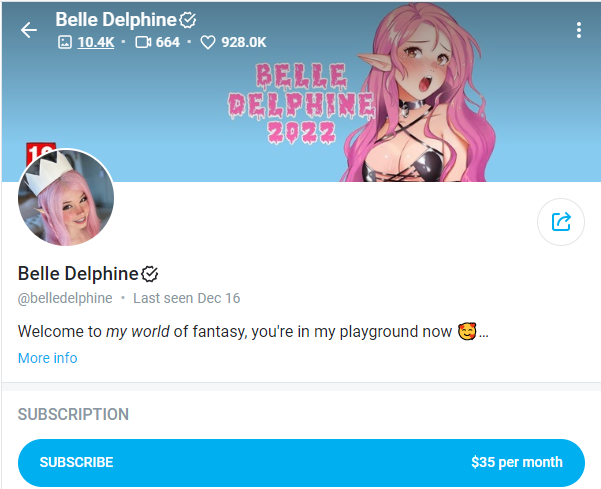 OnlyFans account name: @belledelphine 
Monthly subscription rate: $35 
Bella Delphine, who charges $35 per month, makes around $1.2 million a month on OnlyFans. 
Bella Delphine is a South African-born English model, a YouTube and popular porn star. 
9) Megan Barton Hanson- $1.06 million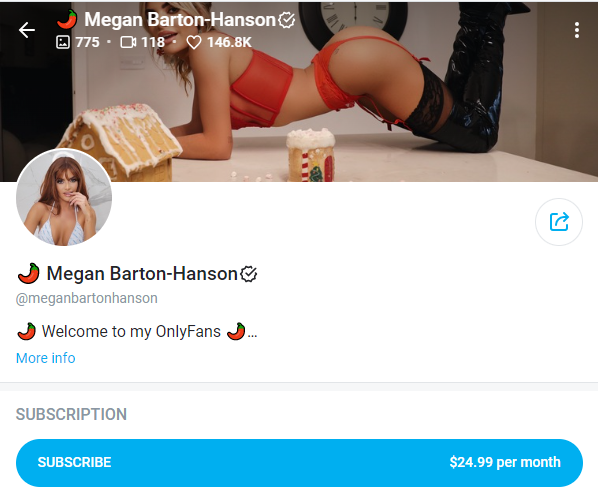 OnlyFans account name: @meganbartonhanson 
Monthly subscription rate: $24.99 
The Love Island reality TV celebrity Megan is famous on OnlyFans for her sexy, spicy, and adult content. She runs a discount of 50% off for 31 days for her trial. She also runs a subscription bundle of 15% for 3 months.
8) Safareee Samuels- $1.91 million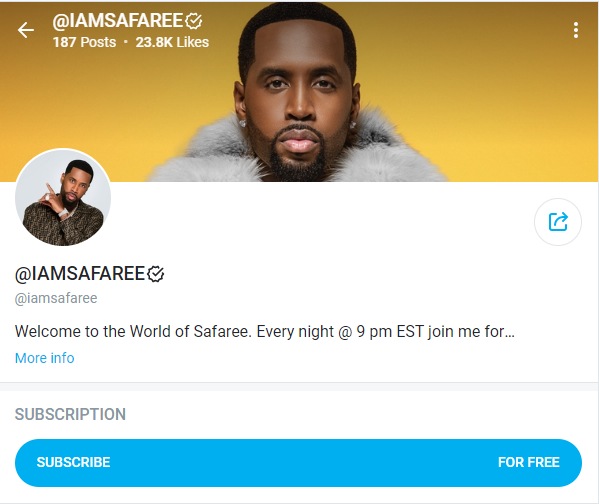 OnlyFans account name: @IAMSAFAREE
Subscription: Free
The popular music and reality TV star Samuels made more headlines for joining OnlyFans than his entire music career. Samuels, who has set his account to free make money from PPV post price behind a paywall and also charges around $50 for live intimate live streams. Reportedly he makes around $1.91 million per month through his OnlyFans account.
7) Pia Mia- $2.22 million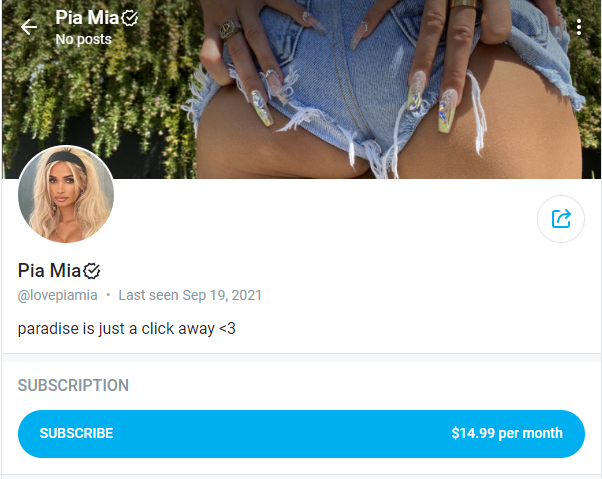 OnlyFans account name: @lovepiamia
Subscription: free
Pia Mia, who become famous through Do It Again Singer, TV serials, movies, and commercials, offers a free subscription. She charges around $10 for her images and videos and makes around $2.22 million every month.
6) Eric Mena- $4.49 million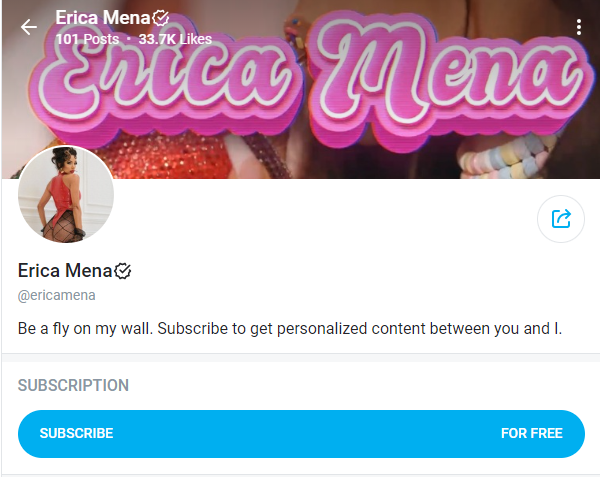 OnlyFans account name: @ericamena 
Monthly subscription rate: $25.99 
The famous American TV personality and former model makes around $4.49 million every month with a monthly fee of $25.99.
5) Mia Khalifa- $6.42 million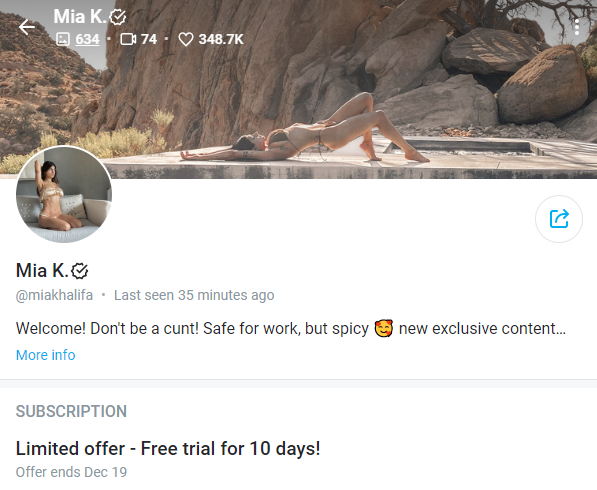 OnlyFans account name: @miak
Monthly subscription rate: $12 
The Lebanese American media personality and pornographic artist Mia Khalifa was a popular webcam model even before joining OnlyFans. She has set her subscription rate to $12 and offers a trial for $6 for 31 days at a discount of a whopping 50%. 
She also offers various subscription bundles and has over 22.7 million followers on OnlyFans.
4) Tyga- $7.69 million
OnlyFans account name: The account no longer exists
Old Monthly subscription: $20 
American Rapper Micheal Ray Nyguyen-Stevenson is popularly known as Tyga. He had around $21.8 million followers on OnlyFans and was reportedly earning around $7.69. But he deleted his OnlyFans account and another website named Myystar. 
On the platform, Tyga shares his music albums, behind the scene clips, his private images and videos.
3) Cardi B- $9.43 million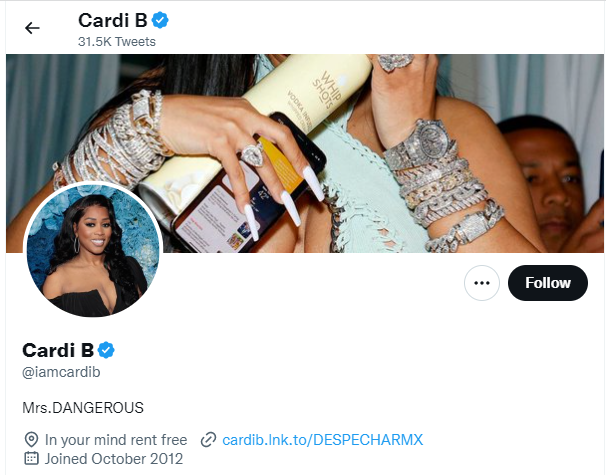 OnlyFans account name: @iamcardib 
Monthly subscription rate: $4.99 
American Rapper Cardi B became the top OnlyFans creator, earning millions after her first 6 posts. She reportedly makes around $9.43 million with over 81.7 million followers and is always among the top 10 most subscribed OnlyFans creators. 
2) Bella Thorne- $11 million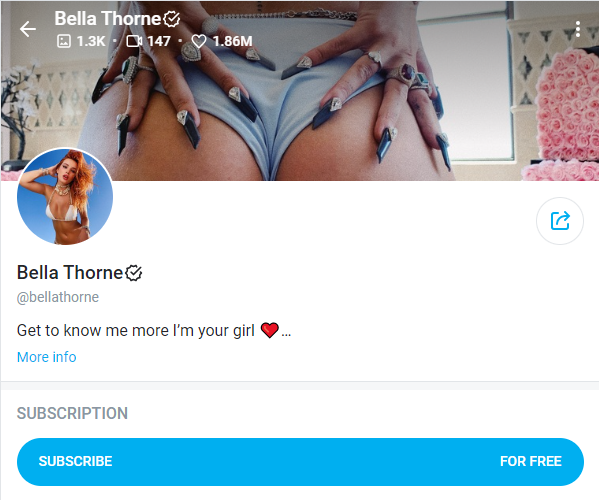 OnlyFans account name: @bellathorne 
Monthly subscription rate: Free
Bella Thorne, a popular American actress, singer, model, and writer, is one of the top OnlyFans creators who made around $1 million within a day of joining OnlyFans. Bella, who has set a subscription fee of $9.99, now offers free subscriptions, but she is again one of the top-earning and most popular OnlyFans celebrities. 
1)     Blac Chyna- $20 million
OnlyFans account name: @blacchyna 
Monthly subscription rate: $19.99 
Now coming to our 1st among top OnlyFans creators, the title is bagged by Angelina Renee White, aka Blac Chyna. Black Chyna is an American model, entrepreneur, reality TV show star, and a lot more. With over 150 images and videos on her profile page, she charges around $10 monthly for fans to access her exclusive content. She makes around $20 million from around $16.2 million followers.
Can only celebrities make serious money on OnlyFans?
Yes, celebrities are indeed among the top OnlyFans creators who make more money. In this list, all the most popular OnlyFans creators are celebrities. Why is it so? It is because they have more subscribers, which comes with the least effort as they are already popular. But even newbies and other models and become one of OnlyFan's top creators, but only with consistent handwork and time. 
Here are some things to consider if you want to become a top OnlyFans creator and a top earner on the platform:
Be consistent with uploading new and unique content.

Focus on the clarity of your images and videos.

Promote your OnlyFans account on social media.

Start by building a large following on social platforms like Instagram and Twitter.

Give a 1-month free trial.
Conclusion
If a content creator, be it a model, a photographer, a porn star, a motivational speaker, or even a stand comedian, has a large following on Instagram, Twitter, YouTube, or even TikTok, OnlyFans makes it simple to reach the top OnlyFans creator list and make more money. 
If you are new to the platform, work around building a large follower base on Instagram so that it becomes easier for you to divert your followers to your OnlyFans account and convert them to your subscribers.
To monetize your exclusive content on OnlyFans, you need to create an inner circle community and work towards growing it by selling exclusive and quality content to an audience who craves for your unique content.