If you have heard about OnlyFans, you already know that you have to set your own subscription price, and that's how you generate revenue.
And you probably also noticed OnlyFans free pages that don't charge any subscription free. 
So, what is a free OnlyFans page, and how does it work?
Wait, that's what this blog is all about- OnlyFans free vs. subscription. Let's not waste our time and jump straight into our topic.
OnlyFans Free Vs. subscription account
OnlyFans allows creators of all types to create their own content and set subscription free. Once you create your page, you will be given an option to make it free, too. 
If you don't already have a free page or haven't heard about one, that's probably why you have landed on this blog. 
You might be wondering: Why would I put all my efforts and time into delivering a FREE product to people?
Yes, I get it- Why in the world do you have to do it?
Before answering that, I would like to ask a question instead.
If you don't want to put in your time and effort for something that doesn't give monetary benefits, why are you on social platforms like Facebook, Instagram, and Twitter? 
Have you ever recieved a check from social platforms? 
But the OnlyFans free account allows you to sell pay-per-view content, accept tips, and interact with potential customers. You need to be good at it if you want to make money with a free OnlyFans page. 
Having a free OnlyFans page is a great promotional tool to create an additional stream of income. 
OnlyFans Free Vs Subscriptions- What's the difference
The crucial difference between the OnlyFans free page and the paid page is the fact that the first doesn't require fans to pay a subscription fee, and the second isn't open to the public who doesn't pay the fee. 
Let's look at an OnlyFans free page that is set to a free subscription.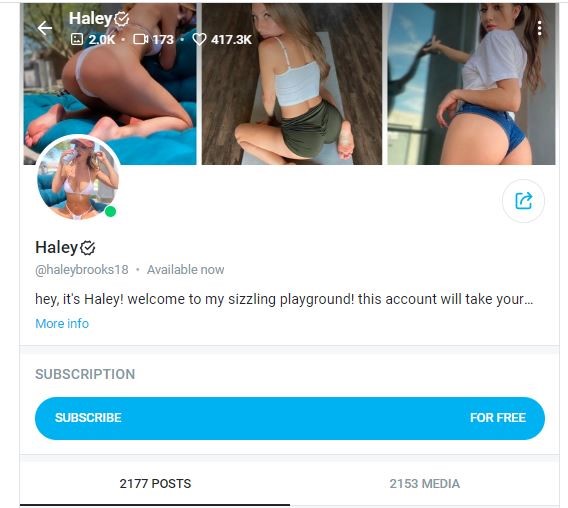 Now let's look into the differences between OnlyFans free Vs subscriptions:
OnlyFans free Vs. subscriptions- Steady source of income
With an OnlyFans free account, you cannot really predict your income as it isn't stable. Whereas with a subscription page, you can predict your income to an extent, as income from the subscription fee comes around 20%. 
OnlyFans Free Vs. Subscriptions- Easier to build a subscriber base
When considering OnlyFans free vs subscriptions, with the former, it is a lot easier to grow your following. If you have a free account, it's going to be easier for your fans just to click and subscribe, as it is low risk for them. With a fan account, you could get 50 to 100 fans within the first hours or even more, depending on your niche and your content. 
There is no commitment, and they can just pay for pay-per-view content when they want to buy something exclusive. 
Whereas with a subscription fee, growing your fan base takes time and effort, as it isn't easy to drive people to your paid account-. That's definitely possible with social media, cross-promotion with content creators, or through paid promotions.
OnlyFans Free Vs. Subscriptions- More chances to sell
With a free OnlyFans page, you can get your fans in the door to see your amazing content, and you can keep them around as they don't have much reason to leave. 
And you have more opportunities to sell once they subscribe to your free page by selling DMs, PPV content, collecting tips, etc. 
While you still have to put in efforts to grow your free page, what you have to deliver on a free page when compared to a paid account is much less, as the expectations should be low. 
But with a paid OnlyFans page, you might not be able to convert often through other ways as they are already paying you.
OnlyFans Free Vs. Subscriptions: Bring credibility to your brand
If you are wondering how to have 2 OnlyFans accounts, considering OnlyFans free vs. subscriptions to bring credibility to your brand, the free account can be used to your advantage. 
A trick you can do is offer all your fans who are on your free page a free video or a free image. 
For that, you will ask them in exchange to like all your posts, give them the rewards only when they like every post or yours or leave comments.
Whereas, through OnlyFans paid account, you can offer good content that is relevant and unique according to your niche to boost your credibility. 
Pros and Cons of OnlyFans Free Vs Subscriptions
If you take OnlyFans free Vs subscription, there are advantages and disadvantages to both. Let's explore it quickly. 
OnlyFans free pros
Quick fan count builder.

Helps to bring credibility to the page with likes.

You can focus on PPV sales and build up-selling strategies.

It can be used when potential followers won't pay for VIP.
OnlyFans free cons
You miss out on subscription income.

The revenue you get from subscriptions comes around 20% or maybe less. 

Revenue is based solely on your ability to sell.

Extremely labor intensive.
OnlyFans subscription pros
Gives your brand a higher perceived value.

Provides a predictable base-level income.

Attracts a high-quality fan base or BIG spenders.

Helps to build a level of rapport.
OnlyFans subscription cons
Fan count takes time to build.

Pages likes are slower due to a lower fan base.
How to Make Money Using an OnlyFans free page?
You can generate revenue through both OnlyFans free and paid accounts. Most content creators on OnlyFans leverage the free OnlyFans page to upload free content and build a fan base.
A paid account is generally for getting super fans who are willing to splurge more money. But you can also make more money with a free OnlyFans page if you use it the right way.
Here are some of the ways by which you can use your free OnlyFans page to generate income.
Sell more pay-per-view posts
Leverage your OnlyFans free page to sell more exclusive content as PPV content that you charge a fee for.
For example, Kayla is an OnlyFans creator who uploads general content on her free page. Anything spicy is reserved for PPV posts.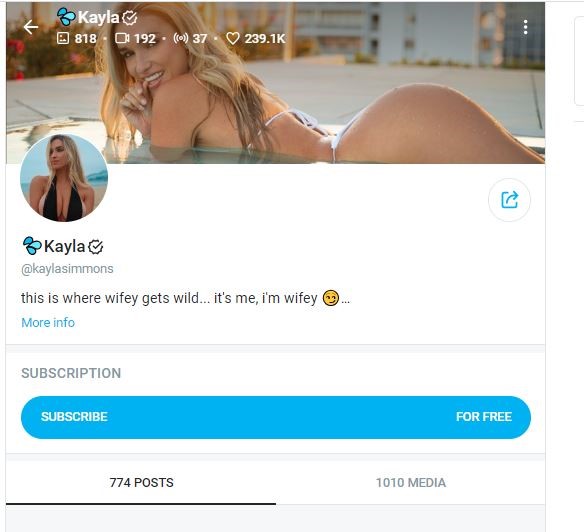 Think of nude images, pictures of your dirty innerwear and place them behind a paywall.
On OnlyFans, the lowest amount you can set for a PPV post is $3, and the highest is $50.
Mostly, content creators stick to a range of $10 to $20 per post.
You can post PPV content to your wall and send mass messages to your fans.
Attach it to the top of your profile, along with an excellent OnlyFans tip menu.
Paid live streaming
Similar to PPV content, OnlyFans allows free OnlyFans page owners to sell paid live sessions.
While your fans might not be willing to pay a monthly subscription fee, they could be curious about your live videos and might pay for it. You can charge smarting from $5 and go up to $50 for a live stream.
Work on collecting more tips
Another way to make money on OnlyFans using a free OnlyFans page is through random donations that your fans might send you.
You can set up a tip menu on your OnlyFans profile, and your fans will decide how much to pay you.
A typical OnlyFans tip menu can look like this:
$5 for pulling your top off.

$15 for half nudity.

$30 for full nudity.
Use mass messaging to your advantage
Fans have to pay a fee per message to interact and engage with you. It is up to you whether you want your fans to pay in a single go and interact with you for a lifetime. If it is a one-time payment, set it to the highest amount.
The minimum pricing limit on mass messaging is $3, and it can go up to $100.
Fulfill custom requests
Custom requests are great for making money on your OnlyFans free page. While the subscription is free, there is no limit on how much they can splurge on custom requests.
The best way to make more money is by negotiating with your client. If they ask for a unique selfie, you can charge around $10, and if they demand a video striptease, don't hesitate to charge the $500 or more.
OnlyFans Vs Subscriptions- Which is better
So, coming to OnlyFans free vs subscriptions, both are good considering its advantages. In fact, both cater to different types of customers. 
The one that knows they want to support you every week or every month. 

The ones that only want to contribute once in a while.
If you doubt what type of OnlyFans account to build, OnlyFans free or OnlyFans paid account, I recommend using both if you are new to the platform. A free OnlyFans page is great for generating quick income, as you can sell PPV content even when you set the subscription to free. 
You can also funnel your free account to your paid account and offer gifts for fans in return. 
Why an OnlyFans free account may not be a great idea
As we have discussed the pros and cons of an OnlyFans free account, you know why it isn't a great idea to have a free OnlyFans account. Yes, you can have it when starting out for all the advantages it offers. One thing to notice is that getting sponsorships with free accounts is not easy or impossible; brands typically don't sponsor them.
Another thing to notice is that the top 1 % creators don't use free pages!
There was a time when a free page was pretty effective. The idea behind the free page is that it allows people to subscribe to you on OnlyFans, build an audience, and then start offering a free page and locked content. 
But that isn't the case anymore.
Why not use an OnlyFans free page?
It's because the free page is going to attract hundreds and thousands of people who are going to chat with you, and they are going to take up your time. They might give them the impression that they will buy stuff, but they are not. 
You end up spending a lot of time and effort on building, creating content and maintaining a free page.
Conclusion
While having a free OnlyFans account does have some benefits, and it helps build a fan base when you are starting out, it might have little effect as you grow. Plus, maintaining a free page along with your paid account calls for a lot of time, effort and energy you have to put in.
You are allowed to have two OnlyFans accounts, and many creators can convert long-time free fans to new subscriptions on the paid account if you follow the right strategies to make it work for you.