With no real competition for the last couple of years, OnlyFans dominated the whole adult content subscription industry, but here is a new challenge to OnlyFans- Fansly. If you are an adult content creator looking for the best subscription platform, you might be familiar with these two platforms. 
With more and more creators and users flocking to Fansly, let's take a look at Fansly or mainly Fansly vs. OnlyFans.
What is Fansly?
Over the last 5 years, OnlyFans has reached a position that is just like the Facebook of adult subscription platforms. And it looks more like Fansly could do to OnlyFans what Zoom did to skype during the Pandemic. 
So now coming to the question, "what is Fansly?". Fansly is an adult subscription platform like OnlyFans where creators upload images and videos. They can charge subscribers to access premium content by offering pay-per-view content and subscriptions and get tips from them. The originality and uniqueness of the content encourage users to subscribe to the profile. 
The one reason the debate of Fansly vs. OnlyFans exists due to the fact that Fansly has a lot to offer to its users and subscribers. Owned by Americans and managed through Select Media LLC, Fansly boasts over 2.1 million users and is the second most popular platform for adult content creators.
The website has more options than OnlyFans, like offering tiered charges for users to target high-budget and low-budget fans. Whereas OnlyFans just allow creators to offer a flat fee for all subscribers. 
Pros and cons of Fansly
Now we know what is Fansly, let's look into the pros and cons of the platform.  The platform has enabled crypto payout, including Bitcoin and Ethereum for Russian and Ukrainian which is one of the biggest peculiarities. 

Pros
No other platform can beat Fansly when it comes to the flexibility and quality of the content. 

Has a great earning scheme allowing content creators to generate revenue.

Different subscription tiers are available to select based on your revenue goals. 

If you want to send PPV to all your followers, you can draft the message, set a price, and send it to all. 

Allows payment through credit card as well.

It is easier for content creators to increase fans than OnlyFans. 
Cons
Subscription charges are high.

Specialized only on adult content, not other niches. 

Besides 20% of commission, it leverages a tip tax for tips earned from fans. 
What's the best about Fansly
Fansly witnessed massive growth in when OnlyFans announced that it might ban its adult content. Now let's look at the best things about Fansly. 
Who uses Fansly
Fansly is used mostly by adult content creators; people have been sharing Fansly Links on Subreddit and social platforms and encouraging creators to follow and promote each other's content. 
While the platform just promotes adult content, there are plenty of already-popular content creators using Fansly. For example, Amouranth, a famous Twitch streamer, has been ruling Fansly for a month, building a following of 215,000 fans. 
Features of the platform
Fansly has been gaining track as it boasts prominent features and tools to increase the ease of use for content creators. Some of the best features of Fansly are:
24/4 user support for both content creators and fans.

SFW and sex-worker content.

Tiered subscriptions.

Protection from chargebacks.

Targeted geo-blocking.
Here's a Tweet by Fansly about its own features.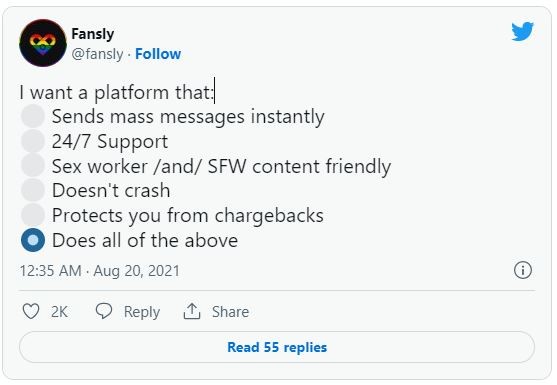 The payout for content creators
OnlyFans funds creators 21 days after successful payment. Content creators can then withdraw the amount from their account since they have a minimum withdrawal amount of $20. This process is even faster with Fansly. The money will be paid after 7 days, and the site advertises a $100 withdrawal limit, which they have lowered to $20. It is a sign that Fansly is working to improve its offerings for content creators. 
Referral program
The biggest advantage of Fansly is that it has a referral program for both content creators and fans. This is great news for creators as the platform has changed its lifetime referral policy to one year. 
Owning multiple accounts
When you consider Fansly vs. OnlyFans, the latter doesn't allow creating multiple accounts. But on the other hand, Fansly allows content creators to have multiple accounts. Plus, you won't face the restriction you will face on OnlyFans. 
How to make money on Fansly?
Being an alternative to OnlyFans, Fansly must have to be the best platform to make money to generate a passive income source. So here are some of the best ways by which you can make money on Fansly. 
Subscriptions
Just like OnlyFans, Fansly also allows creators to sell subscriptions where they can lock images, videos, or audio behind a paywall. 
Pay-per-view
Fansly allows creators to sell their content on a pay-per-view basis. You can decide the rates of pictures and videos and upon paying the amount, your fans will be able to view them. 
Direct message
As Fansly is an alternative to OnlyFans, it has several features common to OnlyFans, one of which is direct messaging. Fansly allows creators to send direct messages to fans by locking the exclusive content that is sent privately to fans. Fans can pay to view the content that is hidden behind a paywall. 
Live stream
Fansly allows creators to run live streams. Creators can lock live streams behind a paywall which fans can unlock after paying the fee set by the creator. 
How much content creators are earning in Fansly?
In Fansly, content creators determine their own price to charge for subscriptions and pay-per-view content. However, one unique feature that sets Fansly apart is subscription tiers. Most content creators charge between $5-$15 per month for the primary tier. Most of them offer a single tier, but some take advantage of multiple tiers. For example, a creator can charge $10 for the primary tier and offer Diamond and VIP tiers for $100 and $200 monthly, respectively. On these higher-priced tiers, the creator can provide longer videos starting from 15 minutes and up. Just like OnlyFans, Fansly also deducts 20% of all pay-per-view and subscriptions. It is reported that the top creators of Fansly makeover $10,000 every month. 
How to create a website like Fansly using Fanso
Considering the hype getting for Fansly among its audience, it would be a wise decision to create a website like Fansly. If you are looking for the best approach, using a clone script like Fanso would be the ideal option if you have some customization in mind. 
With Fanso, you get all the essential features similar to Fansly along with the personalization you need in the look, feel, and functionality of the platform. 
Fanso helps you build subscription based creator community platform like Fanso with powerful features including:
Subscriptions to monetize the content.

Live streaming for fan engagement.

Built-in ecommerce stores to sell merchandise.

Sophisticated creator dashboard to create and manage content.

Social community for 3-fold engagement revenue.

Best-in-class tech stack for best creator platform experience.
Conclusion
Fansly is a good alternative as it boasts some of the features OnlyFans doesn't include. If you are looking for a change, just for a revenue boost or for the feel of using an alternate platform, you can try out the platform. 
Given the rising interest in Fansly among creators, the platform may become the next OnlyFans of the industry. Though it's good, just like OnlyFans, it is not yet clear it is yet immune to the same issues OnlyFans has.